Hurricanes Bring Out the Extremists
"
No Place For Climate Change Deniers To Hide
"
,
according to
Jay Inslee
(Governor of Washington State, writing for the Huffington Post:
"…
we will call out the
climate denial
of our rivals, not as some peripheral and modest comment but a
fundamental flaw that
should disqualify candidates from public office
."
[http://www.huffingtonpost.com/entry/no-place-for-climate-change-deniers-to-hide_us_59b55cc4e4b0b5e53106ca87]
Inslee believes "climate denial" is grounds for disqualifying political candidates!
"We can no longer look at climate change as a second-tier issue, relegated to something confined to the environmental community. It must drive our policy and our politics in every realm and in every constituency and in every debate."
"Inslee argued that it was "likely" and "fair" that global warming increased the strength of Hurricanes Harvey and Irma"
[http://www.cnn.com/2017/09/11/politics/jay-inslee-axe-files-axelrod/index.html]
Hurricane scientists disagree:
University of Washington climate scientist, Cliff Mass, states:
"It is more than a little disturbing. Before the rains had ended, dozens of media outlets had published stories suggesting that global warming forced by humans (mainly by emissions of CO2 into the atmosphere) played a significant role in producing the heavy rainfall and resulting flooding associated with Hurricane Harvey."
[http://cliffmass.blogspot.com/2017/08/global-warming-and-hurricane-harvey.html]
After showing the actual scientific data in the above article, Mass states:
"I could show you a lot more, but bottom line in all this is:
There is no evidence that global warming is influencing Texas coastal precipitation in the long term and little evidence that warmer than normal temperatures had any real impact on the precipitation intensity from this storm."
And:
"The bottom line in this analysis is that both observations of the past decades and models looking forward to the future do not suggest that one can explain the heavy rains of Harvey by global warming, and folks that are suggesting it are poorly informing the public and decision makers.
They are using hand-waving arguments to push an agenda, which observations, theory, and modeling show to be incorrect."
The following figure shows that US hurricane landfalls have been declining over the last 20 years:
[https://judithcurry.com/2017/06/08/cfans-forecast-for-the-2017-atlantic-hurricane-season/]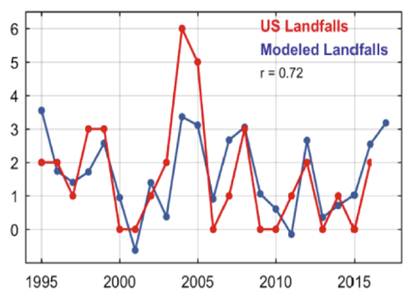 The following figures show global hurricane frequency since 1970 – the global frequency has been declining slightly for more than 20 years. http://policlimate.com/tropical/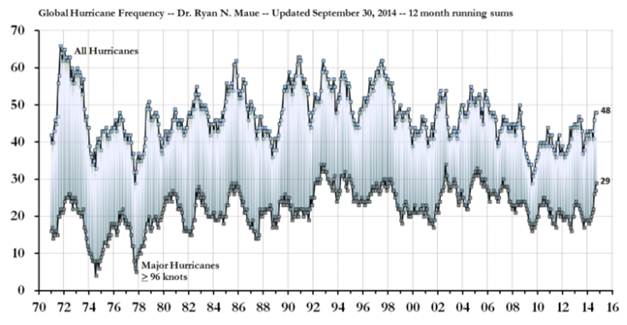 What about non-hurricane storms? No increase in tropical storms either.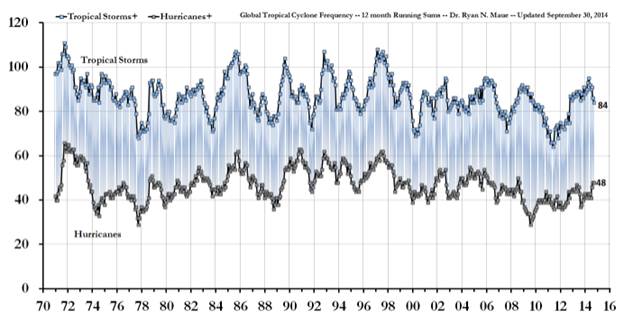 The following figure shows the global accumulated cyclone energy (ACE) since 1950.
[https://en.wikipedia.org/wiki/Accumulated_cyclone_energy]
Yet atmospheric CO2 keeps going up – with zero effect on frequency or total energy of storms.
The following table is from Phil Klotzbach, hurricane expert at Colorado State University, showing Irma and Harvey's place in the list of major hurricanes [https://twitter.com/philklotzbach/status/906881395057844225]: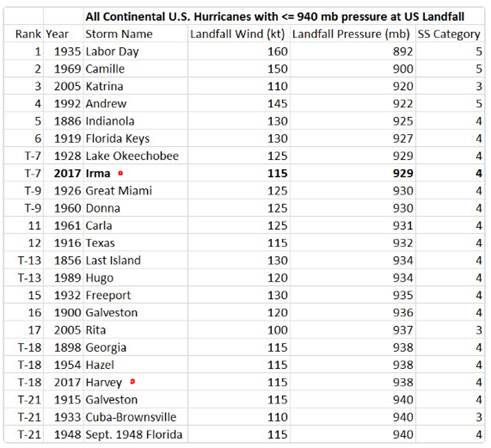 For more info on global hurricane data, see: http://appinsys.com/GlobalWarming/GW_4CE_Hurricanes.htm
For recent hurricane reporting see:
https://wattsupwiththat.com/2017/09/12/irma-nuclear-hurricane-headline-clearly-demonstrates-l-a-times-climate-alarmist-propaganda-agenda/
and
https://wattsupwiththat.com/2017/09/11/hate-on-display-climate-activists-go-bonkers-over-irma-and-nonexistent-climate-connection/
Inslee isn't the only alarmist claiming hurricanes are worse due to global warming .
The Nation thinks we can stop hurricanes: "How many times must we see this disaster movie—titled Hurricane Harvey in 2017, Hurricane Sandy in 2012, and Hurricane Katrina in 2005, along with many lesser-
known foreign releases—before we intervene and change the ending?" [https://www.thenation.com/article/climate-denialism-is-literally-killing-us/]
Bill Nye the (anti-)science guy gets it wrong too: "It's the strength that is almost certainly associated with global warming"
[http://www.theblaze.com/news/2017/09/10/bill-nye-blames-powerful-hurricanes-on-climate-change-then-a-real-scientist-shuts-him-down/]
And as always the New York Times promotes the global warming lies:
"If this isn't climate change, I don't know what is. This is a truly, truly poster child for what is to come." and "For scientists, drawing links between warming global temperatures and the ferocity of hurricanes is about as controversial as talking about geology after an earthquake."- Wrong! – Not a single scientist expert in hurricanes attributes them to global warming.
[https://www.nytimes.com/2017/09/11/climate/hurricane-irma-climate-change.html?mcubz=0]
Jay Inslee, touted as the nation's "greenest state leader", and promoting a cap-and-trade system in Washington State, said in 2015: "Climate change is ravaging my state".
[http://grist.org/climate-energy/washington-governor-jay-inslee-cap-and-trade-carbon-tax/]