Hurricane Frequency
There is a historical problem with hurricane measurement due to the fact that in the early 1900s, only hurricanes striking land or observed from surviving boats were seen and named. Starting in the mid-20th century, major hurricanes spotted from planes were counted and named. Since the satellite era, all hurricanes are spotted, counted and named regardless of size or duration.
A 2009 paper by NOAA scientists Landsea et al [http://ams.allenpress.com/perlserv/?request=get-abstract&doi=10.1175%2F2009JCLI3034.1] found that the increased number of hurricanes in the 20th century was due to improved observational techniques developed during the century (i.e. planes and satellites) The abstract states: "the increase arises primarily from improvements in the quantity and quality of observations, along with enhanced interpretation techniques, which have allowed National Hurricane Center forecasters to better monitor and detect initial TC formation, and thus incorporate increasing numbers of very short-lived systems into the TC database"
The following figure shows the Atlantic named storms (upper left). The chart on the right (red) shows the percent striking land before and after the satellite era – evidence of the number of storms not counted in the earlier era since they did not strike land. The chart in the lower left shows the adjusted count. [http://www.waveworkshop.org/10thWaves/Presentations/L1.Knutson_Hawaii_waves_nov07.pdf]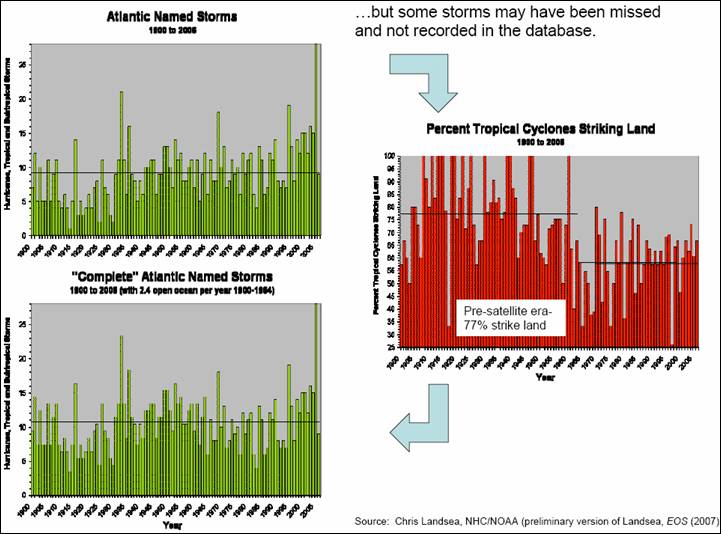 The following figure shows the annual number of hurricanes since 1944
[http://www.ncdc.noaa.gov/oa/climate/research/hurricane-climatology.html]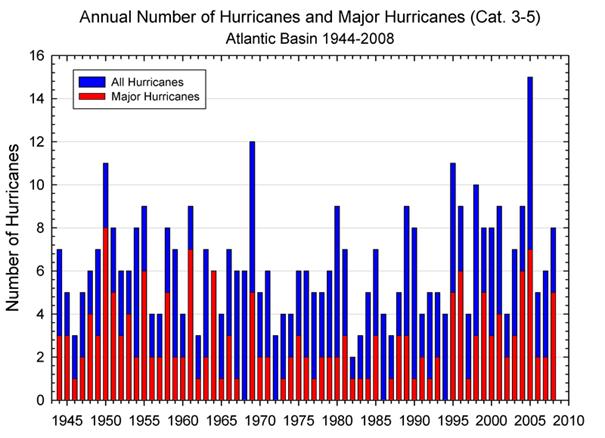 "Between 1966 and 2003, US major hurricane landfall numbers were below the long-term average". "Although global surface temperatures have increased over the last century and over the last 30 years, there is no reliable data available to indicate increased hurricane frequency or intensity in any of the globe's seven tropical cyclone basins.  Meteorologists who study tropical cyclones have no valid physical theory as to why hurricane frequency or intensity would necessarily be altered significantly by small amounts (< +/-1C) of global mean temperature change." [Extended Range Forecast of Atlantic Seasonal Hurricane Activity and U.S. Landfall Strike Probability for 2007, Klotzbach and Gray, Colorado State University, Dec. 2006 http://typhoon.atmos.colostate.edu/Forecasts/2006/dec2006/].
A 2007 study of the impact of global warming on hurricanes done at the University of Miami and reported in Science Daily (Global Warming Increases Wind Shear, Reduces Hurricanes, Climate Model Shows) [http://www.sciencedaily.com/releases/2007/04/070417182843.htm ] says "Climate model simulations for the 21st century indicate a robust increase in wind shear in the tropical Atlantic due to global warming, which may inhibit hurricane development and intensification. Historically, increased wind shear has been associated with reduced hurricane activity and intensity".
The National Oceanic and Atmospheric Administration (NOAA) made the following statement in December 2006 [http://hurricanes.noaa.gov/pdf/hurricanes-and-climate-change-09-2006.pdf]:"Atlantic hurricane seasons since 1995 have been significantly more active, e.g. more hurricanes and more intense hurricanes, than the previous two decades [however] earlier periods, such as from 1945 to 1970 (and perhaps earlier), were apparently as active as the most recent decade.... The past decade has seen increased U.S. landfalls, however periods of even higher landfalls occurred early in the century." In February 2008, a NOAA press release [http://www.noaanews.noaa.gov/stories2008/20080222_hurricane.html] stated: "There is nothing in the U.S. hurricane damage record that indicates global warming has caused a significant increase in destruction along our coasts".
According to William Gray (Professor Emeritus of Atmospheric Science, Department of Atmospheric Science, Colorado State University) in a paper called Hurricanes and Climate Change (Oct. 2006) [http://ff.org/centers/csspp/pdf/20061011_gray.pdf]  "The most reliable long-period hurricane records we have are the measurements of US landfalling tropical cyclones since 1900 (Table 3). Although global mean ocean and Atlantic surface temperatures have increased by about 0.4oC between these two 50-year periods (1900-1949 compared with 1956-2005), the frequency of US landfall numbers actually shows a slight downward trend for the later period. If we chose to make a similar comparison between US landfall from the earlier 30-year period of 1900-1929 when global mean surface temperatures were estimated to be about 0.5oC colder than they have been the last 30 years (1976-2005), we find exactly the same US hurricane landfall numbers (54 to 54) and major hurricane landfall numbers (21 to 21)."

Recent research reported in 2007 by the Woods Hole Oceanic Institute "Scientists Unearth Long Record of Past Hurricanes" [http://www.whoi.edu/oceanus/viewArticle.do?id=28207&sectionid=1021] analyzing soil deposits representing the last 5,000 years in Puerto Rico found: "extensive periods of intense hurricanes in the past, when ocean temperatures were cooler than they are now. The record showed that the dominant forces spawning heightened hurricane activity appeared to be atmospheric conditions generated by weak El Niños in the tropical Pacific and strong West African monsoons"
A paper by Landsea et al -- "Downward trends in the frequency of intense Atlantic hurricanes during the past five decades" -- Geophysical Research Letters, 1996 – by Christopher W. Landsea 1 and Neville Nicholls (Bureau of Meteorology Research Centre, Melbourne, Victoria Australia), William M. Gray, Department of Atmospheric Science, Colorado State Universit)y and Lixion A. Avila (National Hurricane Center, Miami)  [http://www.aoml.noaa.gov/hrd/Landsea/downward/index.html] – states "contrary to many expectations that globally tropical cyclones may be becoming more frequent and/or more intense due to increasing concentrations of greenhouse gases, regionally the Atlantic basin has in recent decades seen a significant trend of fewer intense hurricanes and weaker cyclones overall. In addition, the maximum intensity reached in each year has shown no appreciable change." The following figure is from this paper.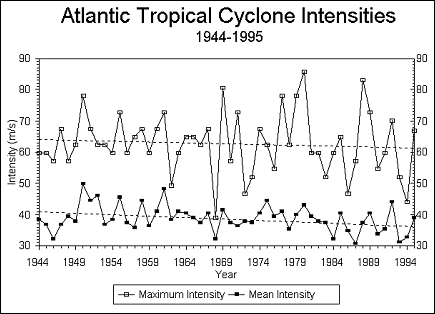 The following figure shows the occurrence of hurricanes and their tracks from the beginning of records to 2006
[http://www.physicalgeography.net/fundamentals/7u.html]