Washington State Governor Jay Inslee and His Billionaire Campaign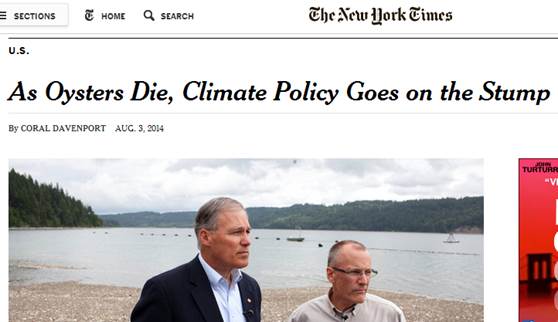 http://www.nytimes.com/2014/08/04/us/as-oysters-die-climate-policy-goes-on-stump.html?_r=0
From the NY Times article:
"The Democratic governor, aided by what is expected to be millions of dollars from his billionaire friend Tom Steyer, is using the story of Washington's oysters — scientists say a rise in carbon levels has spiked the acidity of the Pacific and is killing off shellfish — to make the case for passing the most far-reaching climate change policies in the nation. Mr. Inslee, who is campaigning for his agenda across the state this summer with oyster farmers in tow, is trying to position himself as America's leading governor in the climate change fight. But Mr. Inslee does not have the support of the majority of the Washington State Senate, particularly those conservative lawmakers from the rural inland, so Mr. Steyer's advocacy group, NextGen Climate, is working with the Washington League of Conservation Voters to handpick Democratic, pro-climate policy candidates across the state.
Mr. Steyer's strategy is to spend heavily this fall to help defeat sitting lawmakers who oppose Mr. Inslee's agenda and pave the way for the governor to move his policies through next year — an example, his critics say, of the insidious influence of big money from outsiders that makes local elections less local.
"We're working to give Jay the Legislature that he needs," said Gene Karpinski, president of the national League of Conservation Voters. "The state senators are the obstacles." Mr. Inslee discussed the strategy over lunch at the governor's mansion in May with Mr. Steyer, a retired California hedge-fund manager who has pledged to spend $100 million on climate issues in elections across the country this year. Mr. Inslee makes no apologies for Mr. Steyer's efforts on his behalf."
"Mr. Steyer has not said what he will spend in the districts, but his previous pattern indicates it will be hundreds of thousands of dollars for each candidate — a huge amount for a Washington State race. In 2013, Mr. Steyer's group spent $275,000 in Washington to help ensure the election of four pro-environment candidates to the local council in Whatcom County, where candidates normally spend less than $25,000 for a single race. As a result, prospects are now dim for council approval of a proposed $600 million port in Whatcom near the border with British Columbia, which, if constructed, would facilitate the shipment of 48 million tons of coal annually to Asia from Montana and Wyoming."
Others are equally outraged. "It's ridiculous that money coming from outside the state is trying to influence our votes," said Rick Tjoelker, an auto mechanic in Lynden, Wash., who bristled at Mr. Inslee's climate campaign. Mr. Inslee said that views like Mr. Tjoelker's have convinced him that he has to use the dying oysters — and the threat to a $270 million Pacific Northwest shellfish industry — to sound alarms about climate change for people who ordinarily might not listen. Ocean acidification, he said, "has the same cause as climate change, but it has been unsullied with the political controversy of climate change."
"Beginning in 2008, hatcheries have experienced a sharp increase in oyster larvae mortality. …Taylor Shellfish Farms [Inslee's buddy in the photo above] has struggled with oyster larvae die-offs at its hatchery on Puget Sound's Dabob Bay"
So the storyline is: human "fossil fuel" CO2 emissions cause ocean acidification, causing oyster larvae to die. And Inslee vows to use the Billionaires' Club to buy elections.