Arctic Ozone and ENSO
The Arctic ozone goes through an annual cycle (due to the absence of sun in winter) and reaches its low point in March (end of winter).
The following figure shows the Arctic ozone in March for 1979 – 2007 (left) [http://hal.archives-ouvertes.fr/docs/00/29/64/14/PDF/acp-8-251-2008.pdf] and (right) comparing that to the multivariate El Nino / Southern Oscillation Index (Multivariate ENSO Index - MEI) with ozone lagged by one year (i.e. ENSO leads by one year). The MEI plot is from [http://www.cdc.noaa.gov/people/klaus.wolter/MEI/].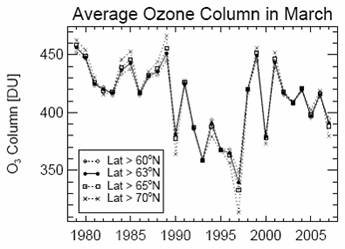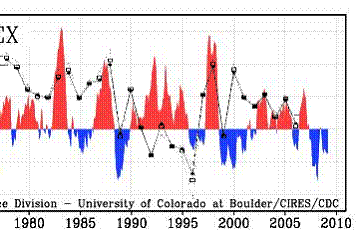 Comparing the ozone trend (above left) with the temperature trend shown in the previous section indicates ozone has been decreasing while winter temperatures have been increasing, contrary to what the alarmist article states.
They also neglect to mention that 2010 / 2011 ENSO has been strongly negative, associated with decreasing March ozone.

(See http://appinsys.com/globalwarming/Ozone.htm#arctic for more info on Arctic ozone depletion and annual cycle.)