His Formative Years
Born in 1961 in Hawaii to Ann Dunham (white American) and Barack Obama Sr. (black Kenyan) - at the time both were East-West Center students at the University of Hawaii. His father was on a scholarship from his native Kenya, his mother's parents lived in Hawaii.
According to barackobama.com [http://origin.barackobama.com/about/]
"

His father … was born and raised in a small village in Kenya. … Barack's mother, Ann Dunham, grew up in small-town Kansas. Her father worked on oil rigs during the Depression, and then signed up for World War II after Pearl

Harbor, …

after the war, they studied on the G.I. Bill, bought a house through the Federal Housing Program, and moved west to Hawaii.
· Barack's father eventually returned to Kenya, and Barack grew up with his mother in Hawaii, and for a few years in Indonesia. Later, he moved to New York, where he graduated from Columbia University in 1983. … Remembering the values of empathy and service that his mother taught him, Barack put law school and corporate life on hold after college and moved to Chicago in 1985, where he became a community organizer with a church-based group seeking to improve living conditions in poor neighborhoods plagued with crime and high unemployment."
A somewhat different picture is obtained at biography.com - the missing years are filled in a little more. According to his biography [http://www.biography.com/search/article.do?id=12782369]: "Obama's parents separated when he was two years old and later divorced. Obama's father went to Harvard to pursue Ph.D. studies and then returned to Kenya. His mother married Lolo Soetoro, another East-West Center student from Indonesia. In 1967, the family moved to Jakarta, where Obama's half-sister Maya Soetoro-Ng was born. Obama attended schools in Jakarta, where classes were taught in the Indonesian language. Four years later when Barack (commonly known throughout his early years as "Barry") was ten, he returned to Hawaii to live with his maternal grandparents, Madelyn and Stanley Dunham, and later his mother (who died of ovarian cancer in 1995) … He saw his biological father (who died in a 1982 car accident) only once (in 1971) after his parents divorced."
In 2006 his literary biography said he was born in Kenya:
<![if !vml]>

<![endif]>
[http://web.archive.org/web/20061103034559/http://www.dystel.com/clientlist.html]
While most likely born in Hawaii, the purpose for being "born in Kenya" was likely to obtain foreign exchange student financing at Columbia University.
<![if !vml]>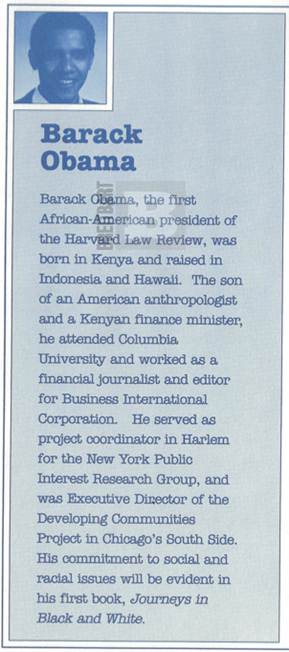 <![endif]>
http://www.breitbart.com/Big-Government/2012/05/17/The-Vetting-Barack-Obama-Literary-Agent-1991-Born-in-Kenya-Raised-Indonesia-Hawaii
"Kenyan-born":
<![if !vml]>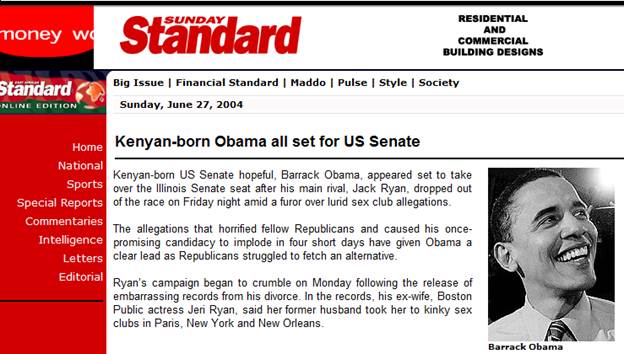 <![endif]>
http://web.archive.org/web/20040627142700/eastandard.net/headlines/news26060403.htm
<![if !vml]>
<![endif]>
http://www.nigerianobservernews.com/4112008/4112008/news/news1.html
In 2006 Obama went to Kenya, where he stated: "I'm so proud to come back home…"