The Contradiction
The tropical areas highlighted by the alarmists as being most vulnerable, have experienced much less warming than the far northern hemisphere, and the models can explain tropical warming without anthropogenic CO2. Yet these are the areas considered most at risk. Why?
"Oxfam is calling for a deal in Copenhagen that guarantees action in two key areas: binding emissions reduction targets for rich countries and a substantial ongoing financial package – which is additional to existing overseas aid commitments – to help poor countries reduce their emissions and adapt to a changing climate. Isabel Sande Frandsen, Climate Advisor for Oxfam International said: "Vulnerable developing countries have called the bluff of Denmark and every other rich country that would prefer delay over decision. … rich countries need to focus on delivering the urgent actions required of them by Copenhagen – deep and binding emissions cuts and finance to help poor countries curb their emissions and adapt to climate change."" [http://www.scoop.co.nz/stories/WO0911/S00600.htm]
Oh yes – that's why. Global warming (euphemistically referred to as "climate change") has nothing to do with science – it's all about politics.
The tropical countries are the ones producing actual air pollution – not CO2, but black carbon. The following figure shows the atmospheric solar heating due to black carbon, indicating the regional areas of major black carbon emissions [http://www.nature.com/ngeo/journal/v1/n4/full/ngeo156.html].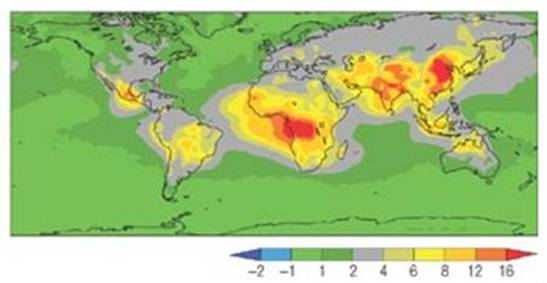 "In their frantic search for a solution to the global warming crisis, climatologists and policy makers have managed to overlook one of the leading causes of rising world temperatures - soot, the familiar black residue that coats fireplaces and darkens truck exhaust. ``Soot - or black carbon - may be responsible for 15 to 30 percent of global warming, yet it`s not even considered in any of the discussions about controlling climate change,`` says Stanford Professor Mark Z. Jacobson" [http://www.sciencedaily.com/releases/2001/02/010208075206.htm]
Oh look – it's the same "vulnerable" countries that are producing all the actual pollution - black carbon.
"The battle against global warming could be helped if the world slowed population growth by making free condoms and family planning advice more widely available, the U.N. Population Fund said Wednesday. … The world's population will likely rise from the current 6.7 billion to 9.2 billion in 2050, with most of the growth in less developed regions, according to a 2006 report by the United Nations. … global warming could be catastrophic for people in poor countries, particularly women." [http://news.yahoo.com/s/ap/20091118/ap_on_sc/climate_population_growth]
The "developed" countries must pay because the "less developed regions" have rampant population growth, combined with primitive energy infrastructures requiring the burning of high-carbon fuels.