Midwest US
The impact zone report on the US Midwest is found at: http://globalwarming.house.gov/impactzones/midwest
It says:"average temperatures in the region projected to rise 5 to 10 degrees Fahrenheit by the end of the century"
The NOAA National Climatic Data Center (NCDC) provides regional temperature data at http://www.ncdc.noaa.gov/oa/climate/research/cag3/regional.html
The following figures show the annual average temperature history for the two "Midwest" regions indicated on the map.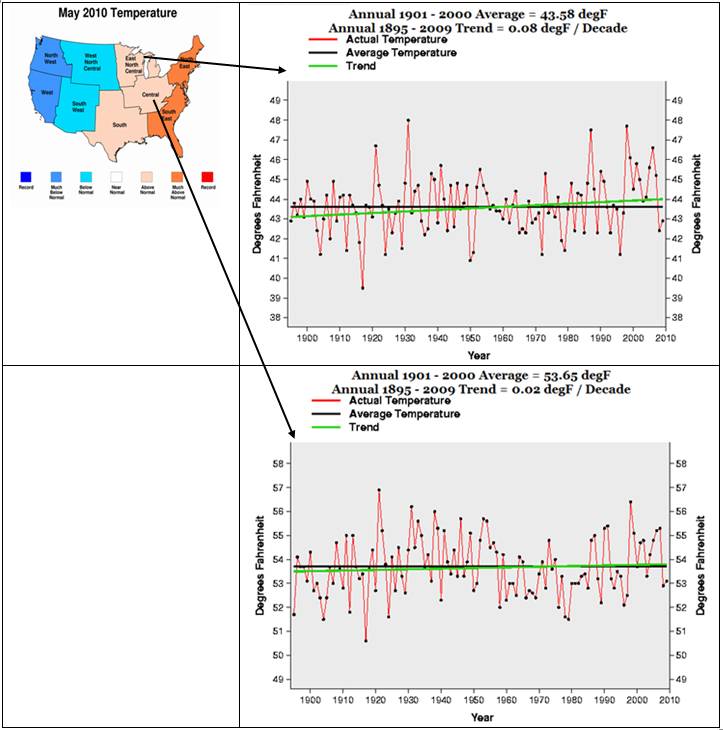 The warmest year in the northern Midwest was 1931 and in southern Midwest was 1921. The southern Midwest had several years in the 1930s-1940s that were warmer than recent warming. The northern area has a temperature trend of 0.08 degrees per decade while the southern portion has a trend of 0.02 degrees per decade (neither trend is statistically significant).
In order for the northern Midwest to warm to even the lower "projected" figure of 5 degrees by 2100 the warming rate would have to change from 0.08 to more than 0.5 degrees per decade as illustrated below.

They say "Global warming is already impacting the Midwest, bringing longer, more intense droughts in some areas while others get more precipitation than they can handle."
However the data once again contradicts this. The following figure shows the annual precipitation for the northern Midwest. (From http://www.ncdc.noaa.gov/oa/climate/research/cag3/regional.html)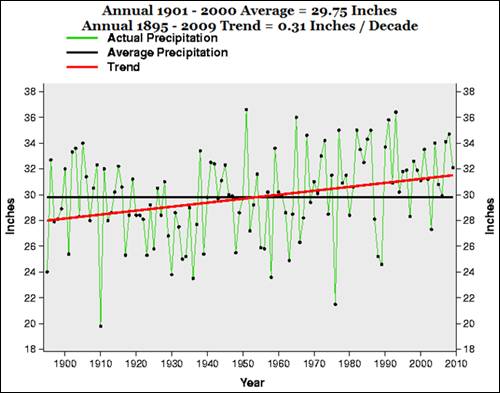 While increased precipitation can still coincide with increased droughts, that is not the case in the Midwest. A study by Andreadis and Lettenmaier: "Trends in 20th Century Drought Characteristics over the Continental United States" (Geophysical Research Letters, Vol.33, 2006): "Trends in most drought characteristics (duration, frequency, severity, and extent) are similar to those in soil moisture and runoff, i.e., droughts have, for the most part, become shorter, less frequent, less severe, and cover a smaller portion of the country over the last century." [http://www.agu.org/pubs/crossref/2006/2006GL025711.shtml]
The following figure is from the above study (from http://www.worldclimatereport.com/index.php/2006/10/13/where-are-the-droughts/) with the Midwest highlighted in the green circle.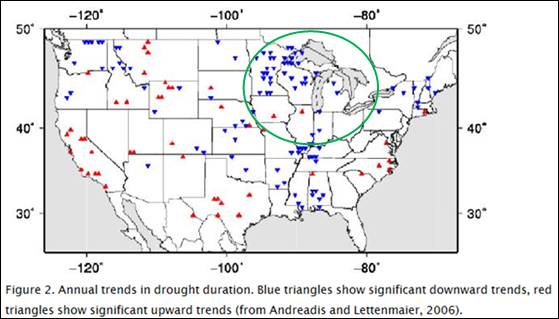 The following figure shows the Palmer Drought Severity Index from 1895 to April 2010 for Wisconsin. There has not been an increase in drought duration or severity during the second half of the 20th century.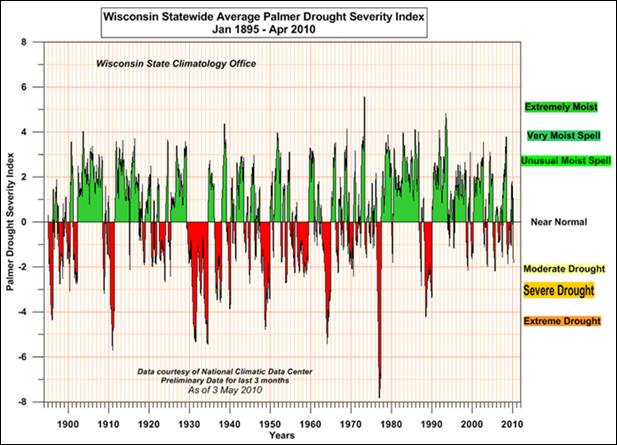 The "Select Committee" Midwest impact zone report also says: "a smart solution: fuel from Midwest farms, not Mideast oil fields" and recommends "solving global warming through wind power, cellulosic ethanol and other home-grown solutions". Wind power could never replace current electricity usage, let alone replace oil by switching to electric cars. They imply that replacing oil with ethanol will reduce CO2 emissions – this goes against all the studies of ethanol-based emissions (see: http://www.appinsys.com/GlobalWarming/EPA_Biofuels.htm)
They also mislead regarding the Mideast oil issue. The amount of oil imported from the Middle East has been declining steadily. The US produces about 5,400 barrels of oil per day and imports about 8,500 barrels per day. About 18% of the imported oil comes from the Middle East – that's about 10% of the total use in the US (see:  http://www.appinsys.com/oil/).
See also:
March in Minnesota: http://www.appinsys.com/globalwarming/MN_March.htm
Illinois has Cooling Trend: http://www.appinsys.com/globalwarming/RS_Illinois.htm
Stephen Chu Propagates Midwest Lies: http://www.appinsys.com/globalwarming/MidwestChu.htm