Global Average Temperature Regimes
The following figure examines the global temperature regimes over the past 70 years (from the temperature graph shown above). Temperatures can vary widely from year to year, generally within a 0.5 degree range (the green bounded rectangles below). Following the 1945 – 1951 cooling event, the temperatures were in a stable regime until the 1976-78 climate shift which resulted in a net warming of about 0.2 – 0.3 degrees. Another stable regime is exhibited for the next almost 20 years until the 1997-98 El Nino, which again resulted in about a 0.3 degree net warming. Since then there has been no further warming for the last 10 years.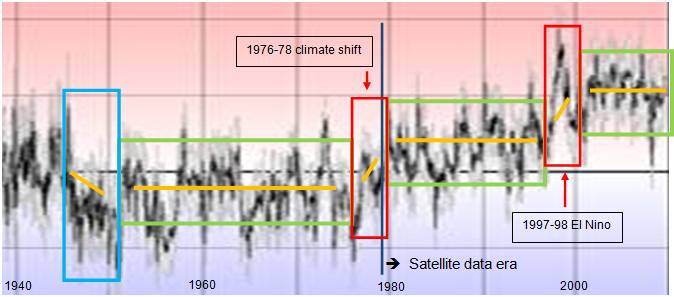 All of the warming in the last 70 years occurred in two extremely short periods. And this is the time frame covering the entire period officially designated as having warming due to CO2.
For more information on the 1976-78 climate shift, see:
http://www.appinsys.com/GlobalWarming/The1976-78ClimateShift.htm
For more information on the 1997-98 El Nino, see:
http://www.appinsys.com/GlobalWarming/ENSO.htm
For a discussion of the use of linear trends, see:
http://www.appinsys.com/GlobalWarming/LinearTrends.htm