The False Alarm
The coincidence of the 2010 winter Olympics with a winter El Nino was fodder for global warming alarmists.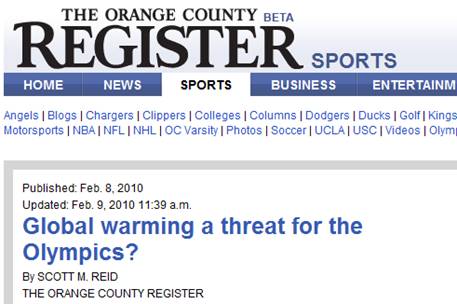 [http://www.ocregister.com/sports/winter-233250-games-olympic.html]
From the above article: "One morning last week, environmentalist David Suzuki looked across English Bay from his Vancouver home to Cypress Mountain, usually covered in snow this time of year but now left all but bare by a warm winter. "I've watched in horror as the snow has just melted away from Cypress Mountain," Suzuki said, referring to the 2010 Olympic Games snowboarding and freestyle skiing venue. Global warming has placed the future of the Winter Olympics and winter sports from the Sierras to the Alps in peril, according to interviews with environmental scientists, Olympic officials, historians and athletes in recent weeks. As the 2010 Olympic Games open this week in Vancouver and Whistler, there is a growing concern within the Olympic and environmental movements that the Winter Games are in jeopardy of being significantly diminished if not eliminated all together by climate change."
Of course Suzuki's main mouthpiece – Canada's CBC – also promotes his unsubstantiated claims.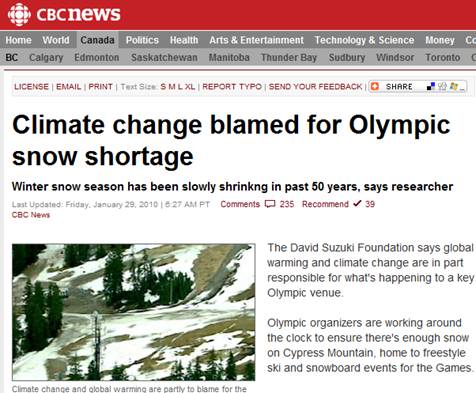 [http://www.cbc.ca/canada/british-columbia/story/2010/01/28/bc-olympics-climate-change.html]
The following figures show (left) the typical winter El Nino impacts – warmer than normal in southern Canada, colder and snowier than normal in the southern US, and (right) the matching pattern on mountain snowpack.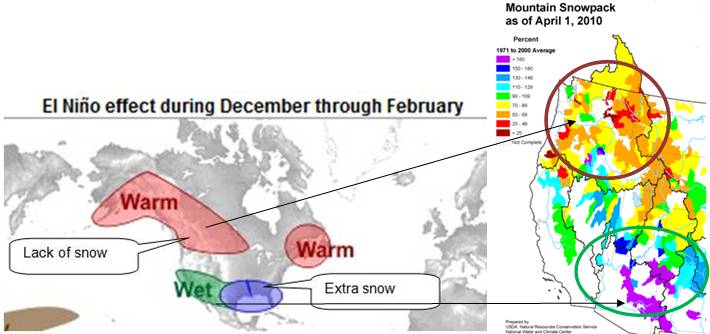 [http://www.srh.weather.gov/srh/jetstream/tropics/enso_impacts.htm]