California
In California an examination of temperature stations within most of the state shows that most are highly urbanized - very few are land-based rural and of those many stopped reporting in the 1970's – 1990's.  A comparison of urban and rural stations shows a very distinct difference in temperature trends. The urban stations exhibit distinct warming trends, while the rural stations either show no warming or cyclical warming that is not as warm as it was during the 1930's.
Urban Stations: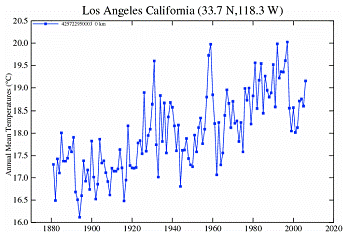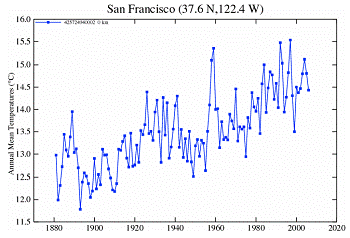 Rural Stations: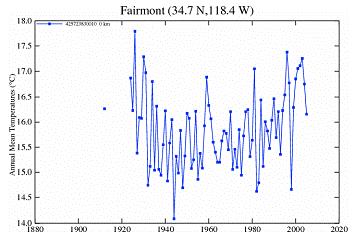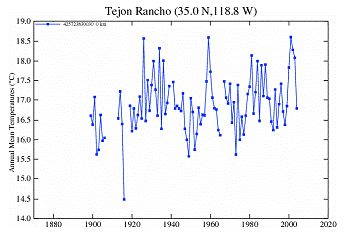 A study showing the effects of urban heat islands on temperatures in California ("Environmental Effects of Increased Carbon Dioxide", A.B. Robinson, S.L. Baliunas, W. Soon, Z.W. Robinson, 1998) shows the following figure showing surface temperature trends for the period of 1940 to 1996 from 107 measuring stations in 49 California counties. After averaging the means of the trends in each county, counties of similar population were combined and plotted as closed circles along with the standard errors of their means. [http://www.friendsofscience.org/assets/documents/deFreitas.pdf]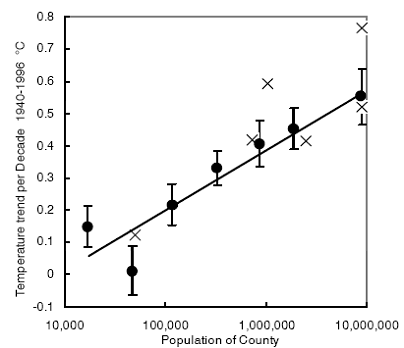 The following figure shows the annual average temperature for 93 stations in California, grouped by population [http://wwa.colorado.edu/colorado_river/docs/Colorado_River_Basin_Climate.pdf] The cited report states: "Counties with large populations show more warming than rural counties due to the urban heat island influence."
A study published in 2007 ("Recent California climate variability: spatial and temporal patterns in temperature trends", Ladochy, Medina, Patzert, Climate Research Vol 33, 2007) provides the following figure showing mean temperature change per decade from 1950 to 2000 for California stations. This shows the warming in California to be mainly in the urban areas. Their paper states: "Most regions showed a stronger increase in minimum temperatures than with mean and maximum temperatures. Areas of intensive urbanization showed the largest positive trends, while rural, non-agricultural regions showed the least warming... Southern California had the highest rates of warming, while the NE Interior Basins division experienced cooling. Large urban sites showed rates over twice those for the state, for the mean maximum temperatures, and over 5 times the state's mean rate for the minimum temperatures".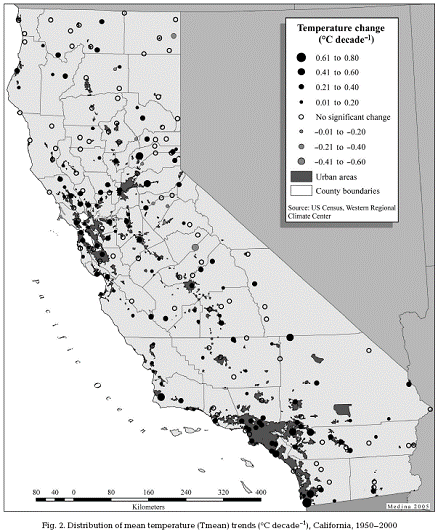 In 2006 John Christy (Professor of Atmospheric Science, University of Alabama in Huntsville) published a study of California Central Valley temperatures: "the nighttime temperatures in the 18 Valley stations were warming rapidly, about 6°F in summer and fall, while the same daytime temperatures fell about 3°F. This is consistent with the effects of urbanization and the massive growth in irrigation in the Valley. The real surprise was the composite temperature record of the 23 stations in the central Sierra foothills and mountains. Here, there was no change in temperature. These results did not match the results given by climate models specifically downscaled for California where the Sierra's were expected to have warmed more than the Valley over this period" [http://www.nsstc.uah.edu/atmos/christy/ChristyJR_07EC_subEAQ_written.pdf]
The following figure is from Christy's 2009 testimony to congress [http://www.nsstc.uah.edu/atmos/christy/ChristyJR_WM_Written_090225.pdf], in which he stated: "Temperature change in Central California for the nighttime (TMin) temperatures in the developed Valley (orange) and the adjacent undeveloped Sierra (blue). Note the rapid rise in nighttime temperatures in the Valley as agriculture and urbanization occurred. Bottom: Daytime (TMax) temperatures in the Valley (orange) and Sierra (blue) showing almost identical trends near zero change. This study shows that using nighttime temperatures from stations where development has occurred leads to a spurious warming signal. The popular surface datasets today use the average of the day and night temperatures, thus are influenced by this warming that is unrelated to CO2. If daytime temperatures, which are much more representative of the atmosphere as a whole, are used then there has been no warming in Central California since 1910 according to these results (nor in Alabama nor East Africa)."