Greenpeace – Green$ for the Money
Although the alarmists claim that AGW skeptics are in the pay of oil companies, it is the environmentalists who are the moneyed special interests.
Donna Laframboise has investigated the oil connection [http://nofrakkingconsensus.blogspot.com/2010/06/bp-greenpeace-big-oil-jackpot.html]. Greenpeace made a website called ExxonSecrets to exposed the fact that ExxonMobil donated a total of $2.2 million over a 9-year period to a conservative think tank. The Washington Post points out that green groups received even more from "big oil" including $10 million from BP and others to the Nature Conservancy and $2 million to Conservation International. All told the oil companies have paid green groups about 300 times what it has paid to conservative "denialist" groups.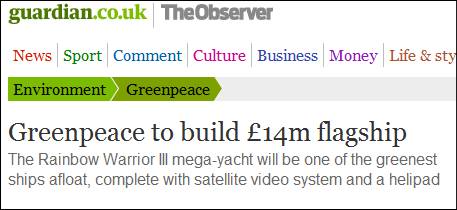 [http://www.guardian.co.uk/environment/2010/jan/17/greenpeace-builds-new-rainbow-warrior]
"German and Polish shipyards will shortly start work on Greenpeace's £14m flagship, a mega-yacht that will become the third Rainbow Warrior next year. It will be one of the biggest yachts to have been commissioned in the last decade, say the designers … The cost should not be a problem for the group, which, with nearly three million supporters, is extremely wealthy. The new Rainbow Warrior will bring the Greenpeace fleet to six ocean-going ships, as big as the navies of many island states such as Madagascar, the Seychelles, the Maldives and Mauritius."
======================================================================
Regular Guardian contributor Joss Garman is a "climate campaigner at Greenpeace UK" – so of course, he's unbiased.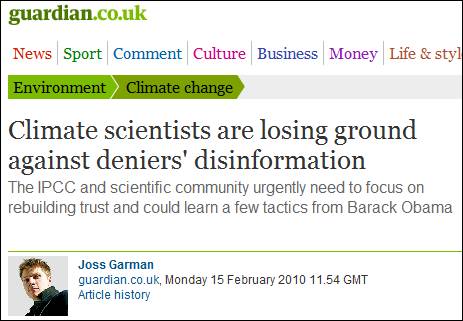 [http://www.guardian.co.uk/environment/cif-green/2010/feb/15/climate-science-ipcc-sceptics]
"Obama knew if he signed up to something that would truly deliver significant cuts in global warming pollution, he'd suffer a serious blow from this movement's army of activists and its allies in the Senate. This movement's ability to make Democrats pay a serious political price – just see what they helped to do in Massachusetts where the Democrat candidate lost a recent election – shows what raw activism can look like. The name of this world-changing movement? It's the Tea Party movement, coupled with its sophisticated echo chamber of right-wing shock jocks, culture-war keyboard commandos, and allies at Fox News, all pushing the scepticism line on climate change.  Over the last few years as climate campaigners such as myself have tried to mount a good rational argument, theirs has mounted a powerful disinformation campaign. In the last few weeks we have witnessed that effective campaign gain momentum and turn into a sort of global asymmetrical warfare, with criticism of the UN's Intergovernmental Panel on Climate Change (IPCC) for its claims about the speed with which Himalayan glaciers are melting, personal attacks against its chairman Rajendra Pachauri and a persistent hounding of climate scientists and those reviewing the scientists. … The most zealous deniers, a subculture of outlandish paranoid conspiracy theorists, claim to speak for independent thinking when in truth they're the shock troops for a choking and insidious form of censorship, blotting out the truth with the ideology and interests of the world's most powerful Big Carbon corporates."
[For the record, I have never been part of the Tea Party movement. (And I will never promote censorship – choking and insidious, or other forms.)]
Garman, a regular Guardian contributor, is a climate campaigner at Greenpeace UK – a group who has received large amounts of money promoting the AGW scare. He has "been arrested more than 20 times, honored by The Guardian as one of "50 People Who Could Save the Planet"" [http://earthfirst.com/whos-who-in-green-joss-garman/]. It seems he is now trying his hand at comedy (or perhaps deliberately lying).
Similar to Greenpeace, The World Wildlife Fund (WWF) has greatly increased its revenues since global warming became its main focus ("The common denominator in everything we do is climate change. This Annual Report features a special section on climate change and our approaches to taming what has become the greatest environmental crisis ever faced." – from the WWF 2008 Annual Report [www.worldwildlife.org/who/financialinfo/2008AR/index.html])
WWF in 2008 had operating revenue of $196.5 million – a 30% increase over 2006. WWF was started in 1961 as the funding arm for the IUCN (International Union for Conservation of Nature – "the world's oldest and largest global environmental network"). The IUCN/WWF under the auspices of Maurice Strong organized the Rio "Earth Summit" NGO Forum.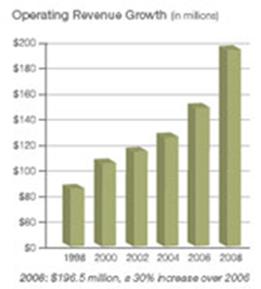 See also: http://www.climate-resistance.org/2010/01/wwf-wtf.html exposing the lie of who is benefiting. They show Greenpeace's budget at close to 200 million Euros / year. Selling global warming alarm is Big-Business.
[For the record: I was a member of Greenpeace in the early 1980s. Now I despise their disregard for science.
In this regard, I join Patrick Moore, Co-founder of Greenpeace, now Chairman and Chief Scientist of Greenspirit Strategies: "The environmental movement has lost its way, favoring political correctness over factual accuracy, stooping to scare tactics to garner support. Many campaigns now waged in the name of the environment would result in increased harm to both the environment and human welfare if they were to succeed. Beginning in the mid-1980s, Greenpeace, and much of the environmental movement, made a sharp turn to the political left and began adopting extreme agendas that abandoned science and logic in favor of emotion and sensationalism. … The Prognosis: Environmentalism has turned into anti-globalization and anti-industry. Activists have abandoned science in favour of sensationalism. Their zero-tolerance, fear-mongering campaigns would ultimately prevent a cure for Vitamin A deficiency blindness, increase pesticide use, increase heart disease, deplete wild salmon stocks, raise the cost and reduce the safety of health care, raise construction costs, deprive developing nations of clean electricity, stop renewable wind energy, block a solution to global warming, and contribute to deforestation. How sick is that?"
[http://www.greenspirit.com/logbook.cfm?msid=83]]
WWF and Greenpeace buy the IPCC and insert their publications as references:
[http://nofrakkingconsensus.blogspot.com/2010/01/more-dodgy-citations-in-nobel-winning.html]