Very High Humidity… Therefore More Severe Snowstorms
The following figures show the specific humidity (i.e. the amount of water) in the atmosphere from the NOAA ESRL Physical Sciences Division [http://www.esrl.noaa.gov/psd/cgi-bin/data/timeseries/timeseries1.pl] for the area of 35-45N x 70-80W (area indicated in the map). The plots are shown for the December – February time period for 4 atmospheric heights: 300mb, 400mb, 600mb, and 1000mb.
300mb (upper troposhpere - approx. 30,000 ft):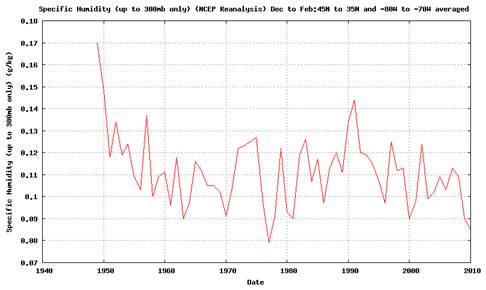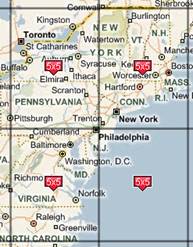 500mb (mid-troposphere - approx. 18,000 ft):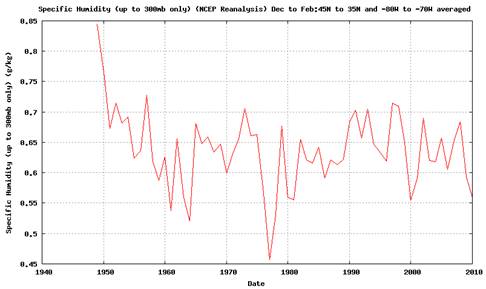 700mb (mid-troposphere - approx. 10,000 ft):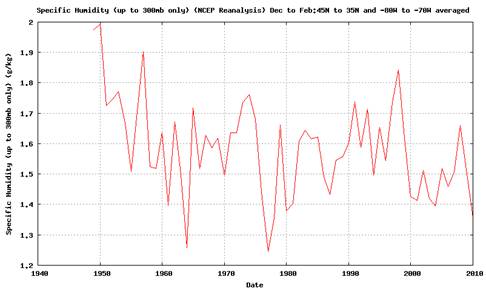 1000mb (approx. sea level):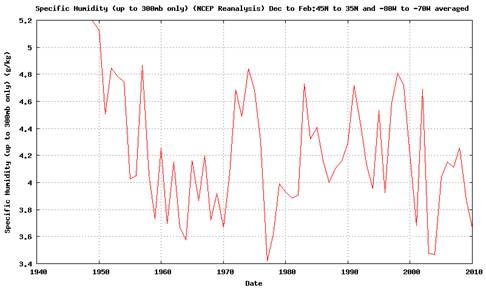 It is clear from the above figures that winter moisture content in the atmosphere has not increased during the global warming era in the US eastern seaboard area.
The following figure shows the 700mb specific humidity for Dec – Feb for the expanded area of 25-50N x 60-80W, encompassing more ocean area for the formation of storms. No increase in moisture content (except in the 1998 El Nino year) and a definite declining trend over the last 60 years during the global warming era – the opposite of what Al Gore claims.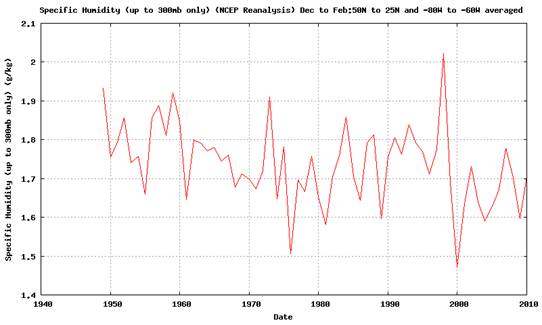 Al Gore blames the snowstorms on: "warmer seas producing higher levels of moisture in the air" and yet the December 2009 – February 2010 sea surface temperatures (SST) on the eastern US seaboard were mainly below average. The following figure shows the SST anomalies for the period from the NOAA ESRL web site. [http://www.esrl.noaa.gov/psd/map/images/sst/sst.anom.seasonal.gif]