Carbon (and Other) Taxes
From the above AFP article on the UN: "They proposed that carbon dioxide emissions should cost between 20 and 25 dollars a tonne."
Without government imposition of carbon taxes, CO2 is a worthless commodity. "Watts Up With That" recently reported: "Carbon Trade Ends on Quiet Death of Chicago Climate Exchange" with the price of a tonne of CO2 flat-lining at 5 cents.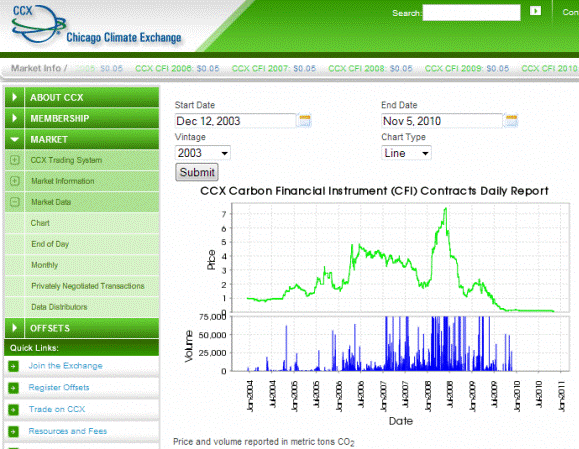 [http://wattsupwiththat.com/2010/11/08/public-carbon-trading-dead-in-the-usa/]
Obama was involved in the creation of the Chicago Climate Exchange (CCX), and both Gore and Goldman Sachs were investors; see: http://www.appinsys.com/globalwarming/WhiteHouseDeception.htm
Former UN advisor and (creator of the UN environmental conferences) Maurice Strong was on the board of CCX. For more info on CCX see: http://www.appinsys.com/GlobalWarming/CarbonMonetization.htm
CO2 An Excuse for Money Grab by the UN
But the United Nations doesn't really care about CO2 – it is just an excuse for grabbing money. A 2004 report from the United Nations University [http://www.unescap.org/tid/mtg/egmrti_ref272.pdf] states:
"How can we find an extra US$ 50 billion for development funding? Our focus is on flows of resources from high-income to developing countries."
"We are presupposing that the tax is indeed levied on individuals and firms in the form of a carbon levy (or other environmental tax base). Suppose, however, that we have subsidiarity, where the

burden

on national governments is determined by their carbon emissions but the national governments are free to decide how to raise the revenue. As noted above, they may, for political or other reasons, choose another tax base."
"To the extent that emissions impose environmental damage wherever they occur, the corrective tax should be the same. However, this needs to be moderated to take account of the unequal distribution of world income — the very reason for our current interest in the tax. Considerations of

global justice

point to poor countries bearing less of the cost burden, and may justify the tax being levied only on high-income or middle-income countries." (In other words the 30% of global greenhouse gas emissions caused by developing countries is to be ignored.)
They make it clear that they don't really care what tax base is used, just as long as they can achieve redistribution of world income in the name of "global justice".
"The revenue potential appears large – a fuel-consumption tax on CO2 emissions could by itself finance the MDGs. … It would require that the United States opt for it, however; 20 per cent of the tax yield would originate there alone." From "Financing Development, Aid and Beyond", OECD Development Centre [http://books.google.com/books?id=_XvLvuRd4-8C]
Financial Transaction Tax
From the AFP article: "The group also proposed a tax on financial transactions but admitted in their report: "diverging views will make it difficult to implement this universally." The United States has led nations opposed to a new financial tax."
The United Nations has been trying to fund itself and Africa for many years. The UNU report cited above states: "If the world is to achieve the Millennium Development Goals by 2015, we will need not only significant changes in policies and priorities but also a major effort by developing countries and the international community to mobilize additional financial resources." The "Tobin Tax" – i.e. a global financial transaction tax has for many years been considered by the UN: "the final distributional effects, and the impact on real transactions, are hard to predict." And a disadvantage according to UNU: "Some transactions are particularly affected, notably the remittances from emigrants … Remittances from migrants are a market-based external source of development finance, which have, according to published estimates, increased steadily from around US$ 15 billion in 1980 to US$ 80 billion in 2002. These are large flows, second only to foreign direct investment as a component of external resource flows to developing countries. To an important extent, remittances finance consumption and may be seen as an instrument of global redistribution: that is, an international mechanism for social protection."
Never Ending
The 2004 UNU papers refer to needing $50 billion per year. Now the UN, according to the AFP article needs $100 billion per year. This growth in needs is never ending at the UN – even though the world has made great stride in alleviating global poverty (although Africa still has the largest percentage of poor people).
"The past 20 years have seen substantial progress in many aspects of human development. Most people today are healthier, live longer, are more educated and have more access to goods and services. Even in countries facing adverse economic conditions, people's health and education have greatly improved. And there has been progress not only in improving health and education and raising income, but also in expanding people's power to select leaders, influence public decisions and share knowledge." [http://hdr.undp.org/en/reports/global/hdr2010/summary/]
Global Government
Another UNU paper ("Innovative Sources of Development Finance", 2002) proposes "the establishment of a 'world development organization' to coordinate such effort" (the effort it refers to is: "international taxes, fees and levies that could considerably augment aid flows to developing countries").
[http://www.cbd.int/doc/external/unu/unu-dp2002-98-en.pdf]
The AFP article says the UN climate panel included "financier George Soros". According to the National Legal and Policy Center, Soros provided $50 million to the Institute for New Economic Thinking (INET), which is "applying its talent to "contracting" the U.S. economy, redistributing its wealth, and creating a new world body to "supervise" global financial transactions – a body its elite membership intends to influence." [http://nlpc.org/stories/2010/07/09/george-soros-new-plan-globalism-and-crony-capitalism]