[2009/12/18]
Obama Wraps Up the COP15
"Leaders of the U.S., China and several other major economies said late Friday they had tentatively reached a new climate accord, though they said the pact wasn't aggressive enough to meaningfully curb greenhouse-gas emissions and merely set up a future round of negotiations to hash out the details. … The Copenhagen agreement contained no specific targets for greenhouse gas emissions by 2050. A proposed 50% cut that was in earlier drafts was removed. … The pact calls on developed nations to provide $30 billion to help developing nations deal with the effects of climate change between 2010 and 2012. By 2020, the text says rich nations "set a goal of mobilizing jointly $100 billion a year" for poor nations. The text says the money will go to the "most vulnerable" developing nations." [http://online.wsj.com/article/SB126112727324796837.html?mod=WSJ_hpp_LEFTTopStories]
"It would kick off with $US10 billion ($A11.28 billion) a year from 2010 to 2012, climbing to $US50 billion ($A56.39 billion) annually by 2015 and $US100 billion ($A112.78 billion) by 2020. The text also proposes a range of innovative mechanisms for raising the money, ranging from a tax on air and sea transports fuels to a tax on financial transfers."
[http://www.smh.com.au/environment/climate-change/climate-draft-accord-agreed-20091218-l1jo.html]
So it all worked out well for the scammers after all – as the head of the UNFCCC said: "the northern hemisphere has to pay up" and this was the main goal of the UN conference – wealth transfer, not CO2 reductions. (See below).
Obama addresses Copenhagen COP15: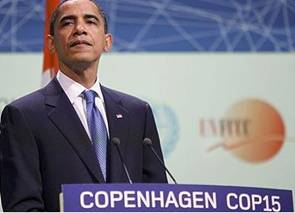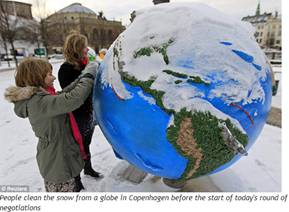 http://www.youtube.com/watch?v=5-BSQXbotHw&feature=player_embedded
Early in the video he says: "Climate change poses a grave and growing danger to our people … this is not fiction, this is science."
About 8:35 in the video he says: "These international discussions have essentially taken place now for almost two decades. And we have very little to show for it other than an increase – acceleration – of the climate change phenomenon."
Not sure what the "climate change phenomenon" is that's "accelerating".
Accelerating Warming?
The figure below left shows the global average temperature anomalies (from the Hadley Climatic Research Unit (CRU) which provides the data used by the IPCC [http://hadobs.metoffice.com/hadcrut3/diagnostics/global/nh+sh/]) with the last two decades that Obama mentions expanded on the right (the IPCC was created in 1988). There has been 0.2 degrees of warming in the last two decades – all of it the result of the 1997-98 El Nino. According to the IPCC, CO2-based warming is only evident since the 1970s and it stalled a decade ago. Accelerating warming? – Not!

Accelerating Sea Level Rise?
The figure below left shows cumulative sea level change for 1900 to 2002. The trend shows no increase in rate since measurements began [http://www.wamis.org/agm/meetings/rsama08/S304-Shum_Global_Sea_Level_Rise.pdf]. Since according to the IPCC, CO2-based warming is only evident since the 1970s, all of this sea level rise since prior to 1970 cannot be caused by anthropogenic CO2, and yet the trend has not increased. Thus sea level rise cannot be attributed to CO2. The figure below right shows sea level from 1993 to 2009 [http://sealevel.colorado.edu/]. The last 6 years exhibit a declining rate of increase. Accelerating sea level? – Not!

See also: http://www.appinsys.com/GlobalWarming/Acceleration.htm
Oh, Obama, on April 27, 2009, you addressed the National Academy of Sciences in Washington, D.C.: "Under my administration, the days of science taking a backseat to ideology are over." [http://www.pnas.org/content/106/24/9539.abstract]. If only it were true.
(See also: http://www.appinsys.com/GlobalWarming/ObamasGovernment.htm for more on Obama and his ideological crew.)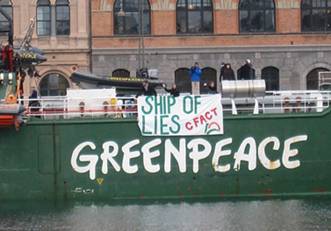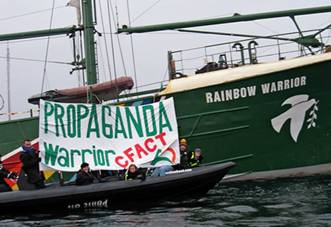 [http://cfact.org/a/1674/CFACT-drops-the-banner-on-Greenpeace-ships-in-daring-land-and-sea-raids]
Liberal Alexander Cockburn says "Anthropogenic Global Warming is a Farce"
[http://www.realclearpolitics.com/articles/2009/12/24/anthropogenic_global_warming_is_a_farce.html]
Copenhagen cyclists try to power a Christmas Tree:
http://www.youtube.com/watch?v=HkEbu-S72UU