NOAA Tornado Data
NOAA has reported the number of strong to violent (F3-F5) tornadoes each year in their annual climate summary report. The following graph is from 2008, showing a decline in strong tornadoes over the last 50 years.
[http://www.ncdc.noaa.gov/sotc/national/2008/ann]
But in 2009, under Obama's administration, the method of reporting tornadoes in the annual report changed so that the situation could suit the administrations goals. The following figure is from the 2010 report showing the tornado count, rather than the number of strong to violent tornadoes.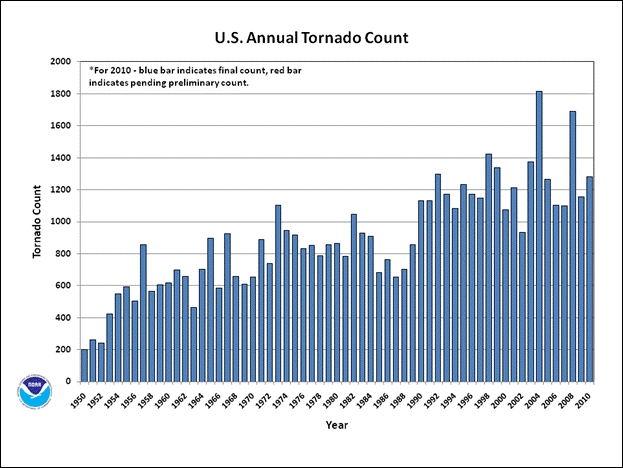 [http://www.ncdc.noaa.gov/sotc/national/2010/13]
The increasing tornado count is due to improved weather tracking technology. In the 1950s radar began to be used; then in the 1970s, Doppler radar improved the detection capabilities.
""If you look at the past 60 years of data, the number of tornadoes is increasing significantly, but it's agreed upon by the tornado community that it's not a real increase," said Grady Dixon, assistant professor of meteorology and climatology at Mississippi State University. "It's having to do with better (weather tracking) technology, more population, the fact that the population is better educated and more aware. So we're seeing them more often," Dixon said. But he said it would be "a terrible mistake" to relate the up-tick to climate change. … However, the stronger-than-usual tornadoes affecting the southern states were actually predicted from examining the planet's climatological patterns, specifically those related to the La Nina phenomenon. "We knew it was going to be a big tornado year," he said. But the key to that tip-off was unrelated to climate change: "It is related to the natural fluctuations of the planet.""
[http://www.physorg.com/news/2011-04-tornadoes-climate.html]
"A top official at the National Oceanic and Atmospheric Administration (NOAA) rejected claims by environmental activists that the outbreak of tornadoes ravaging the American South is related to climate change brought on by global warming. "There really is no scientific consensus or connection [between global warming and tornadic activity] ….Jumping from a large-scale event like global warming to relatively small-scale events like tornadoes is a huge leap across a variety of scales." Asked if climate change should be "acquitted" in a jury trial where it stood charged with responsibility for tornadoes, Carbin replied: "I would say that is the right verdict, yes." Because there is no direct connection as yet established between the two? "That's correct," Carbin replied."
[http://www.foxnews.com/politics/2011/04/28/noaa-scientist-rejects-global-warming-link-tornadoes/]
The Tornado F-scale: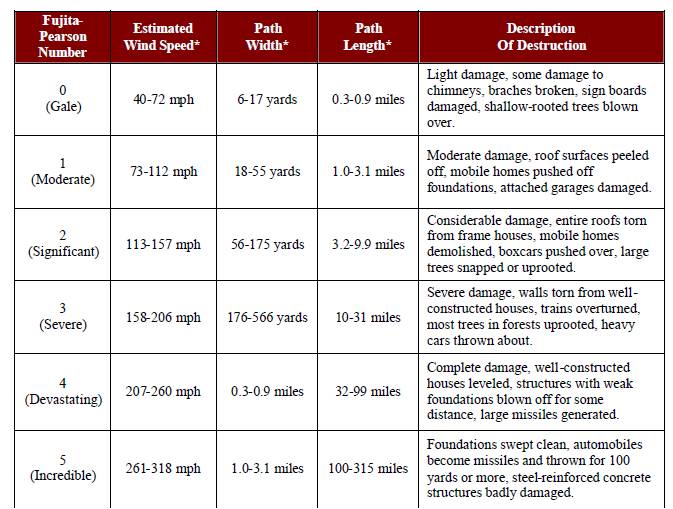 [http://www.wildwildweather.com/united_states_tornado_history.pdf]
The number of F0 tornadoes reported has increased greatly as monitoring technology and reporting has improved. The number of strong tornadoes (F2-F5) has not increased, since these have been more accurately counted all along since 1950.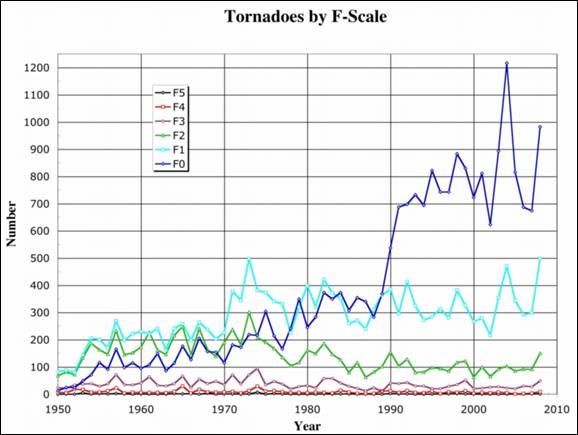 [http://www.flame.org/~cdoswell/Tornado_essay.html]
From August 1977 New Scientist: "In the 1970s, many improvements have been made in the efficiency of the [tornado] watch and warning service. Many more spotters are now available"
[http://books.google.com/books?id=AQuJ3zfhNnwC&lpg=PA281&ots=appJh3vYsF&dq=tornado%20count%20method%20history&pg=PA280#v=onepage&q&f=false]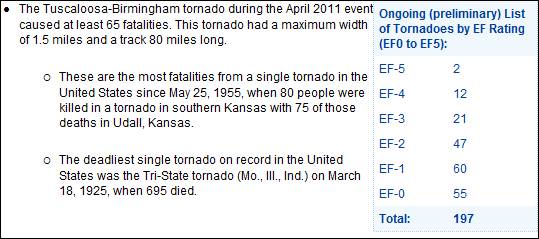 [http://www.noaanews.noaa.gov/april_2011_tornado_information.html]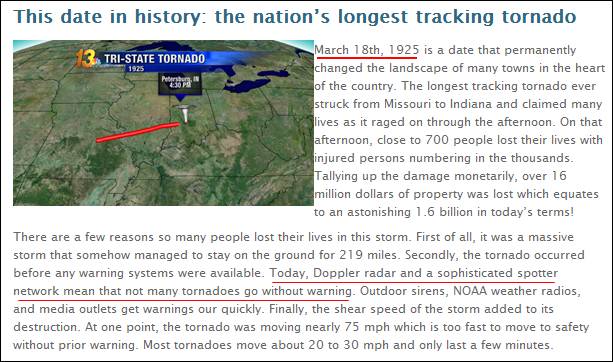 [http://addins.wrex.com/blogs/weather/2011/03/this-date-in-history-the-nations-longest-tracking-tornado]