Texas – No Global Warming
The following figures show Texas average annual temperature, summer temperature and precipitation since 1895 from NOAA / NCDC. [http://www.ncdc.noaa.gov/oa/climate/research/cag3/tx.html]
Texas politicians would be stupid if they did believe there was a climate problem.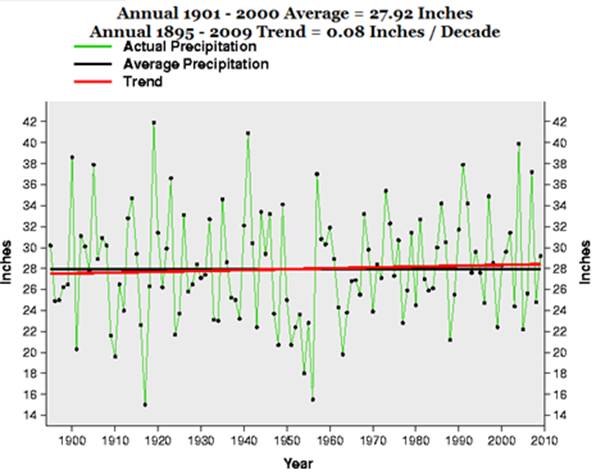 The Climatic Research Unit (CRU) at the University of East Anglia provides data to the IPCC. They process temperature station data into adjusted averages for 5x5 degree grids covering the world. In November 2009, CRU had various emails hacked and released. A CRU email from Phil Jones to Michael Mann, Malcolm Hughes and others, Mar 11, 2003, stated: "Even with the instrumental record, the early and late 20th century warming periods are only significant locally at between 10-20% of grid boxes." [http://www.eastangliaemails.com/emails.php?eid=295&filename=1047388489.txt]
The following figure shows the CRU average annual temperature (CRUTEM3) data for the three 5x5 degree grid boxes covering most of Texas. No warming.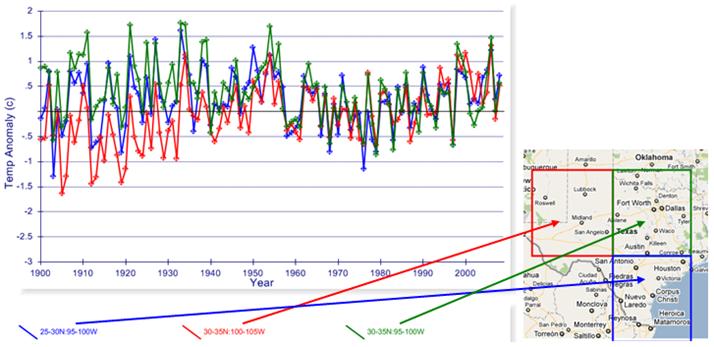 This is true for most of the United States. See: http://www.appinsys.com/GlobalWarming/SeekingWarming.htm