South Dakota Temperatures
According to the NOAA National Climatic Data Center, South Dakota winters have been getting warmer in the latter part of the 20th century (at a rate of 2.4 degrees per century for the last 115 years). The following figure shows average winter temperatures for South Dakota since 1895 [http://www.ncdc.noaa.gov/oa/climate/research/cag3/sd.html]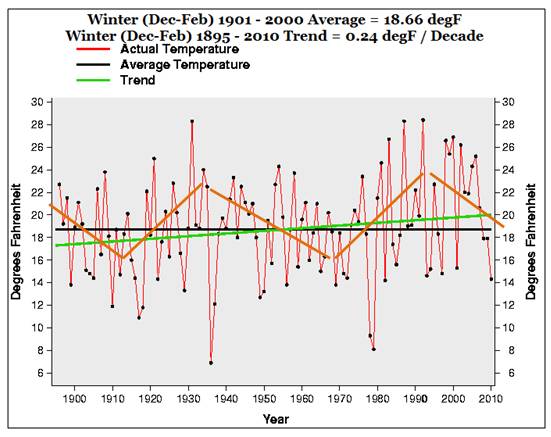 So if winters are getting warmer due to global warming ("climate change"), what is the alarm about?
Once again, alarmists confuse climate and weather. From the article: "El Nino conditions are now predicted to cause unusual excursions of Arctic air into the central northern regions of the U.S. The NOAA – National Weather Service predicts a cold episode winter this year. The weather "favors the build-up of colder than normal air over Alaska and western Canada, which often penetrates into the northern Great Plains and the western United States," states this winter's report."
The winter of 2010 was the 15th coldest in the last 115 years in South Dakota and this coming winter is expected to be cold too, due to the current La Nina conditions.
The article had a link to the following figure [http://www.cpc.noaa.gov/products/analysis_monitoring/impacts/cold.gif] showing the standard La Nina weather expectation.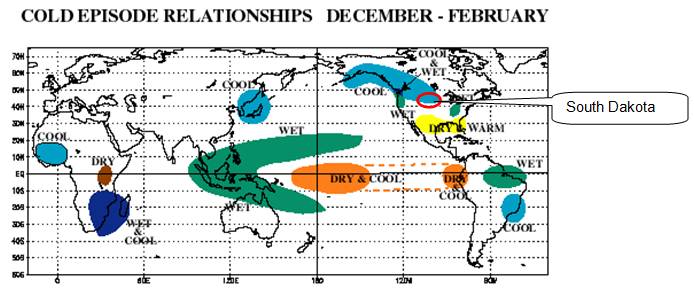 The El Nino / Southern Oscillation is the "most important coupled ocean-atmosphere phenomenon to cause global climate variability on interannual time scales" [http://www.esrl.noaa.gov/psd/people/klaus.wolter/MEI/]

Combining the South Dakota winter temperature shown previously with the ENSO index shown above shows that the ENSO is highly influential on South Dakota weather.

(For more on ENSO see: http://www.appinsys.com/GlobalWarming/ENSO.htm)