Antarctica / Greenland Ice Melt
The main potential for sea level rise due to global warming comes from melting ice in Antarctica and Greenland. Alarmists say this will inundate tropical islands, but the evidence is lacking.
Antarctica
The following figure shows the approximate boundaries of areas that have warmed or cooled over the past 35 years. [http://www.sciencedaily.com/releases/2008/05/080507132855.htm] The mass balance has been increasing. A 2006 paper (Wingham et al, "Mass Balance of the Antarctic Ice Sheet" Royal Society 2006) states: "Mass
gains from accumulating snow, particularly on the Antarctic Peninsula and within East Antarctica, exceed the ice dynamic mass loss from West Antarctica. … 72% of the Antarctic ice sheet is gaining 27G29 Gt yrK1, a sink of
ocean mass sufficient to lower global sea levels by 0.08 mm / yr" [http://www.cpom.org/research/djw-ptrsa364.pdf]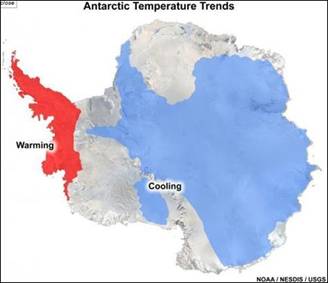 (See: http://www.appinsys.com/GlobalWarming/RS_Antarctica.htm for more info on Antarctica)
Greenland
There are only two stations in Greenland with long-term data in the NOAA GHCN database – Godthab Nuuk and Angmagssalik. The following figure shows the annual average temperature for the last 100 years (plotted at http://www.appinsys.com/GlobalWarming/climate.aspx). Although there were some "warm" years in the 2000s, there is no warming trend in 100 years of data.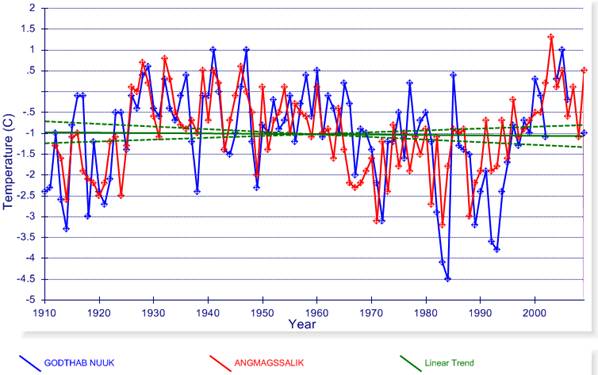 The following figure (left) shows "ice sheet elevation change rate (dH/dt) in cm/year, derived from 11 years of ERS-1/ERS-2 satellite altimeter data, 1992 to 2003. The spatially averaged rate is 5.4 +/- 0.2 cm/year, or 5 cm/year when corrected for isostatic uplift." [http://www.cfa.harvard.edu/~wsoon/MattCronin-Mar21-07-d/Johannessenetal05-GreenlandIceFinal.pdf] The report also states: "An increase of 6.4 T 0.2 centimeters per year (cm/year) is found in the vast interior areas above 1500 meters". The decrease at low elevation after 2000 is due to increased adjacent sea surface temperatures.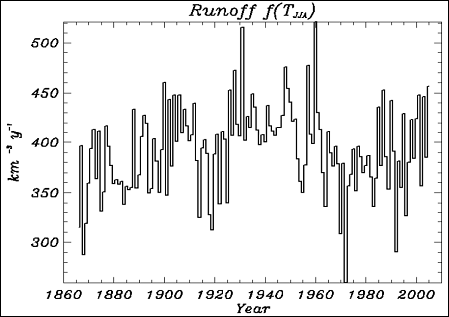 The above figure (right) shows Greenland melt runoff from a 2006 paper (Box et al: "Greenland Ice Sheet Surface Mass Balance Variability (1988-2004) From Calibrated Polar MM5 Output", Journal of Climate, Vol. 19, No. 12) [http://polarmet.mps.ohio-state.edu/jbox/pubs/Box_et_al_J_Climate_2006.pdf] The Greenland melting was at least as large in the 1930s-1940s.
(See: http://www.appinsys.com/GlobalWarming/RS_Greenland.htm for more info on Greenland)
With Antarctica having a slight net uptake of water, and Greenland having a only slight contribution to sea level that is no greater than during the 1930s/40s, Jumeau's claim that sea level will be drowning people in Seychelles is a lie.