Temperatures From Satellites
Roy Spencer (et al) provides a web site where temperatures can be plotted for various atmospheric altitudes [http://discover.itsc.uah.edu/amsutemps/]. They also explain what it represents: "Daily averaged temperatures of the Earth are measured by the AMSU [Advanced Sounding Microwave Unit] flying on the NOAA-15 satellite. The satellite passes over most points on the Earth twice per day. The AMSU measures the average temperature of the atmosphere in different layers from the surface up to about 135,000 feet or 41 kilometers." The AMSU provides brightness measurements that are converted to temperatures using the inverse of the Planck function (see the web site for details).
Satellite based temperature data were started in 1979 (actually December 1978).
The UAH temperature data are available here: http://vortex.nsstc.uah.edu/data/msu/t2lt/uahncdc.lt
The NOAA data products are available here: http://www.osdpd.noaa.gov/ml/mspps/index.html
The following figures show the (closest to) land surface temperatures from the two satellite passes on January 14, 2011 from the NOAA 15 AMSU-A (from the above NOAA website).

Roy Spencer explains how the satellite microwave radiometers work here: "How the UAH Global Temperatures Are Produced" [http://www.drroyspencer.com/2010/01/how-the-uah-global-temperatures-are-produced/] In December 2010, UAH switched to using a 30-year base period (1981-2010) for the calculation of anomalies, since there are now 31 complete years of data available since the start of the satellite data.
Remote Sensing Systems (RSS) provides a slightly different processing of the satellite data from UAH and provides information and data plotting at http://www.remss.com/msu/msu_data_description.html
The following figure from that web site shows the temperature trend for 1979 – 2009 from the RSS data. (Since there is a distinct latitudinal variation in the trend, alarmists changed the term "global warming" to "climate change" since the warming isn't global – see: http://www.appinsys.com/GlobalWarming/GW_NotGlobal.htm)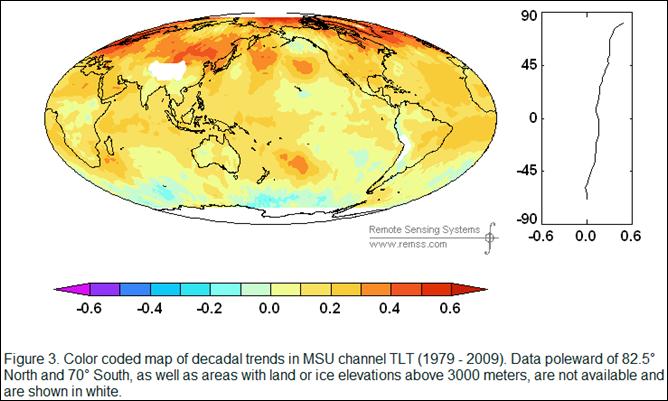 The TLT channel represents the satellite measurements closest to the Earth's surface.
The RSS site provides monthly temperature anomaly plots for any month / year in the satellite data (i.e. since December 1979) http://www.remss.com/msu/msu_data_monthly.html The following example shows December 2010.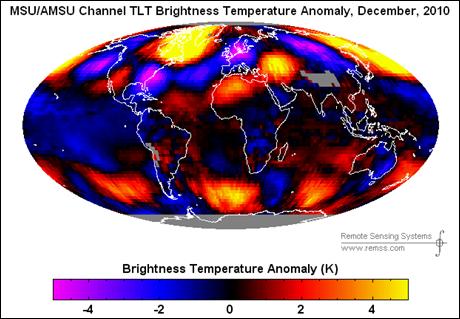 The RSS site also provides updated global temperature anomaly by latitude and time as shown in the following figure. The El Nino's of 1987, 1998 and 2010 are clearly visible, as is the Arctic warming trend.
Monthly average sea surface temperatures since 2002 from NASA's Aqua Satellite are available on the NASA Earth Observatory web site [http://earthobservatory.nasa.gov/GlobalMaps/view.php?d1=MYD28M#]
Monthly average sea surface temperatures since 2000 from NASA's Terra Satellite are available on the NASA Earth Observatory web site [http://earthobservatory.nasa.gov/GlobalMaps/view.php?d1=MOD11C1_M_LSTDA]