Rwanda Flooding
Flooding in Rwanda is common in association with the cycles of El Nino / La Nina. An International Federation of Red Cross and Red Crescent Societies ("East Africa: Preparedness for El Nino Floods" [http://www.ifrc.org/docs/appeals/09/MDR64006.pdf] states: the "El Nino effect which is associated with higher than normal rainfall in East Africa. Based on the experience of the last major El Nino (1997) this is expected to result in significant flooding in some parts of the region affecting the same communities whose health and livelihoods have been weakened by extreme drought."
The following figures are from that report, showing the flood prone areas (left) and the expected winter rainfall last winter (Rwanda highlighted by the red circle).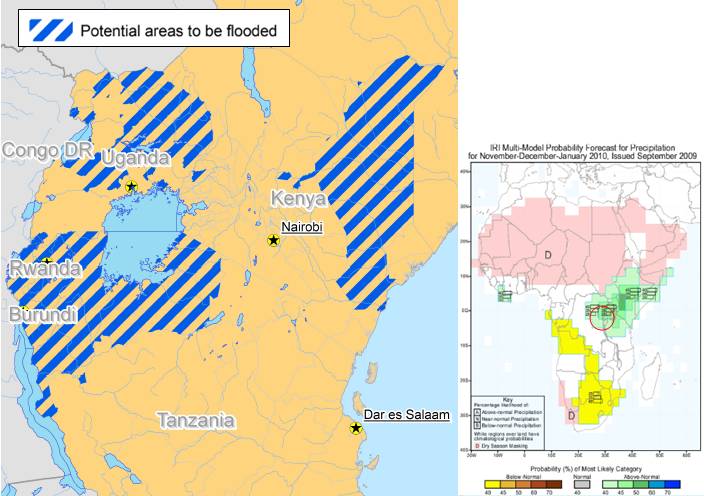 The following information is from a report by the Stockholm Environment Institute "Economics of Climate Change in Rwanda" [http://www.rema.gov.rw/ccr/Final%20report.pdf]
"The potential impacts of such future [flood] events are also determined by socio-economic trends. A significant part of the recent trend of increased flood impacts can be attributed to the increase in population, including urbanisation, and increased value of assets in flood-prone areas. Other factors include changes in the terrestrial system, such as deforestation and loss of natural floodplain storage, as well as to changes in climate. Similarly, the trend in future impacts will also be determined by these socio-economic drivers as much as by any changes in future climate."
"Intense rainfall and in some regions periodic droughts are already features of the Rwanda climate and certain to continue to be significant hazards (even without climate change)."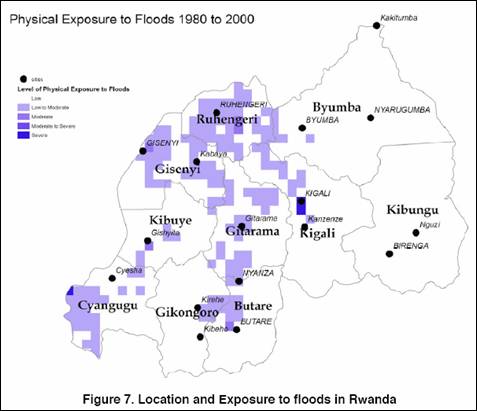 "Rwanda's landscape is mainly hilly and steep and for this reason, erosion causes loss of fertile topsoil, rendering soils more and more unproductive and threatening the livelihood of 86% of Rwandans who live solely on agriculture."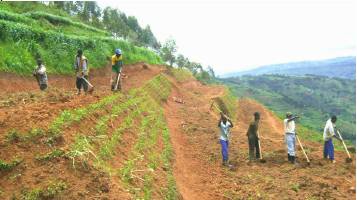 The following figure from the same report, shows modeled maize yield change 2000 to 2050 due to climate and land-use change (Rwanda located within red square). Positive effects are projected for Rwanda over the next few decades.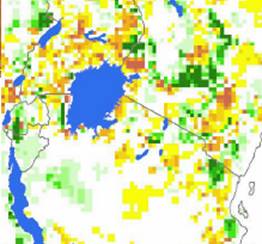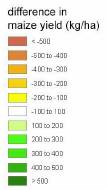 Regarding wildlife, the report states: "Due to its very small population level and a series of threats to their habitat, mountain gorillas face a high risk of extinction in the wild. The surrounding area is vulnerable due to livelihood pressures, agriculture and forest fragmentation, etc. At this time, the effects of climate change on montane forests in the region are not fully understood. … global models are not robust enough to project climate change at the spatial scale of this region. There is likely to be warming, though the level of warming for these specific areas cannot be projected. The forecasts of precipitation for the country as a whole are more uncertain: many models project higher average precipitation and potentially more extreme rainfall."