Temperature History
The following figure shows July average temperature for 1880-2009 for the six 5x5 degree grids with data in the 50-60Nx35-55E block from the Hadley CRUTEM3 data (anomalies based on 1961-1990)
(plotted at [http://www.appinsys.com/GlobalWarming/climate.aspx]).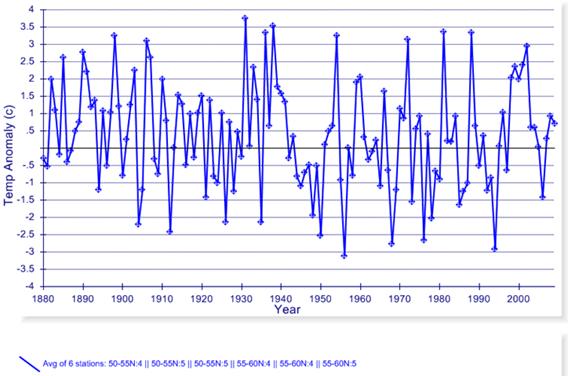 Prior to 2010, the two warmest Julys were in the 1930s. "The 2010 average July temperature in Moscow was 7.8°C (14°F) above normal, smashing the previous record for hottest July, set in 1938 (5.3°C above normal.)" [http://www.wunderground.com/blog/JeffMasters/comment.html?entrynum=1568]
The following figure shows the similar data from the NOAA GHCN data (anomalies based on 1880-2009) including 10-year smoothing (black line) [http://www.esrl.noaa.gov/psd/csi/moscow2010/images/moscow.july.tmp.jpg]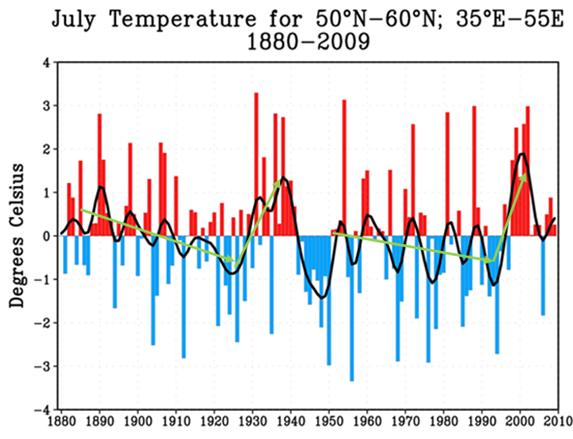 The region's July temperatures exhibit a 60-year pattern with a cooling trend during the 1890s-1920s, followed by warming in the 1930s, then cooling during the 1940s-1980s, followed by warming in the 1990s. It remains to be seen whether this cooling pattern will repeat in the coming decades.
NASA's GISS provides the capability to plot global temperature anomaly maps for individual months, years or seasons at http://data.giss.nasa.gov/gistemp/maps/. The following figures from that site compare July 2010 (top) with July 1938 (bottom). Although the July 2010 heat wave was more widespread in the region, it is similar to the extreme heat waves that have occurred in the past, exhibiting the blocking pattern resulting in simultaneous cooler than normal temperatures in Siberia.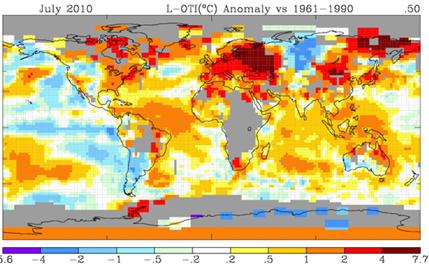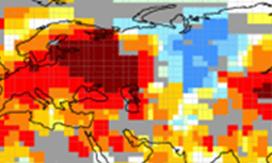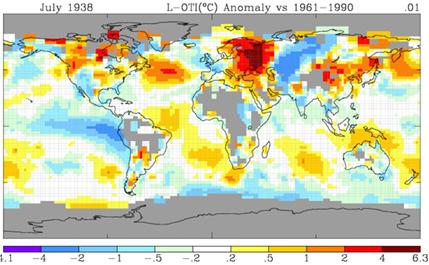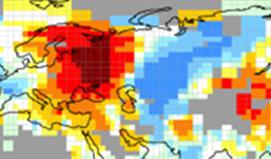 The NOAA/ESRL provides plotting of NCEP/NCAR Reanalysis data (starting from 1948) at:
[http://www.esrl.noaa.gov/psd/data/gridded/data.ncep.reanalysis.pressure.html]
The following figure plots the July geopotential height of 500 mb (used to calculate the blocking index) from the NCEP/NCAR data for several individual years and compares them with the July temperature anomalies and blocking history graphs shown previously.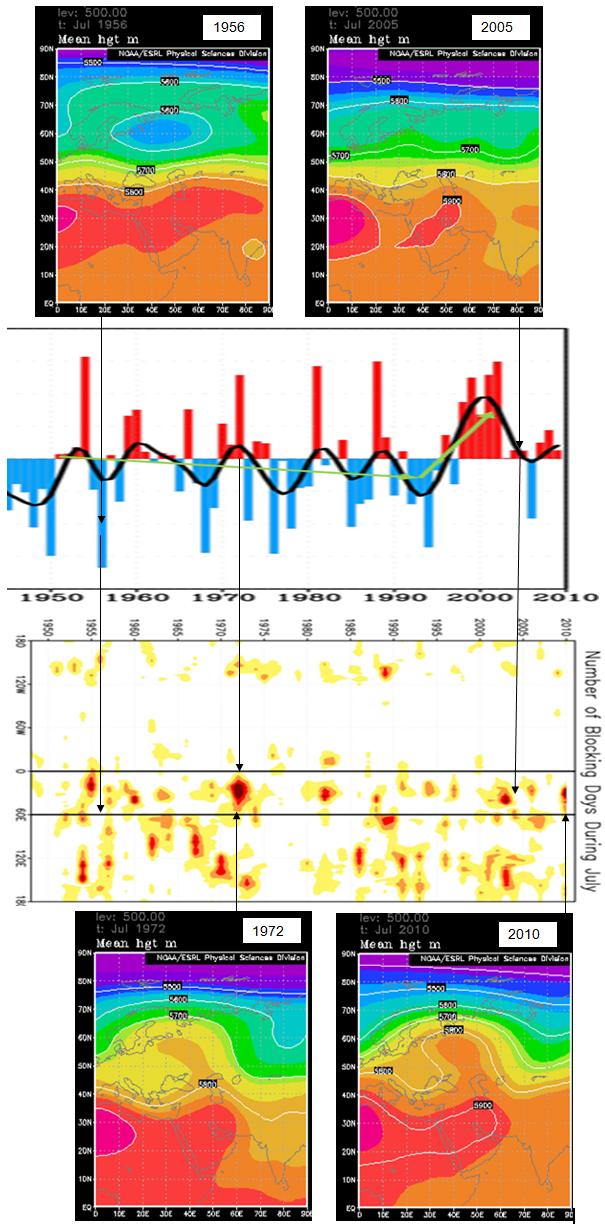 The top two plots show a cold July (1956) and a July with close to zero temperature anomaly (2005). The bottom two plots show examples of the warm anomaly blocking pattern (1972 and 2010). The distinctive jet stream patterns for cold, "normal", and hot Julys are clearly visible in these plots. Not every year matches these patterns since there is a lot of variation in climatic phenomena. For example, 2001 and 2002 had hot Julys in the region but the blocking did not last for many days (plots shown below).