Temperatures and PDO
The BYU scientists' "open letter" implies that the Pacific Decadal Oscillation (PDO) is not related to Utah's climate. Although they do not directly state that, they say: "it was claimed that climate scientists have ignored the hypothesis that the Pacific Decadal Oscillation, a natural mode of climate variability, could be responsible for climate change over the last century. The inaccuracy of this claim can also be readily demonstrated. A database search on our university library system, prompted by this claim, uncovered more than 600 peer-reviewed, scientific articles addressing the relationship of the Pacific Decadal Oscillation with climate change on many timescales, published within just the last five years alone." They don't state what is in the 600 articles, so we'll take a look at the actual data.
The following figure shows the annual average temperature anomalies for the two 5x5 degree grids covering most of Utah. This is from the Hadley Climatic Research Unit (HadCRU) CRUTEM3 database used by the IPCC (plotted at http://www.appinsys.com/GlobalWarming/climate.aspx). The warmest year (as for the United States as a whole) was 1934.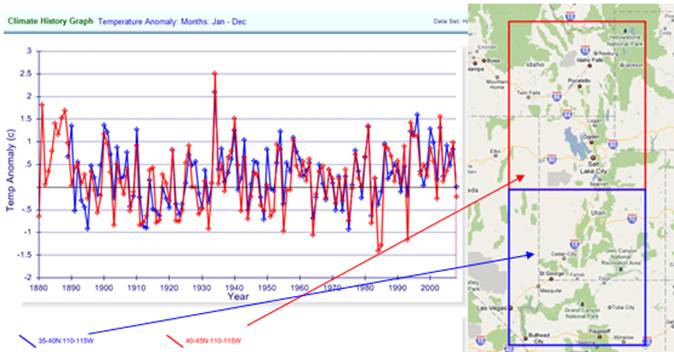 The following figure shows the average of the above two 5x5 degree grids.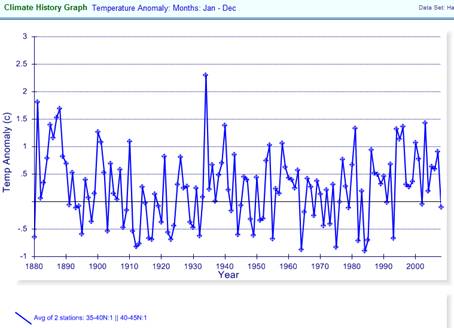 The following figure shows the Pacific Decadal Oscillation (PDO) (from http://jisao.washington.edu/pdo/)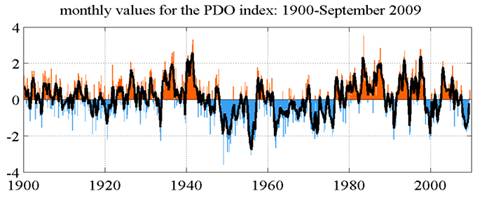 The following figure shows the average annual temperature anomalies for the averaged two 5x5 degree grids shown above, changed to green and superimposed on the PDO. The relationship between the PDO and Utah temperature cannot be denied.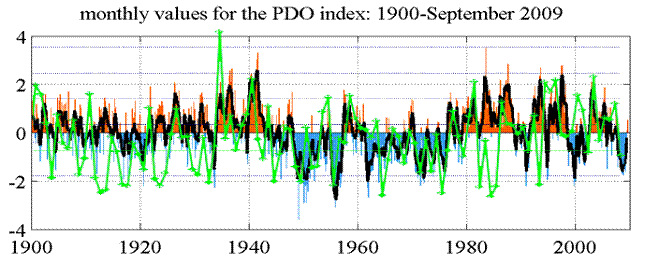 It is clear that the current warming in Utah is not unprecedented and not statistically significant. It is also clear that the Utah temperatures are related to the PDO.
The following figures show the annual average temperatures for a couple of stations in Utah from the NASA GISS temperature database [http://data.giss.nasa.gov/gistemp/station_data/]. Current warming is similar to the 1930s, when the IPCC says it was natural.