Precipitation / Drought
The following figure shows US precipitation for 1895 – 2007.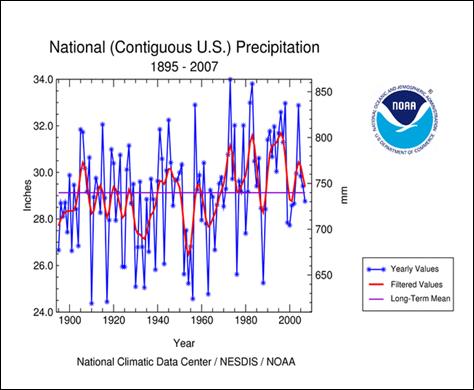 US Precipitation 1895 – 2007 http://www.ncdc.noaa.gov/img/climate/research/2007/dec/Reg110Dv00Elem01_01122007_pg.gif
The following figure shows precipitation anomalies for Feb 2003 to Jan 2007.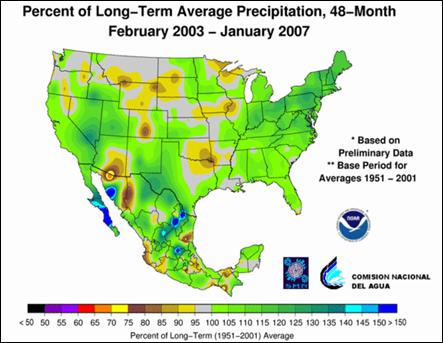 Precipitation Anomalies [http://www.ncdc.noaa.gov/oa/climate/research/2006/ann/us-summary.html]
NOAA's National Climatic Data Center provides historical monthly data on extreme wet and dry conditions in the US: http://www.ncdc.noaa.gov/oa/climate/research/2008/jul/uspctarea-wetdry-svr.txt. Plotting this data shows the following results (1900 to July 2008):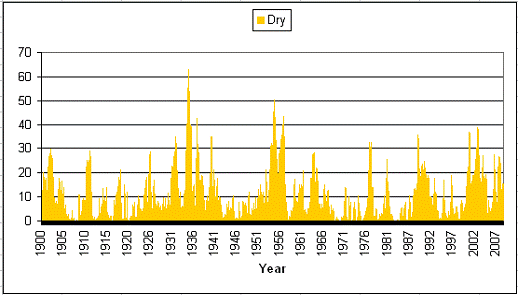 Severe to Extreme Dry (Percent Area)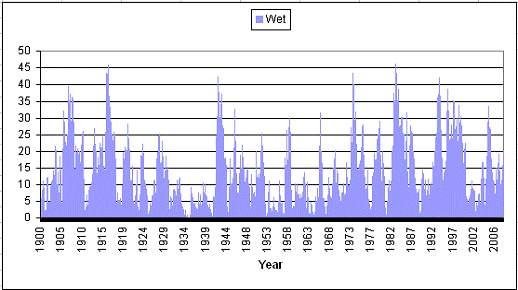 Severe to Extreme Wet (Percent Area)
A study of extreme drought and precipitation in the US (United States Geological Survey (2004, March 10). Research Links Long Droughts In U.S. To Ocean Temperature Variations) [http://www.sciencedaily.com/releases/2004/03/040310080316.htm] states: "researchers believe that such large and sustained shifts in U.S. precipitation are linked with the natural variability of sea surface temperatures, the mechanisms are not well understood and cannot yet be used to help predict the likelihood of droughts. These sea surface temperature variations are characterized by climatic indices dubbed the Pacific Decadal Oscillation, or PDO, and the Atlantic Multidecadal Oscillation, or AMO. McCabe and his coauthors suggest that large-scale droughts in the United States are likely to be associated with positive AMO -- the kind of warming of sea surface temperatures that occurred over the North Atlantic in the 1930s, 50s, and since 1995."
See www.appinsys.com/GlobalWarming/AMO.htm for more details on the effects of the AMO on the US climate.
A study of past 1930s-type dustbowl droughts (National Oceanic And Atmospheric Administration (1998, December 21). Droughts More Severe Than Dust Bowl Likely)   [http://www.sciencedaily.com/releases/1998/12/981221083346.htm] states: "The authors found a greater range of drought variability in the past than found in the instrumental record. Droughts of the 20th century have been only moderately severe and relatively short, compared with droughts of much longer ago. Woodhouse said that paleoclimatic records of the past 400 years strongly indicate that the severe droughts of the 20th century, the 1930s Dust Bowl and the l950s drought, were not unusual events and suggest that we can expect to have droughts of this magnitude once or twice a century."
There are always some areas in the US that are experiencing drought or extreme wet, as indicated in the above two figures. The following figure shows the change in drought severity from Sep 2007 to Aug 2008. Drought in southern California and Arizona has lessened, while drought in Texas and Georgia has worsened.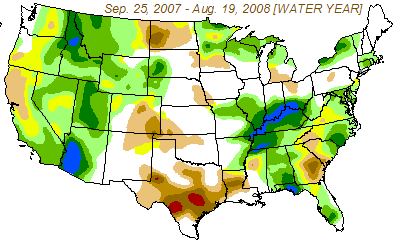 The following figure shows northern hemisphere snow cover for late January from 1967 to 2008.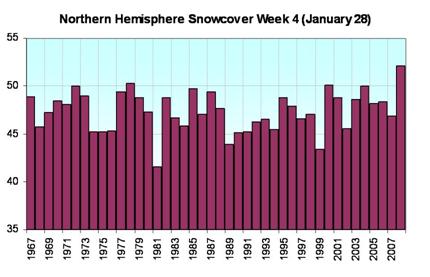 The following figure shows number of large snowstorms for the U.S. east of the Rockies 1950 – 2000, no trend observed (Changnon, D., C. Merinsky, and M. Lawson, 2008. Climatology of surface cyclone tracks associated with large central and eastern U.S. snowstorms, 1950–2000. Monthly Weather Review, 136). [http://ams.allenpress.com/archive/1520-0493/136/8/pdf/i1520-0493-136-8-3193.pdf]