Inland Niger Delta, Mali
In his 2008 tour of the Sahel, UN Secretary-General's Special Adviser on conflict, Jan Egeland toured a Lake Faguibine restoration project in Mali and said: "When all the world's leaders are there [in Copenhagen] we must ask if we are really going to let life-saving projects like this, which are directly related to climate change, go unfunded. That would really be a moral failure; if climate change projects that already exist to help affected people go unfunded by those industrialised nations that caused climate change!" [http://allafrica.com/stories/200806050699.html].
Lake Faguibine is a basin with no continuous inlet or outlet – it is periodically filled by flooding from high levels in the Niger River. A UNEP report states that Lake Faguibine "is connected to the main Niger River by two long (65 and 105 km) and tortuous channels that eventually join and carry the water over another 20 km to the first depression, Lake Télé. In favourable years the water can spill over into the main Lake Faguibine, some 60 km further north." [http://www.unep.org/pdf/Lake-Faguibine.pdf] This lake is in adjacent to an area of Mali called the Niger Inland Delta – "a complex combination of river channels, lakes, swamps, and occasional areas of higher elevation" [http://earthobservatory.nasa.gov/IOTD/view.php?id=8249].
The same UNEP report states: "Lake Faguibine dried out completely in 1914 and 1924, again in 1944 and has been at very low levels since the mid 1970s. The series of good floods from 1924 to 1930 and from 1951 to 1955 completely filled the lake. This indicates that, for complete filling, the water balance of the Lake … needs to be positive for a series of consecutive years. Such series of high flood years have not occurred since the 1970s. However, from a human livelihood perspective, complete filling of the Lake is not its most desirable state as the best recession agriculture soils and high quality flood-dependent pasture are situated in the lowest parts of the Lake. The annual flooding and drying of these areas is perceived locally as the ideal state."
"Mali is highly dependent on wood for its fuel needs. Over 90% of energy needs are met from primary sources such as wood and charcoal. However, Mali has never had extensive forest cover. Deforestation for the purposes of agriculture, fuel and building materials has denuded vast areas of Mali. Livestock grazing then slows the ability of the trees to regenerate. The lack of trees contributes to desertification." [www.oxfam.org.uk/coolplanet/ontheline/explore/journey/mali/downloads/malreport.doc]
"The use of fire to manage agricultural land is one of the leading causes of land degradation; an estimated 14.5 million hectares of pasture are burned each year, equivalent to 17 per cent of the country" [http://www.unep.org/pdf/Atlas_Mali.pdf] 
The following figure shows a map of the inland delta with Lake Faguibine being the long narrow triangular shaped lake near the top of the dotted oval [http://www.waterfoodecosystems.nl/?page=1918]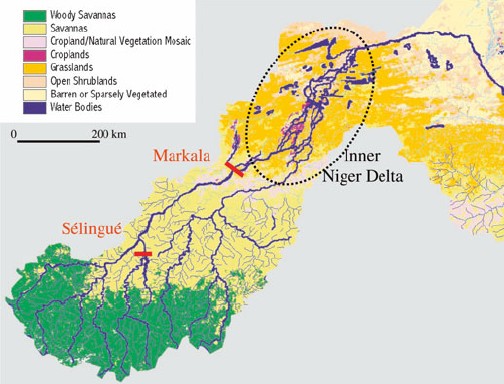 The Niger River level feeding the inland delta and thus Lake Faguibine is dependent on the releases from the Markala dam. "Years with a peak discharge below 4000 m3/s occurred only twice between 1900 and 1980, but it has rarely been above this level during the last 20 years. This decrease is partly due to a reduced rainfall in the catchment area of the Niger, but can also be attributed to two dams in the river, upstream of the Inner Delta. At the Markala dam, an amount of 2.5 km3 water is taken each year since 1950 to irrigate 40.000 ha." [http://www.waterfoodecosystems.nl/?page=1918]
The inland delta and its inhabitants are impacted, but new wetlands and agricultural areas have been created which replace them. "The impact of these dams in their own area is predominantly positive; especially for the Markala dam that had the sole purpose of creating new agricultural land. But also for the Selingué dam that had energy supply as a main purpose. Even some populations of waterbirds are now dependent on associated newly created wetlands. However the Inner Niger Delta and its 1 million inhabitants lose out completely. … Due to the Sélingué reservoir and the irrigation by the Office du Niger, the water level in the Inner Niger Delta has been lowered by 20 to 25 cm. As a result of the lower water levels the inundated area of the Inner Niger Delta has been decreased by 900 km2". [http://www.prem-online.org/archive/11/doc/Wetlands%20Upper%20Niger%20english.pdf]
Thus it appears UN Secretary-General's Special Adviser on conflict, Jan Egeland, is either ignorant of the actual situation at Lake Faguibine or (more likely) is purposefully distorting it for the UN's political goals.