Glaciers
The same Pederson et al study cited above provides the following figure showing the decreasing area of the Sperry Glacier over the available timeframe of observations (left). The graph (right) shows the glacier area versus year.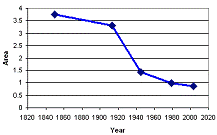 Another study "Decadal-scale Climate Drivers for Glacial Dynamics in Glacier National Park, Montana, USA" (Pederson, G. T., D. B. Fagre, S. T. Gray, and L. J. Graumlich (2004), Geophysics Research Letters) [http://www.agu.org/pubs/crossref/2004/2004GL019770.shtml] "the 1850's glacial maximum was likely produced by ∼70 yrs of cool/wet summers coupled with high snowpack. Post 1850, glacial retreat coincides with an extended period (>50 yr) of summer drought and low snowpack culminating in the exceptional events of 1917 to 1941 when retreat rates for some glaciers exceeded 100 m/yr. This research highlights potential local and ocean-based drivers of glacial dynamics, and difficulties in separating the effects of global climate change from regional expressions of decadal-scale climate variability."
The above paper provides the following figure showing the retreat of the Agassiz and Jackson glaciers "Yellow shading indicates initiation of glacial recession in the late-19th and early-20th centuries. Red lines and red shading highlight changes in glacial margin position between the onset and termination of the severe 1917–1941 drought. Estimated net retreat rates (m/yr) are shown in blue." [http://www.nrmsc.usgs.gov/files/norock/products/GCC/GeophysResLet_Pederson_04.pdf]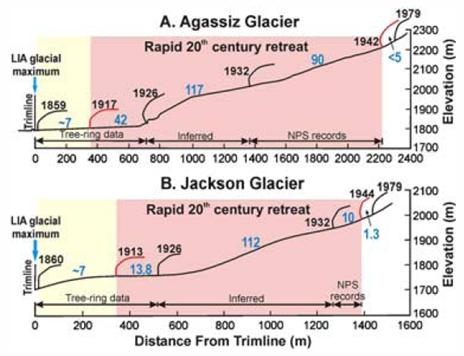 Similar to the Sperry glacier shown previously, the rapid retreat of Agassiz and Jackson glaciers occurred in the "severe 1917–1941 drought" – i.e. not the era blamed on anthropogenic CO2.
The Selkowitz et al study cited previously states: "Despite relatively stable snowpacks and summer temperatures since 1922, the glaciers in Glacier National Park have receded steadily during this period, implying a significant climatic shift between their Little Ice Age glacial maxima (ca 1860) and 1922."
Not all of Glacier National Park's glaciers are retreating. The following figure shows the largest glacier in the park – Harrison Glacier [http://www.nichols.edu/DEPARTMENTS/Glacier/glacier_retreat.htm] showing "the glacier margin in 2005 and orange line showing the 1966 margin map overlay on this SPOT satellite image. No evident change in the accumulation zone indicates an equilibrium response."