Kenya, Africa
This is part of the Regional Summary series at www.appinsys.com/GlobalWarming
There appears to be a disconnect between Western ideas of CO2 and the reality of the effects of deforestation. The monkeys' normal habitat is being destroyed by deforestation.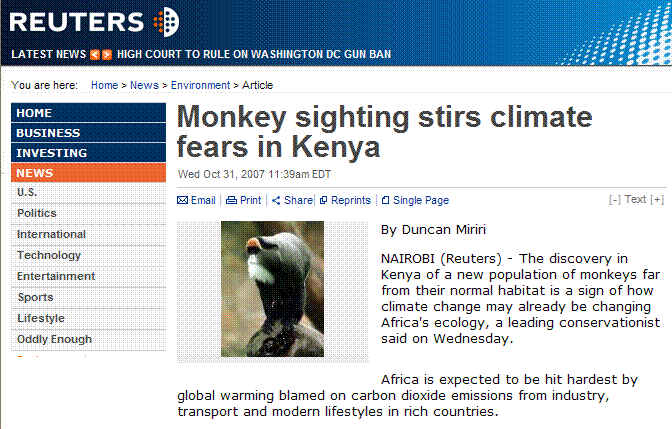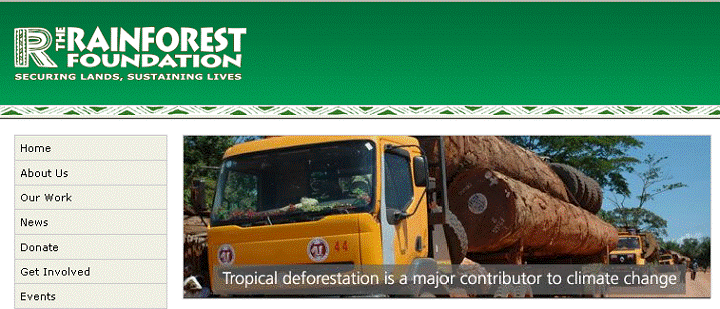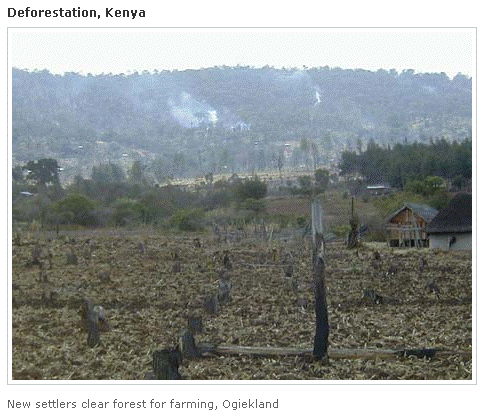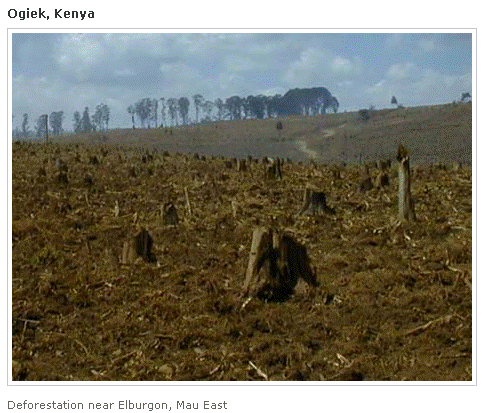 [Photos from: http://www.rainforestfoundationuk.org/]



[http://www.womeninworldhistory.com/contemporary-01.html]
Kenya's annual deforestation rate for 1990 – 2005: 12,000 ha / year (total remaining forest: 3.5 million ha).
Population: 34 million (60 % rural), growth rate: 2.8 %, fertility rate (children / woman): 4.8, population doubling period: 28 years. [http://rainforests.mongabay.com/20kenya.htm] (42 % < 14 years of age).
"The deforestation that has occurred in Mt Kenya, Mau, Aberdare, Mt Elgon and Kaptagat forests has negatively affected watersheds. Due to the loss of forest cover, the ability of water catchment areas to regulate run-off has been reduced, with subsequent flooding. The area under forest cover has rapidly diminished from 165,000 hectares in 1988 to 80,000 hectares in 2003."[http://www.rio10.dk/index.php?a=show&doc_id=1846]
"The deforestation of the Mau Forest has continued unabated, Nuttal said, noting that charcoal burning and farming activities were the main causes of the destruction. An estimated 11,000 sq km of the forest have been affected by the destruction. Contrary to conventional wisdom, an estimated 62 percent of precipitation occurs over land as a result of evapotranspiration from lakes and wetlands and dense vegetation, particularly forests, which pump ground water into the sky." [http://www.irinnews.org/report.aspx?reportid=61528]  
"Lake Nakuru is faced with extinction due to industrial pollution and massive deforestation in its water catchment areas. Rift Valley Provincial Commissioner Wilfred Ndolo says river Njoro, the main distributor of the lake has dried up due to degradation of the Mau escarpment forest." [http://www.kbc.co.ke/story.asp?ID=20718]
"During the last 30 years, the Lake Nakuru basin has been transformed from a sparsely populated and densely forested expanse into a region that is heavily settled, extensively cultivated, and rapidly urbanizing. A key driver has been the substantial increase in the human population, resulting from both past and continuing high fertility and extensive in-migration." [http://assets.panda.org/downloads/disappearingpart2.pdf]
A study of the effects of microclimatic changes caused by deforestation in the Kenyan highlands (American Journal of Tropical Medicine and Hygiene): "the mean indoor temperatures of houses located in the deforested area were 1.2°C higher than in houses located in the forested area during the dry season and 0.7°C higher during the rainy season" [http://www.ajtmh.org/cgi/content/abstract/74/5/772]
Kenya: Temperature History
Unfortunately there are no long-term temperature stations in Kenya.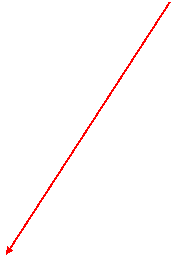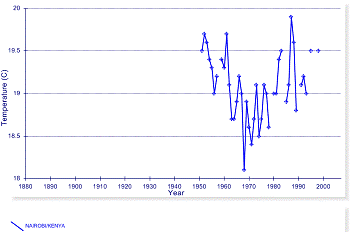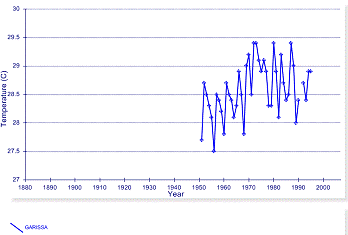 Kenya: Precipitation History
Unfortunately there are only two long-term and two medium-term precipitation stations in Kenya.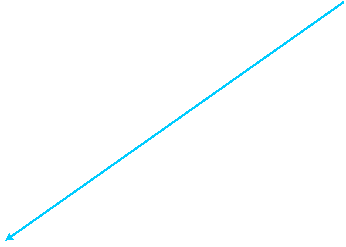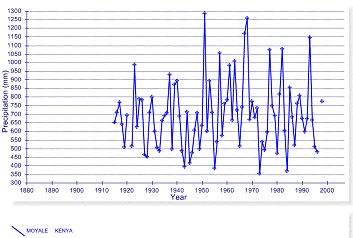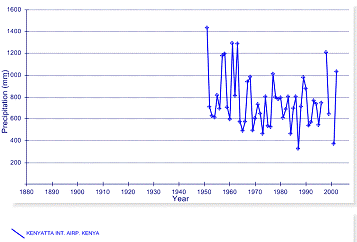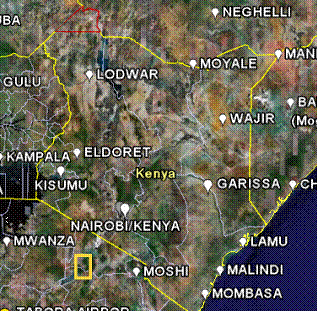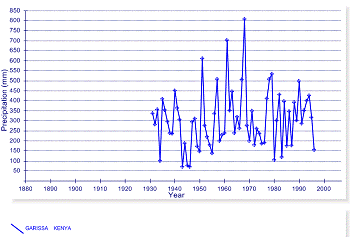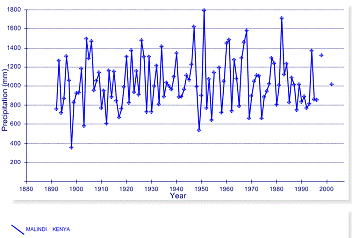 Deforestation: Kenya / Tanzania Border area (the brown areas were all formerly forested area – except the upper part of Mt Kilimanjaro)