National Park Service: "Tilting at Windmills"
The NPS is trying to reduce CO2 emissions at Hawaii Volcanoes National Park on the island of Hawaii. Given that the volcano constantly emits at least 8,000 tonnes of CO2 per day, this is "tilting at windmills".
"In 2006, Hawaii Volcanoes NP's GHG emissions totaled 5,971 metric tons of carbon equivalent (MTCE). … the largest source of Hawaii Volcanoes NP's emissions is Mobile Combustion - totaling 4,372 MTCE."
[http://www.nps.gov/climatefriendlyparks/downloads/Action%20Plans%20and%20Inventories/HAVO%20Action%20Plan%202007.pdf]
The following figure (left) shows the annual average temperature at Hilo (the closest station in the GHCN to Volcanoes National Park) for the last 45 years. [http://www.appinsys.com/GlobalWarming/climgraph.aspx?pltparms=GHCNT100AJanDecI188020090900110AR42591285000x] With no warming occurring during the anthropogenic global warming era, it is difficult to understand what warming the NPS is trying to stop.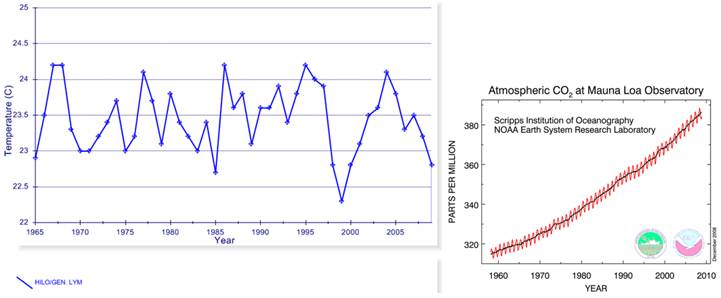 Hilo is also the closest station to the Mauna Loa observatory, where the longest continuous record of CO2 measurements is from, starting in 1958 (as shown in the figure above right – from http://www.esrl.noaa.gov/gmd/ccgg/trends/co2_data_mlo.html). The next figure combines above two. Although CO2 has continued to increase, the effects are no warming in Hawaii.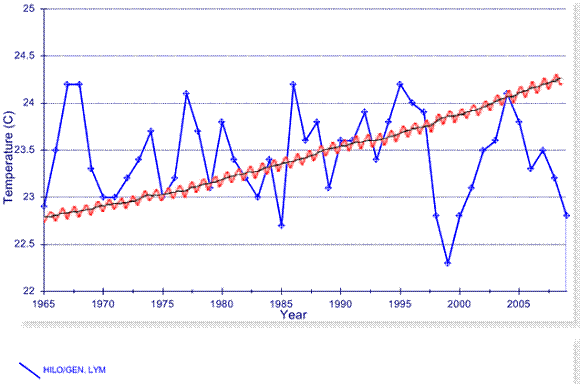 According to the USGS, "studies here at Kilauea show that the eruption discharges between 8,000 and 30,000 metric tonnes of CO2 into the atmosphere each day." [http://hvo.wr.usgs.gov/volcanowatch/2007/07_02_15.html]
Their emission reduction goal (as stated in the NPS report cited above): "Reduce Transportation Emissions by 12.5% below 2006 levels by 2012."
At 8,000 tonnes per day versus the visitors' cars' 4,700 tonnes per year, the volcano beats cars by a factor of more than 660. Eliminating all cars would reduce the Park's emissions by 0.15 %.
But they will spend tax dollars to "implement a safe biking program to reduce visitor vehicle miles traveled, develop a marketing campaign to increase bus ridership, provide two hydrogen shuttle buses…" etc. (The park consists mainly of fairly steep roads, so replacing cars with bikes is just wishful thinking.)