Glaciers
The Time article cited previously also stated: "The Andean nation's millenniums-old glaciers are melting down to bare rock because of global warming that the country's 9 million residents did little to create. Scientists in Bolivia say its ice masses have lost 50% of their volume in the past 40 years alone. But this goes beyond mourning the slow death of great natural beauty. These glaciers provide 20% of the drinking water for two of Bolivia's largest cities, La Paz and El Alto, as well the surrounding countryside".
The Chacaltaya glacier is one of the glaciers providing water to La Paz. The 1998 El Nino resulted in the permanent closing of the Chacaltaya ski resort. Glaciers have been decreasing since the end of the Little Ice Age in the 1800s. Unfortunately, observations of Chacaltaya were only recorded starting in 1940. It has since decreased by 90%.
A 2009 study "Reconciling melting glaciers and falling temperatures in the Bolivian highlands" [http://www.inesad.edu.bo/mmblog/mm_20090323.htm], states: "All long-run monthly temperature series for the Bolivian highlands, including the La Paz/El Alto station, which is located near Chacaltaya, show cooling trends over the last six decades of about -0.2ºC/decade. … These observed negative temperature trends in the Bolivian highlands beg two questions: 1. How can the falling temperatures in the Bolivian highlands be reconciled with the visibly diminishing glaciers? And 2. Why are temperatures falling, when they are supposed to be increasing?"
The study concludes: "If the rapid melting of Chacaltaya since the mid 1970s were caused by increasing temperatures due to increased CO2 in the atmosphere, we would have observed increased night time temperatures, increased average temperatures, and increases in cloud cover and precipitation (that is what CO2 driven climate models would suggest). But instead we have observed decreasing cloud cover, decreasing average temperatures (likely the result of night time temperatures falling more than day time temperatures increased), and decreasing precipitation, all of which conspired to melt the glacier. The observed evidence from Chacaltaya is thus inconsistent with the Anthropogenic Greenhouse Warming (AGW) theory, or, at least, if there is an AGW signal, it is completely drowned by other climatic changes unrelated to AGW. It is ironic that the melting Chacaltaya glacier has become such an important symbol of the AGW theory, when in fact the evidence from Chacaltaya seems to refute this theory."
The following figure shows the Chacaltaya glacier on Google maps [Apr 25, 2010].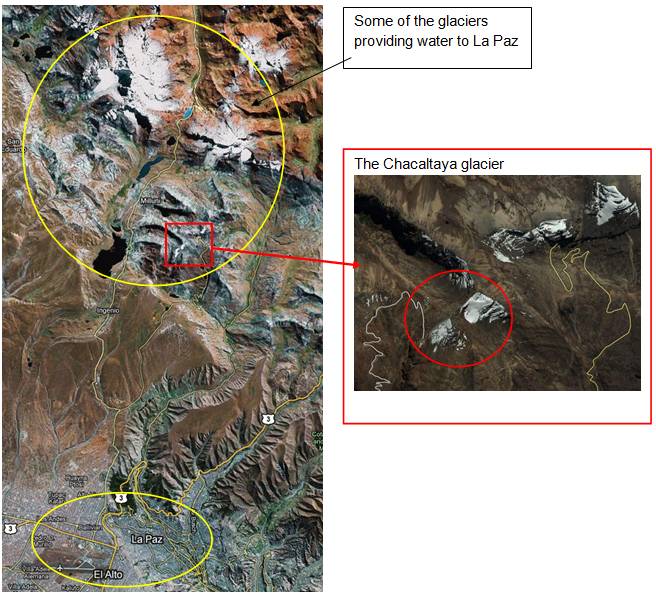 Snow line on the Bolivian mountains is related to precipitation, which is related to ENSO: "A progressive rise of the snow line elevation is observed from 1963 to 1998 with a sustained rise from 1984 to 1990. The snow line altitude is related to the Southern Oscillation Index. Even after the high precipitation of the 1996-1997 wet season, the following El Nino 1997-1998 leads to a substantial rise of the snow line. The snow line elevation is related primarily to the total rainy season predipitation and to a lesser degree to the maximum monthly mean temperature of the warmest month, thus confirming a greater snow line sensitivity to precipitation than to temperature." [http://www.atmos.albany.edu/facstaff/mathias/pubs/Arnaud_et_al_2001.pdf]