Montana
The following figure shows the area of Montana affected by the MPB (area shaded in red – forested area shaded in green).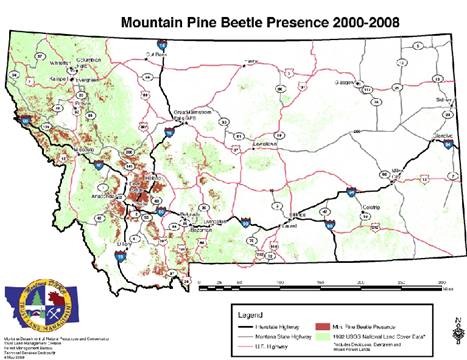 [http://beetles.mt.gov/Documents/FlashPresentations/MTNPineBeetleFinal.html]
The following figure shows the acreage by age class of lodgepole pine (from the same source as above). Most of the trees are in the most susceptible age class of 80 years or older. The above source states: "In some areas of Montana, wildfire suppression and other factors have led to overstocked forests, in which many trees are growing in close proximity, competing for water, sunlight and nutrients."
It also states: "in Montana, an estimated 506,000 acres of ponderosa pine are in the "fully stocked" and Overstocked" categories and thus at high risk. … Given the factors of age and stocking conditions for lodgepole pine and ponderosa pine, more than 2.8 million acres of Montana's forested lands are at high risk for mountain pine beetle infestation. The last major outbreak in Montana occurred in the 1970s and early 1980s, when some four million acres were affected. … Montana's current outbreak has not yet reached the levels seen in the early 1980s."
The graph below shows acreage affected by mountain pine beetle over the past 33 years (through 2008) in the USDA Forest Service's Northern Region, which includes the Idaho Panhandle, all of Montana, and North Dakota (from the same source as above).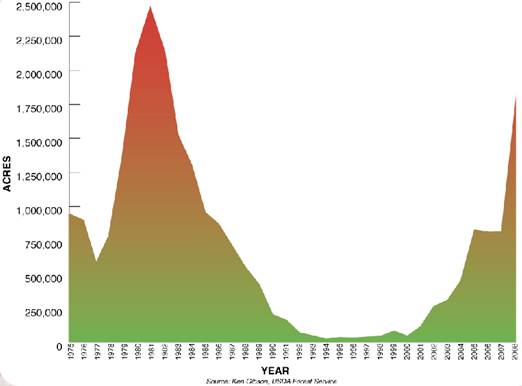 January 21, 2010: the Billings Gazette reports: "The acreage of pine forest in Montana infested with the mountain pine beetle more than doubled in 2009, but a forester says the epidemic is losing steam in some areas. Pine beetles infested 1.2 million acres of forest in 2008 and 2.7 million acres in 2009, based on aerial surveys. Most of the outbreak has occurred in forests near Butte, Anaconda and Helena."
[http://www.billingsgazette.com/news/state-and-regional/montana/article_cbff6fa8-069e-11df-adf4-001cc4c002e0.html]
The following figure shows the average minimum January temperature for Anaconda and Butte from the NOAA GHCN database (plotted at: http://www.appinsys.com/GlobalWarming/climate.aspx) No long-term warming trend is evident in the January minimum temperatures.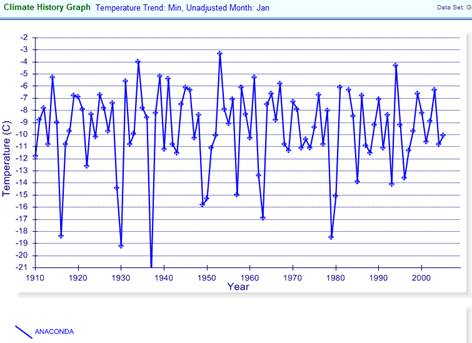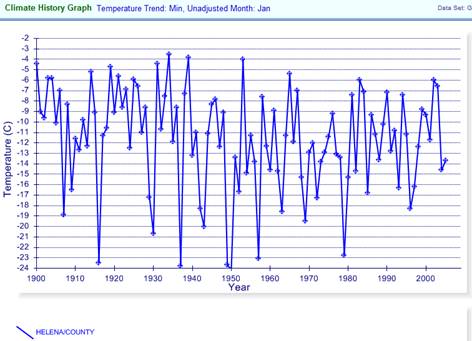 See also Western Montana regional study: http://www.appinsys.com/GlobalWarming/RS_Montana_usa.htm