Desertification in Mongolia
The following information is from a 1998 report "Desertification in Mongolia" by Zambyn Batjargal of the National Agency for Meteorology, Hydrology and Environment Monitoring, Mongolia [http://www.rala.is/rade/ralareport/Batjargal.pdf].
"The climate of Mongolia is characterized by a high moisture deficit, low humidity and low levels of incident energy. Precipitation is generally low, ranging from less than 50 mm per year in the extreme south (Gobi desert region) to just over 500 mm per year in limited areas in the north … Because of the continental climate, fluctuations in temperature are extreme, both annually and diurnally. Fluctuations can be as high as 30°C in single day and the difference between average winter low temperature and summer high temperature in excess of 50°C as compared to 25°C range in Europe. Moreover, it is possible even during summer to get sharp falls in temperature and unseasonal frosts can cause harvest losses of between 10 and 30% of crops. In addition, the spring-summer droughts, on the average, occur once in every five years in the Gobi region, and once in every ten years over most other parts of the country (Figure 4)."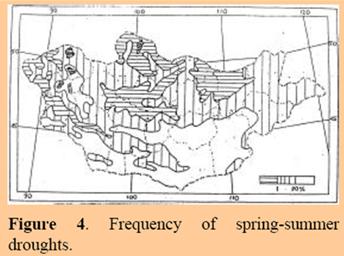 "Due to above mentioned climatic factors the natural ecosystems, including soil, are relatively fragile, highly susceptible to degradation by human activities, and slow to recover. The rates of humus production and vegetative regeneration and growth are very low throughout the country and agricultural productivity is low in comparison to other countries of the same latitude."
"The impact of human activities and regional droughts on water resources in Mongolia over the past several decades has been profound. Water use for irrigation, mining etc., and human activities in watersheds such as deforestation, have resulted in substantial reductions in river flows and flow regimes, water level reductions or complete drying of many lakes, and lowering of ground water tables. For example, the annual average flow of the Tuul river has been reduced by 32% and roughly half of this reduction may be attributed to the cutting of 270 km2 of forest in the watershed of this river 40–50 years ago."
"It was reported (Batjargal 1992) that several lakes in the southern part of Mongolia, for example Onggyn Ulaan, Orog, Dzagyn Shal, have been severely depleted or have dried out completely. But since 1993, the situation has changed due to less intensity of drought and most of those lakes have already been recovered. In addition to the obvious ecological disruption caused by lake drying or level reductions, human economic activities on lake-shores, such as the mowing of reed for fodder, have significantly impacted the ecology and wildlife of many lakes."
"There are several specific human activities that have led to serious and widespread soil erosion and land degradation. Crop cultivation is an important reason of soil erosion. Spring tilling coincides with the season of intensive wind and most cultivated areas are devoid of trees or other wind breaks. In the Gobi region the average wind speed is 3–4 meters per second or even more which can cause significant soil moisture loss and erosion. It is estimated that over the past 30 years, an average of 35–50 tons of soils have been lost from each hectare of cultivated land due to erosion.  Another factor is vehicle-induced degradation from overland travel in the absence of an established road system. It is estimated that nationwide there are four times as many vehicle tracks as are necessary, causing degradation and denudation of 0.7 million ha of land. The deforestation due to clearcutting for timber harvest, fire and insect infestations are among the factors contributing to soil erosion."
"The most prevalent human activity in Mongolia that can potentially induce anthropogenic land degradation augmenting desertification risk is animal husbandry, characterized by livestock grazing. … The carrying capacity of pasture land is frequently exceeded in the areas receiving the greatest grazing pressure, resulting in degradation of the composition of plant species and soil denudation."
Other reports:
"As population increases, the domestic animal population to support it increases. Overgrazing is leading to the loss of grassland species and damage from erosion that is difficult to restore. This brings economic hardship for Mongolia's herders and threatens wild grazer populations. … There are 25 million grazing animals in Mongolia and many of them live in the Gobi Desert. In recent years ground water levels have dropped all across the desert not only due to drought and the normal dry Gobi climate but also due to the expansion of nomad family herds because of increasing population."  [http://www.oneearthadventures.com/gobi/issues/issues.htm]
A 2002 study (Ayush "Desertification and Drought Assessment in Mongolia" [http://sciencelinks.jp/j-east/article/200222/000020022202A0774232.php]) states: "In Mongolia, the main causes of desertification are land degradation as a result of irrational utilization of land, water and forest resources, pasture overgrazing, and cutting of trees and shrubs for fuel and cultivation. Factors for desertification can be divided into two categories, natural and anthropogenic factors. In Mongolia, anthropogenic factors (87%) are the main cause of desertification."
A 2007 study ("Integrated desertification assessment in Southern Mongolia" [http://deposit.ddb.de/cgi-bin/dokserv?idn=987533290&dok_var=d1&dok_ext=pdf&filename=987533290.pdf]) examined the Bulgan soum in the Gobi area of southern Mongolia and states "Climatic variations, low variable rainfall, and dust storms overlaid by unsustainable human land-use practices, primarily poorly managed livestock grazing, are contributing to accelerated desertification." The following figure shows the study area as well as the degradation from 1990-2005.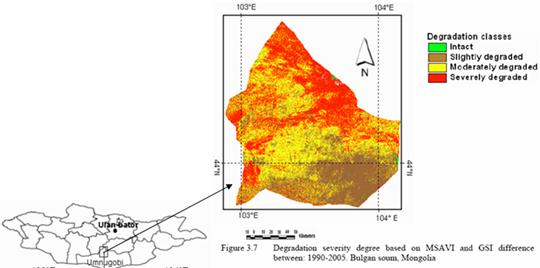 The following figures are from the above study, which states: "Drought, i.e., a shortage of precipitation over an extended period, is a regular and recurrent feature of the Gobi desert climate in Mongolia." (i.e. the Gobi Desert is a desert).
The following figure shows mean annual precipitation (MAP in mm) for 1970 to 2002 for the Bulgan soum area of the Gobi (thin line is 3-year moving average). There has been no trend in precipitation over the period.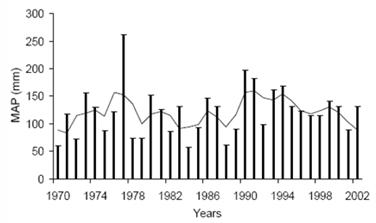 The following figure shows MAP (left same as above) and growing season rainfall (right) "Mean annual precipitation and growing season rainfall showed large interannual variability and was closely correlated … However, a general decrease was not found. This is contrast to the common claim of decreasing rainfall in Mongolia."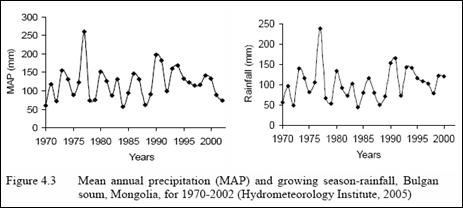 "Carrying capacity calculations according to western and Mongolian methods show that the Bulgan soum is currently supporting twice as many livestock as its carrying capacity. If this increasing trend of livestock density continues, the Bulgan soum will need to support even a factor of 2.5 more stock units than its actual carrying capacity by 2020."
"Species composition of livestock, which was proportional during the socialist period, has changed in response to world cashmere prices. Goats particularly have increased as a share of total livestock from 20% in 1990 to 40% in 2005. Some people postulate, however, that the recent severe spring dust storms may have been aggravated by the larger number of goats present across the Gobi region (UNDP, 2004)."
"As part of the livestock, horses, cows, sheep and goats have increased whereas the number of camels has decreased. Between 1990 and 2000, goats increased by the highest percentage (54%), horses by 76%, cows by 33% and sheep by 51%, while camels decreased by 8.1% in relation to their numbers (Figure 2.6)."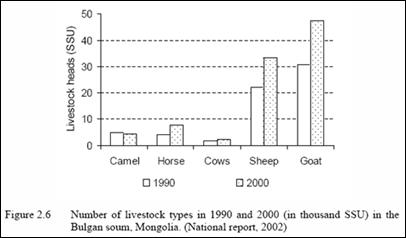 The following figure shows the plant biomass trend for the area. While rainfall has not decreased, the number of range-degrading livestock has greatly increased.