Caveats
Did Obama really accomplish this?
Sea Level
The following figure shows declining rate of change of sea level since during the era of George Bush.
[http://climate4you.com/images/UnivColorado%20MeanSeaLevelAnnualChangeSince1992%20With3yrRunningAverage.gif]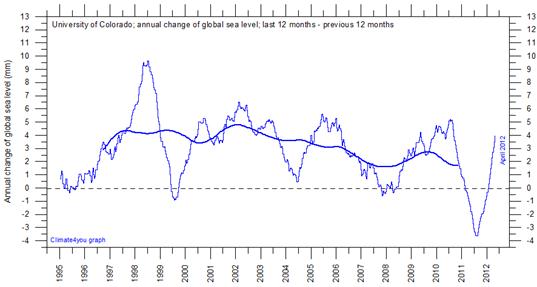 CO2 Emissions
U.S. CO2 emissions began declining before Obama took over, while China's CO2 emissions are increasing exponentially. The following figure shows CO2 emissions by country.


[http://edgar.jrc.ec.europa.eu/CO2REPORT2012.pdf]
"U.S. emissions started going down in 2005 and are expected to decline further over the next decade, while Europe's cap and trade system has had no measurable impact on emissions." [http://www.newgeography.com/content/002786-why-emissions-are-declining-us-but-not-europe]
So perhaps George Bush deserves the credit.
Temperature
There has been no increase in the global temperature trend over the last 15 years. The current decline started in 2002, so perhaps George Bush should get the credit.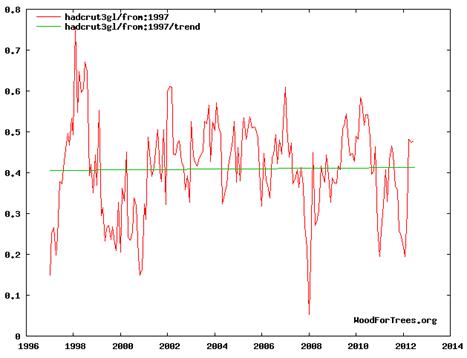 CO2 / Temperature
The following figure shows the CO2 at Mauna Loa [http://www.esrl.noaa.gov/gmd/ccgg/trends/]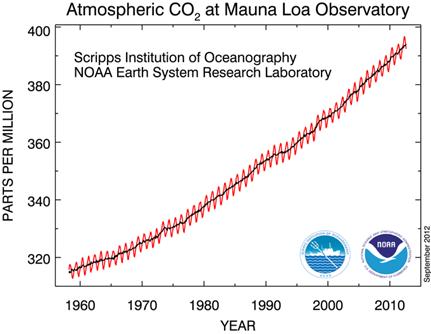 The following figure combines the previous two figures. CO2 rate goes up, temperature trend is flat (zero trend).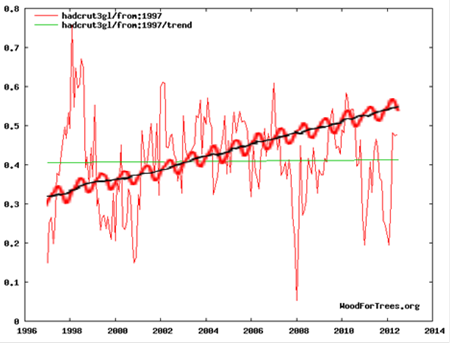 According to NOAA 2008 State of the Climate report, regarding climate models (which are based on CO2 for driving the warming): "Near-zero and even negative trends are common for intervals of a decade or less in the simulations, due to the model's internal climate variability. The simulations rule out (at the 95% level) zero trends for intervals of 15 yr or more, suggesting that an observed absence of warming of this duration is needed to create a discrepancy with the expected present-day warming rate." [http://www1.ncdc.noaa.gov/pub/data/cmb/bams-sotc/climate-assessment-2008-lo-rez.pdf]
In other words, the current observed period of 15 years with no warming invalidates the climate models, and thus the influence of CO2 on climate is over-guesstimated.
The following figure compares the observed global temperature with James Hansen's climate model predictions used to start the global warming scare in 1988. The observations most closely match scenario C (which had reduced CO2 emissions rate from 1988 levels into the future "such that the greenhouse gas climate forcing ceases to increase after 2000" – see http://www.appinsys.com/GlobalWarming/HansenModel.htm for more info on Hansen's models). Scenario A is the only scenario with an increasing rate of CO2 in the graph below.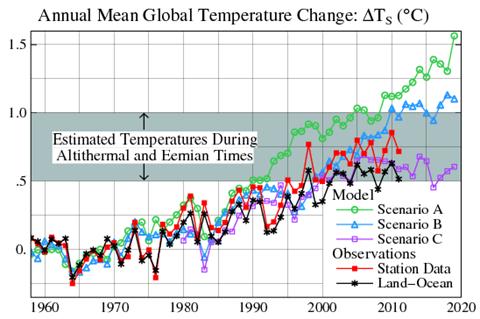 Figure from: [http://www.columbia.edu/~mhs119/Temperature/T_moreFigs/]
Since the only evidence for an influence of anthropogenic CO2 on climate is based on computer models (see http://www.appinsys.com/GlobalWarming/NatureRag.htm), and the current trends have now invalidated the models, it is time to investigate actual climatic factors instead of the political CO2 bogeyman.