African Agricultural Yields
The IPCC says: "By 2020, in some countries, yields from rain-fed agriculture could be reduced by up to 50%."
The World Bank World Development Report "Agriculture for Development" 2008 [www.worldbank.org/WDR2008] states: "Sub-Saharan African countries account for 89 percent of the rural population in agriculture-based countries … real agricultural GDP growth in Sub-Saharan Africa has accelerated from 2.3 percent per year in the 1980s, to 3.3 percent in the 1990s, and to 3.8 percent per year between 2000 and 2005. Rural poverty has started to decline in 10 of 13 countries analyzed over the 1990–2005 period."
A United Nations report states: "African agriculture remains largely traditional and concentrated in the hands of smallholders and pastoralists. Given the dominance of rain-fed agriculture, yields are low and farmers can be trapped in a cycle of poverty and food insecurity for decades. … Crop output in Africa has mostly increased due to the expansion of cultivated land. The growth in areas harvested ranged from 7 per cent to 20 per cent per annum between 1990 and 2006 (table 4.3). The area for cassava has grown by 20 per cent per annum while the area for other crops has generally grown at below 10 per cent. The growth in yield has been between 6 per cent and 9 per cent, well below the growth in area harvested, except in the case of maize, where yield has grown at a higher rate thanks to the introduction of hybrid maize in some areas." [http://www.uneca.org/era2009/chap4.pdf]
The following table is from that report.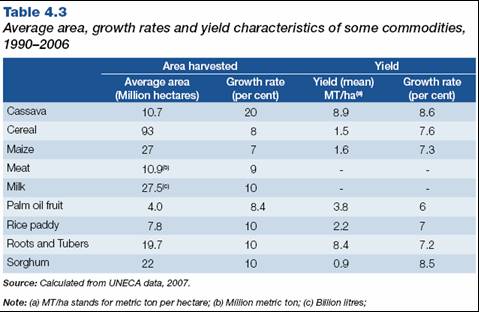 The following figures are from a United Nations Environment Program (UNEP) report in 2006 ("Climate Change and Variability in the Sahel Region: Impacts and Adaptation Strategies in the Agricultural Sector") [http://www.unep.org/Themes/Freshwater/Documents/pdf/ClimateChangeSahelCombine.pdf] showing total harvested cereal area and average maize yield from 1961 to 2004. Total area harvested has more than doubled in the last 30 years as has the average maize yield.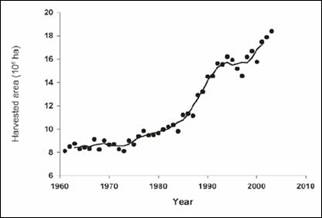 Total area of cereals harvested in the Sahel since 1961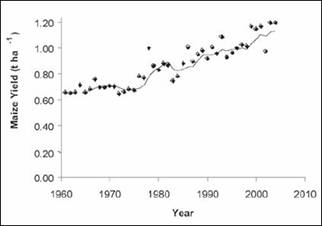 Average maize yield for the nine Sahel (CILSS) member countries since 1961
The UN Secretary-General's Special Adviser on conflict, Jan Egeland refers to the Sahel as "experiencing the worst effects of climate change in the world … environmental degradation and climate change is killing life here; how humanity is struggling under climate change." [http://www.alertnet.org/thenews/newsdesk/IRIN/d676d409fa4fdd336804cd367d59ea65.htm] Apparently he didn't read the UNEP report or look at actual rainfall data. "Global warming" has increased the rainfall and the food supply in the Sahel – but rapid population growth overwhelms the increase. Egeland is playing the standard UN political game of trying to blame environmental degradation due to overpopulation on western countries for causing "climate change".
Agencies actually working to increase crop yields disagree with the UN / IPCC:
"A PROJECT to develop new maize varieties could increase crop yields in SA and Kenya by up to 50%, improving food security and assisting small-scale farmers. The project, Improving Maize for African Soils (Imas), is run by a consortium led by the International Maize and Wheat Improvement Centre and is funded by 19,5m in grants from the Bill and Melinda Gates Foundation and USAID." [http://allafrica.com/stories/201003230068.html]
"Replenishing soil fertility with mineral and organic fertilisers could triple cereal crop yields in tropical Africa and achieve an African green revolution, says Pedro A. Sánchez from the Earth Institute. … Through mineral fertiliser applications, improved cultivars and the latest agronomic knowledge, maize yields have surpassed three tons per hectare in 78 per cent of village households, says Sánchez. … And at a national level, Malawi's fertiliser subsidy scheme — that gives farmers two-thirds off the market price of mineral fertilisers — has increased maize production from 0.8 tonnes per hectare in 2005 to 2.2 in 2007. The scheme has transformed the country from a receiver of food aid to a food exporter and donor, says Sánchez."
[http://www.scidev.net/en/opinions/soil-fertility-key-to-african-green-revolution.html]
The UN Food and Agriculture Organization (FAO) reported in March 2007 that "In Malawi, the first round of crop estimates has been completed and a maize harvest of 3.15 million tonnes is expected, an increase of 27 percent above last year's bumper crop of 2.47 million tonnes. The rice crop is also good and a harvest of 107 797 tonnes is expected, an increase of 17 percent. Rainfall has been above normal and generally well distributed, in contrast to neighbouring countries in the region". [http://www.fao.org/giews/english/shortnews/SouthernAfrica070319.htm]
The following figure shows Malawi total exports from 1964 to 2006 (in 000's of Kwacha). (Data from the National Statistical Office of Malawi [http://www.nso.malawi.net/]. Since 80 percent of Malawi's exports are agricultural it appears that global warming is having a positive impact.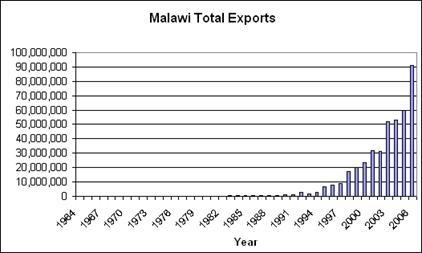 Rice production and yield has also increased (although production has increased faster than yield). The following figures show rice production and yields in Sub-Saharan Africa (SSA) [http://www.warda.org/publications/2007%20Africa%20Rice%20Trends%205th%20edition.pdf]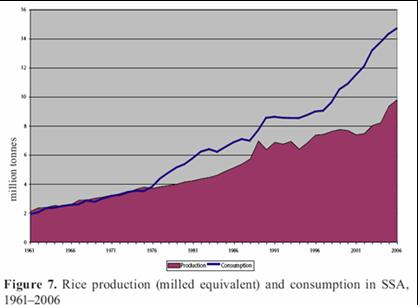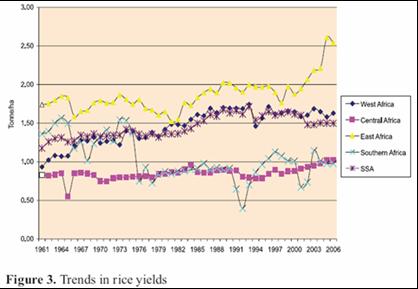 Africa's problems are not due to US CO2 emissions causing "climate change". According to a UN report: "Africa has 733 million hectares of arable land (27.4 per cent of world total) compared with 570 million hectares for Latin America and 628 million hectares for Asia. Only 3.8 per cent of Africa's surface and groundwater is harnessed, while irrigation covers only 7 per cent of cropland (3.6 per cent in SSA). Clearly, there is considerable scope for both horizontal and vertical expansion in African agriculture. … Insecurity in land ownership has been blamed for accelerated land degradation and lack of long-term investments in sustainable land management and stewardship of natural resources." Like most studies of Africa agricultural problems, the UN report recommends "Increase fertilizer use from the low levels of 125 gm/ha to at least 500 gm/ha, which is about half of the world average, and increasingly aim to reach the world average. …Strategies for transforming African agriculture have to address such challenges as low investment and productivity, poor infrastructure, lack of funding for agricultural research, inadequate use of yield-enhancing technologies" [http://www.uneca.org/era2009/chap4.pdf]