Hurricane Maria Killed Almost 3,000 People?
At the start of this article the Washington Post screen cap shows that Robinson wrote: "Hurricane Maria ravaged the island of Puerto Rico and caused, according to an independent study, nearly 3,000 deaths."
The independent study referred to was a statistical modeling attempt. The study states: "The official government estimate of 64 deaths from the hurricane is low primarily because the conventions used for causal attribution only allowed for classification of deaths attributable directly to the storm, e.g., those caused by structural collapse, flying debris, floods and drownings (see below). During our broader study, we found that many physicians were not oriented in the appropriate certification protocol. This translated into an inadequate indicator for monitoring mortality in the hurricane's aftermath. Verification of attribution takes time, while excess mortality estimation is a more immediate indicator."
Deaths attributed to the hurricane include "excess deaths" for several months after the event due to any number of factors resulting from the unsafe conditions.
In its estimating, the study says: "We estimated that in mid-September 2017 there were 3,327,917 inhabitants and in mid-February 2018 this number was 3,048,173 inhabitants of Puerto Rico, a total population reduction of approximately 8%. This was factored into the migration "displacement scenario" and compared with the "census scenario.""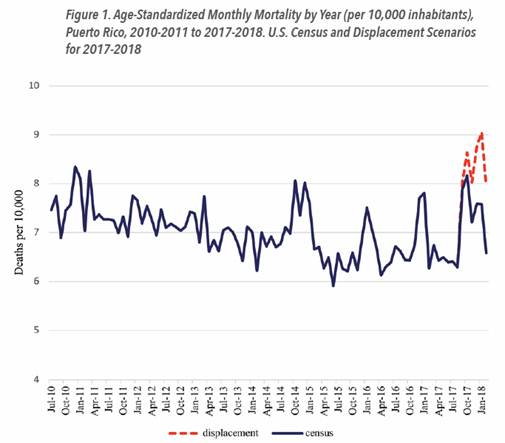 "Results from the preferred statistical model, shown below, estimate that excess mortality due to Hurricane María using the displacement scenario is estimated at 1,271 excess deaths in September and October (95% CI: 1,154-1,383), 2,098 excess deaths from September to December (95% CI: 1,872-2,315), and, 2,975 (95% CI: 2,658-3,290) excess deaths for the total study period of September 2017 through February 2018."

Statistical estimation of "excess deaths". A previous study using a survey extrapolation methodology found even more deaths. This was reported by the MSM a few months ago. NPR example: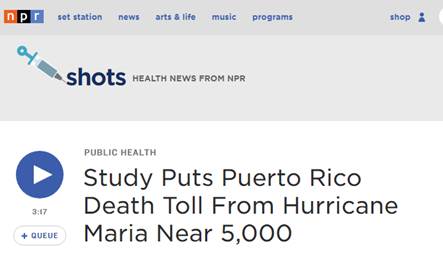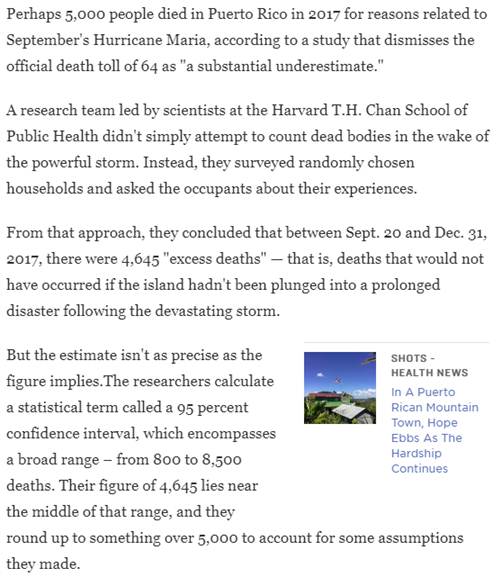 https://www.npr.org/sections/health-shots/2018/05/29/615120123/study-puts-puerto-rico-death-toll-at-5-000-from-hurricane-maria-in-2017
So anywhere between 800 and 8,500. Or maybe 3,000. Or maybe 1,500…. It's hard to guess the number of indirect deaths.

https://www.cnn.com/2018/05/29/us/puerto-rico-hurricane-maria-death-toll/index.html