The following figure shows global average temperature from five data sets since the start of the satellite temperature data era in 1979 (RSS MSU and UAH MSU are satellite data, HadCRUT3, NCDC and GISS are surface station data sets – graph from http://climate4you.com/GlobalTemperatures.htm). From 1979 to 1997 there was no warming trend. The major El Nino then resulted in a residual warming of about 0.3 degrees. Since the 1998 end of the El Nino there has also been no warming trend – all of the warming in the last 30 years occurred in a single year.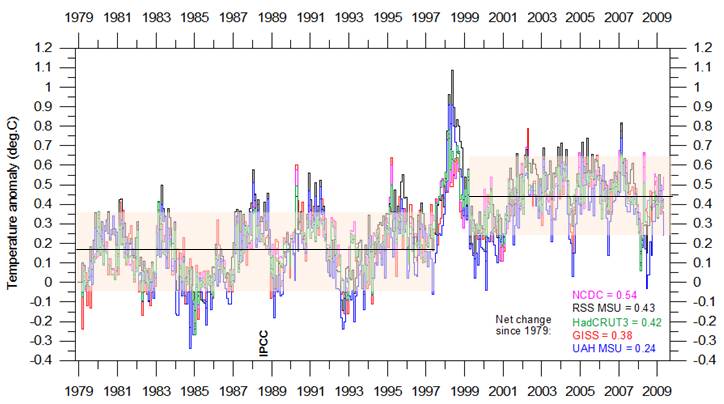 The following figure shows the Multivariate El Nino / Southern Oscillation Index (MEI) calculated from sea-level pressure, zonal and meridional components of the surface wind, sea surface temperature, surface air temperature, and total cloudiness fraction of the sky (from http://www.cdc.noaa.gov/people/klaus.wolter/MEI/). (See www.appinsys.com/GlobalWarming/ENSO.htm for details on the El Nino phenomenon.)

The following figure combines the above two figures, with a step change in the MEI in 1997. This shows how the El Nino governs global temperatures. The global temperature cycles match the El Nino cycles, except for a couple of places: the step change associated with the 1997-98 El Nino and the out-of-sync portion in 1992-93. (The out-of-sync portion in 1992-93 is due to the atmospheric cooling resulting from the Mount Pinatubo volcano explosion overcoming the El Nino warming [http://www.nasa.gov/centers/goddard/news/topstory/2007/aerosol_dimming.html]). The 1998 step change is an unexplained phenomenon.