Greenhouse Gas Increase
The relationship between CO2 and increased temperature has been demonstrated in laboratory experiments and shown to be a logarithmic relationship – i.e. one must keep doubling the concentration to achieve the same increment of warming. This is in the absence of water vapor. When H2O is present, the effect of increasing CO2 is reduced.
The effect of doubling the CO2 has been estimated to be approximately 0.7 C. However that does not take into account the presence of other greenhouse gases (GHG). Water vapor is the most prevalent GHG and the effect of increasing CO2 depends on the relative quantity of non-CO2 GHG. Thus in humid atmospheric conditions, CO2 contributes no warming, whereas it can contribute more in dry atmospheric regions, such as deserts and the north and south poles.
As a result of the logarithmic effect of increase in GHG, doubling the atmospheric CO2 from 300 to 600 ppm has virtually no effect on preventing outgoing radiation because it is a very small component compared to water vapor, as shown in the following figure [http://en.wikipedia.org/wiki/Radiative_forcing]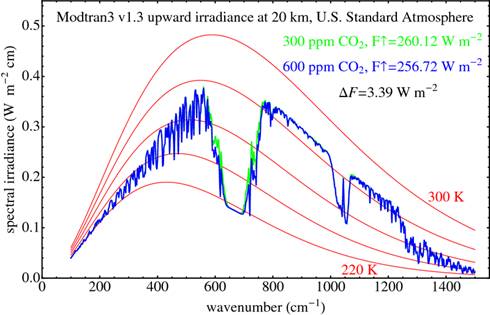 The only way that climate models can achieve significant warming from increasing CO2 is through a theoretical positive feedback mechanism that increases water vapor.
Richard Lindzen (retired Atmospheric Science Professor at MIT) states: "there is a much more fundamental and unambiguous check of the role of feedbacks in enhancing greenhouse warming that also shows that all models are greatly exaggerating climate sensitivity. Here, it must be noted that the greenhouse effect operates by inhibiting the cooling of the climate by reducing net outgoing radiation. However, the contribution of increasing CO2 alone does not, in fact, lead to much warming (approximately 1 deg. C for each doubling of CO2). The larger predictions from climate models are due to the fact that, within these models, the more important greenhouse substances, water vapor and clouds, act to greatly amplify whatever CO2 does. This is referred to as a positive feedback. It means that increases in surface temperature are accompanied by reductions in the net outgoing radiation – thus enhancing the greenhouse warming. ... Satellite observations of the earth's radiation budget allow us to determine whether such a reduction does, in fact, accompany increases in surface temperature in nature. As it turns out, the satellite data from the ERBE instrument (Barkstrom, 1984, Wong et al, 2006) shows that the feedback in nature is strongly negative -- strongly reducing the direct effect of CO2 (Lindzen and Choi, 2009) in profound contrast to the model behavior." [http://www.quadrant.org.au/blogs/doomed-planet/2009/07/resisting-climate-hysteria]
The following figure is from a study by Gray and Schwartz ("THE ASSOCIATION OF OUTGOING RADIATION WITH VARIATIONS OF PRECIPITATION – IMPLICATIONS FOR GLOBAL WARMING") [http://climaterealists.com/attachments/ftp/AMS-Final5-10.pdf via http://climaterealists.com/index.php?id=5668]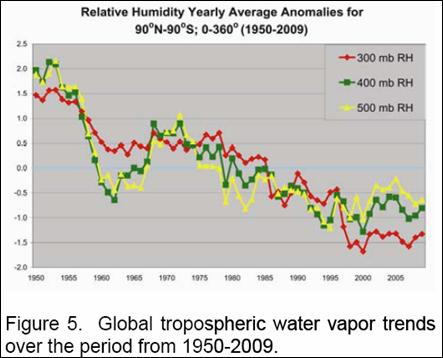 The study states: "The above measurements are at odds with the Global Climate Model (GCM) simulations of precipitation increase associated with rising CO2 amounts. … We find that as rainfall increases that there is not a reduction of global net radiation to space as most of the climate models have assumed. There is a weak enhancement of radiation to space with increased rainfall. We find no positive water vapor feedback. … the new climate models are making the same false assumptions as regards to water vapor feedback that was made by the global modelers of 15-20 years ago."
The following figure is from the same study.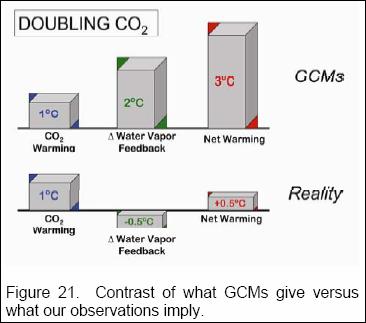 A February 2010 report ("Is There a Missing Low Cloud Feedback in Current Climate Models?", Graeme Stephens, Atmospheric Sciences, CSU [http://www.gewex.org/gewex-content/files_mf/1432209023Feb2010.pdf]   states: "Radiative feedbacks involving low level clouds are a primary cause of uncertainty in global climate model projections. The feedback in models is not only uncertain in magnitude, but even its sign varies across climate models. … This reflected sunlight bias has significant implications for the cloud-climate feedback problem. The consequence is that this bias artificially suppresses the low cloud optical depth feedback in models by almost a factor of four and thus its potential role as a negative feedback."
The American Chemical Society says: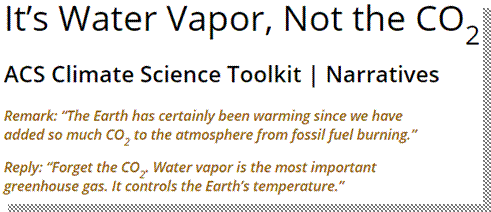 https://www.acs.org/content/acs/en/climatescience/climatesciencenarratives/its-water-vapor-not-the-co2.html
The mainstream media claim that climate change with CO2 as the cause is Settled Science. Really? Not by a long shot. The evidence definitely does not support the role of CO2 in affecting climate.
See also: http://appinsys.com/GlobalWarming/WaterVapor.htm