The IPCC Attribution to CO2
The IPCC was set up in 1988 with the stated purpose of assessing "the scientific, technical and socioeconomic information relevant for the understanding of the risk of human-induced climate change" -- i.e. the human cause was built-in before the science was investigated.
Many in the media portray the global warming issue as "the global average temperature has increased 0.8 degrees during the 20th century". But climate scientists do not claim that this was all due to CO2 – only since the 1970s. In a CRU email between Edward Cook and Michael Mann in May 2001, Cook stated: "most researchers in global change research would agree that the emergence of a clear greenhouse forcing signal has really only occurred since after 1970. I am not debating this point, although I do think that there still exists a significant uncertainty as to the relative contributions of natural and greenhouse forcing to warming during the past 20-30 years at least." [http://www.eastangliaemails.com/emails.php?eid=228&filename=988831541.txt]
The figure below left shows the global average temperature anomalies (from the Hadley Climatic Research Unit (CRU) which provides the data used by the IPCC [http://hadobs.metoffice.com/hadcrut3/diagnostics/global/nh+sh/]).
The figure below right superimposes the CRU temperature anomalies on the IPCC graph of model outputs. (IPCC 2007 AR4 Figure SPM-4 [http://www.ipcc.ch/pdf/assessment-report/ar4/syr/ar4_syr_spm.pdf]) In this figure, the blue shaded bands show the result climate model simulations using only natural forcings. Red shaded bands show the result model simulations including anthropogenic CO2.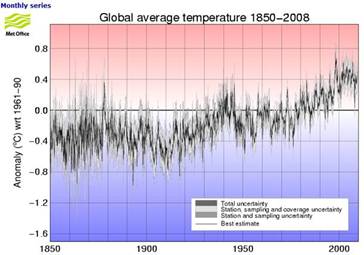 This clearly shows that prior to about 1973, the global warming is fully explained by climate models using only natural forcings (i.e. no human CO2). The models need input of CO2 only after about the mid-1970s – prior to 1970 all warming was natural, according to the IPCC. (There is no empirical evidence relating CO2 to the post-1970s warming as a causative factor. The only evidence is the fact that the computer models require CO2 to produce warming.)