Many claims are made regarding animals affected by global warming. When the details are examined, the causes are usually found to be due to local deforestation or other localized conditions. In other cases the trends started long before CO2 could have had an effect on the temperature.
Polar bears have become a poster-child for the global warming scare movement. The reality is that a) some polar bear populations are increasing, some are declining, some are stable and b) similar temperatures and conditions existed in both the 1930's and during the Medieval Warm Period.
The following figure is from the World Wildlife Fund (whose position is that global warming will cause the polar bears to become extinct). According to the World Wildlife Fund (WWF), there are about 20 distinct polar bear populations accounting for approximately 22,000 polar bears worldwide. Population patterns, according to the WWF data, do not show a temperature-linked decline:
Only two of the distinct bear populations — accounting for about 16.4 percent of the total number of bears — are decreasing, and they are in areas where air temperatures have actually fallen, such as the Baffin Bay region.
Ten populations — comprising about 45.4 percent of the total number of bears — are stable.
Another two populations — about 13.6 percent of the total number — are growing, and they live in areas were air temperatures have risen, such as near the Bering Strait and the Chukchi Sea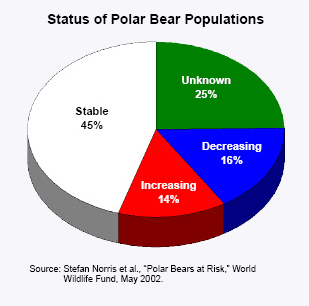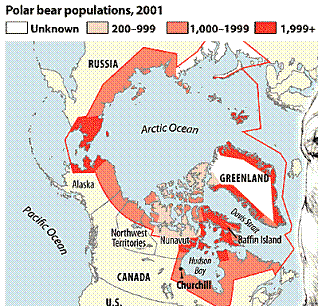 Polar Bear Population Status 2002 (left), Polar Bear Distribution (right)
A recent article in the Christian Science Monitor http://www.csmonitor.com/2007/0503/p13s01-wogi.html discusses the results of a study of polar bears in Canada by biologist Mitchell Taylor (Canada hosts about two-thirds of the world's estimated 25,000 polar bears):  "the number of polar bears in the Davis Strait area of Canada's eastern Arctic – one of 19 polar bear populations worldwide – has grown to 2,100, up from 850 in the mid-1980s. Dr. Taylor explained his conviction that threats to polar bears from global warming are exaggerated and that their numbers are increasing."
The US Department of the Interior Secretary Kempthorne bases her assessment on computer modeling. In her speech [http://www.doi.gov/secretary/speeches/081405_speech.html] she : "Although the population of bears has grown from a low of about 12,000 in the late 1960's to approximately 25,000 today, our scientists advise me that computer modeling projects a significant population decline by the year 2050.  This, in my judgment, makes the polar bear a threatened species – one likely to become in danger of extinction in the foreseeable future."
See http://www.appinsys.com/GlobalWarming/GW_4CE_Animals.htm for more details on animals.