Maldives
In an interview with Dr. Nils-Axel Mörner (head of the Paleogeophysics and Geodynamics department at Stockholm University in Sweden, past president (1999-2003) of the INQUA Commission on Sea Level Changes and Coastal Evolution, and leader of the Maldives Sea Level Project – he has been studying the sea level and its effects on coastal areas for some 35 years) by EIR (Argentine Foundation for a Scientific Ecology) [http://www.mitosyfraudes.org/Calen7/MornerEng.html] he talked about the IPCC misrepresentation of sea level data: "Then, in 2003, the same data set, which in their [IPCC's] publications,... was a straight line—suddenly it changed, and showed a very strong line of uplift, 2.3 mm per year, the same as from the tide gauge... It was the original one which they had suddenly twisted up, because they entered a "correction factor," ... I accused them of this at the Academy of Sciences in Moscow —I said you have introduced factors from outside; it's not a measurement. It looks like it is measured from the satellite, but you don't say what really happened. And they answered, that we had to do it, because otherwise we would not have gotten any trend! That is terrible! As a matter of fact, it is a falsification of the data set. ... So all this talk that sea level is rising, this stems from the computer modeling, not from observations. The observations don't find it! I have been the expert reviewer for the IPCC, both in 2000 and last year. The first time I read it, I was exceptionally surprised."
Morner also talks about the sea level project in the Maldives and measurements in Tuvalu: "In about 1970, the sea fell about 20 cm… The new level, which has been stable, has not changed in the last 35 years…. Another famous place is the Tuvalu Islands, which are supposed to soon disappear because they've put out too much carbon dioxide. There we have a tide gauge record, a variograph record, from 1978, so it's 30 years. And again, if you look there, absolutely no trend, no rise."
In October 2009, the Maldives cabinet held an underwater meeting to "highlight the threat of global warming". [http://news.bbc.co.uk/2/hi/8311838.stm] "At a later press conference while still in the water, President Nasheed was asked what would happen if the summit fails. "We are going to die," he replied."
In December 2009, Nils-Axel Morner wrote a letter to the Maldives president, in which he castigates the president for misrepresenting the facts [http://www.spectator.co.uk/coffeehouse/5595813/why-the-maldives-arent-sinking.thtml] "why the scare-mongering? Could it be because there is money involved? If you inhabit a tiny island and can convince the world that its very existence is under threat because of the polluting policies of the West, the industrialised nations will certainly respond. The money is likely to flow in more quickly than the ocean will rise."
Tuvalu
The following figure shows sea level history at Funafuti, Tuvalu (an island that according to Al Gore is rapidly disappearing due to sea level rise). The Australian government installed a sea level gauge at Funafuti in 1993.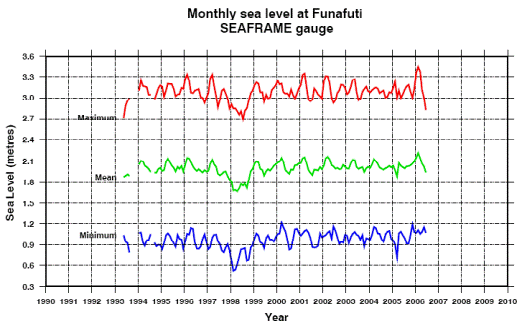 The following figure shows the available longer-term sea level data from Funafuti, Tuvalu from the original sea  level gauge installed in 1977 [http://www.friendsofscience.org/assets/documents/deFreitas.pdf]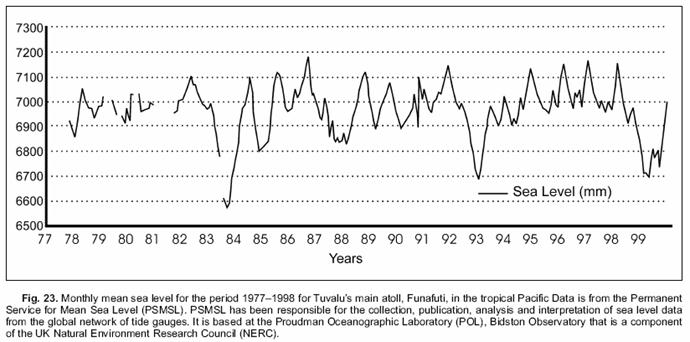 The following figure shows the updated SeaFrame Funafuti data through September 2008 (from Aung et al "Sea Level Threat in Tuvalu", American Journal of Applied Sciences, 2009 [http://www.scipub.org/fulltext/ajas/ajas661169-1174.pdf] which states: "the sea level rise rate is not accelerating in the recent past or at least during the project period. It is also to be acknowledged, nevertheless that visually at least and at this stage, there is no clear evidence for acceleration in sea level trends over the course of the last century based upon the long-term data elsewhere."
Tuvalu update 2009: The following figure shows sea level data at Funafuti, Tuvalu to June 2009 (From Fig 11 in [http://www-cluster.bom.gov.au/ntc/IDO60102/IDO60102.2009_1.pdf]) The figure speaks for itself.

Tuvalu issued a postage stamp sheet in 2009 featuring Obama and the "First Family of the United States of America". (See: [http://www.appinsys.com/GlobalWarming/SeaLevelRising.htm])