[updated: 2011/08/09]
Increased wildfires in recent years are often blamed on global warming. However, droughts occur in cycles and the forestry management practices have also resulted in increased fires.
A 2000 report to President Clinton stated: "As a result of the all-out effort to suppress fires, the annual acreage consumed by wildfires in the lower 48 states dropped from 40 to 50 million acres a year in the early 1930s to about 5 million acres in the 1970s. During this time, firefighting budgets rose dramatically and firefighting tactics and equipment became increasingly more sophisticated and effective. In short, decades of aggressive fire suppression have drastically changed the look and fire behavior of Western forests and rangelands. As a result, studies show that today's wildfires typically burn hotter, faster, and higher than those of the past." [http://www.fs.fed.us/emc/hfi/president.pdf]
A University of Arizona report stated: "devastating wildfires in recent years have been widely attributed to severe drought conditions, but other factors, such as sequences of wet and dry climatic conditions, fire suppression, logging, overgrazing, the actions of environmentalists, and an ongoing bark beetle infestation have also been blamed for playing significant roles. … At the heart of the problem is a century-long Forest Service policy of suppressing forest fires as soon as possible after they start, in an effort to prevent them from spreading… records from the 1930s—before such policies were enacted—show that during that decade a total of over 39 million acres burned; but in the 1970s, after fire suppression policies were fully implemented, only about a tenth as many acres burned. … Since the beneficial effects of fires have been curtailed, small trees are no longer thinned out. As a result, fuel loads in central Arizona are said to have increased by a factor of 9 over the last 100 years and similarly in New Mexico. This leads to fires that grow more quickly and burn with greater intensity." [http://www.climas.arizona.edu/forecasts/articles/wildfire_April2003.pdf]
The following figure shows the correspondence of annual area burned in Arizona and New Mexico and the Southern Oscillation Index during December, January, and February (DJF). [http://oceanworld.tamu.edu/resources/oceanography-book/oceananddrought.html]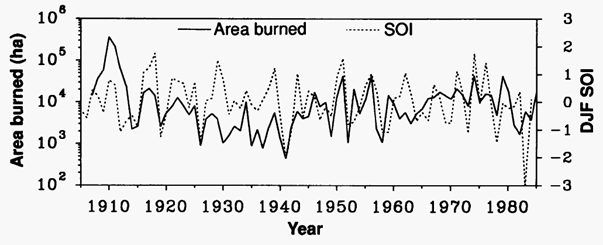 A2006 study (Kitzberger et al, "Contingent Pacific–Atlantic Ocean influence on multicentury wildfire synchrony over western North America" [http://www.pnas.org/content/104/2/543.full.pdf+html]) stated: "fires were most commonly synchronous across the West during warm phases of the AMO. ENSO and PDO were the main drivers of high-frequency variation in fire (interannual to decadal), whereas the AMO conditionally changed the strength and spatial influence of ENSO and PDO on wildfire occurrence at multidecadal scales. A current warming trend in AMO suggests that we may expect an increase in widespread, synchronous fires across the western U.S. in coming decades"
A 2003 study "Interannual to Decadal Drought and Wildfire in the Western United States"
[http://ulmo.ucmerced.edu/pdffiles/03EOS_WesterlingSwetnam.pdf] states:
"Twentieth-century wildfire suppression and land management policies have promoted biomass accumulations in some ecosystems in the western United States where wildfire is a natural and necessary element.These changes have fueled large,stand-replacing crown fires in southwestern ponderosa pine forests, where they were rare under natural fire regimes." The following figure is from that study. The west coast area (figure 3 A) shows a very high correlation with the El Nino / La Nina events.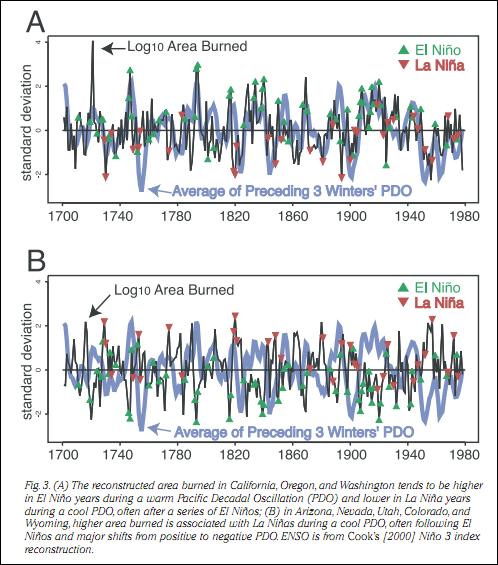 The following figure shows "forested area burned in Canada, 1918–2005 (dashed line); spring–summer PDO index, 1900–2005 (continuous line). Thick lines represent the 7-year running means in order to highlight low frequency variability (black, PDO; grey, area burned). Note the overall high similarity between both series at low frequencies." [http://rstb.royalsocietypublishing.org/content/363/1501/2315.full]

The following figure shows trends in forest fires in the Canadian portion of the Lake Superior basin.
[http://www.epa.gov/glnpo/lakesuperior/2006/ls_chapter6_2006.pdf]
Huffington Post says "rising temperatures associated with climate change could result in many more severe forest fires in the coming decades. … Towards the end of the century, the average wildfire size is expected to exceed the largest from the current record year of 1988. … This new study comes at a time when nearly half of all Americans believe "the seriousness of global warming is exaggerated," according to a Gallup Poll earlier this year." [http://www.huffingtonpost.com/2011/07/27/climate-change-wildfires-link_n_910784.html]
But, then again, as reported in Huffington Post a month later, the number of acres burned by wildfire has been reduced from "about 22 million in 1944 to an average of 6.5 million today":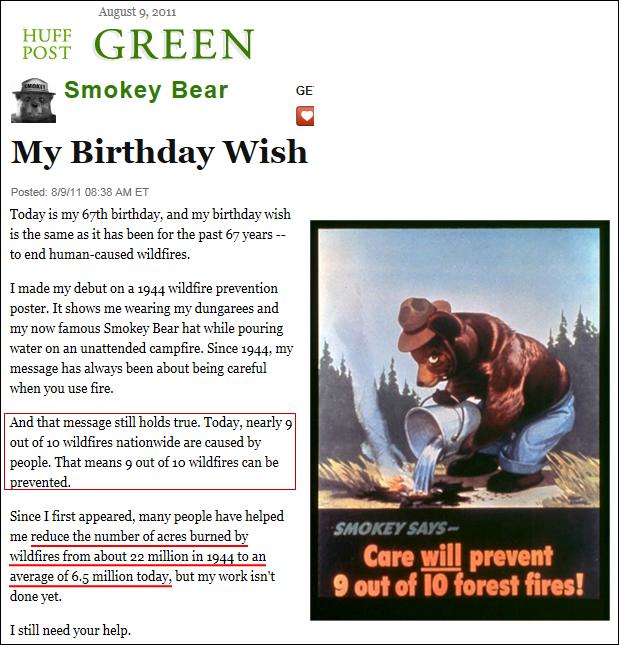 [http://www.huffingtonpost.com/smokey-bear/my-birthday-wish_b_921732.html]