20th Century Trends in DTR
In 1997 Easterling et al ("Maximum and Minimum Temperature Trends for the Globe", Science, Vol.227, July 1997 [http://www.met.sjsu.edu/~jin/METR112/paper/Scienceminmax.pdf]) reported: "Analysis of the global mean surface air temperature has shown that its increase is due, at least in part, to differential changes in daily maximum and minimum temperatures, resulting in a narrowing of the diurnal temperature range (DTR)."
"Analysis has shown that this rise [i.e. global mean surface air temperature] has resulted, in part, from the daily minimum temperature increasing at a faster rate or decreasing at a slower rate than the daily maximum, resulting in a decrease in the DTR for many parts of the world. Decreases in the DTR were first identified in the United States, where large-area trends show that maximum temperatures have remained constant or have increased only slightly, whereas minimum temperatures have increased at a faster rate."
"Local effects such as urban growth, irrigation, desertification, and variations in local land use can all affect the DTR; in particular, urbanized areas often show a narrower DTR than nearby rural areas. Large-scale climatic effects on the DTR include increases in cloud cover, surface evaporative cooling from precipitation, greenhouse gases, and tropospheric aerosols. Recent studies have demonstrated a strong relation between trends of the DTR and decreases in pan evaporation over the former Soviet Union and the United States, suggesting that the DTR decrease in these areas is influenced by increases of cloud amount and reduced insolation."
The following figure from the above paper shows "Trends (in degrees Celsius per 100 years) for each 5° by 5° latitude-longitude grid box using only nonurban stations for annual maximum temperature, annual minimum temperature, and diurnal temperature range" for the period 1950 to 1993.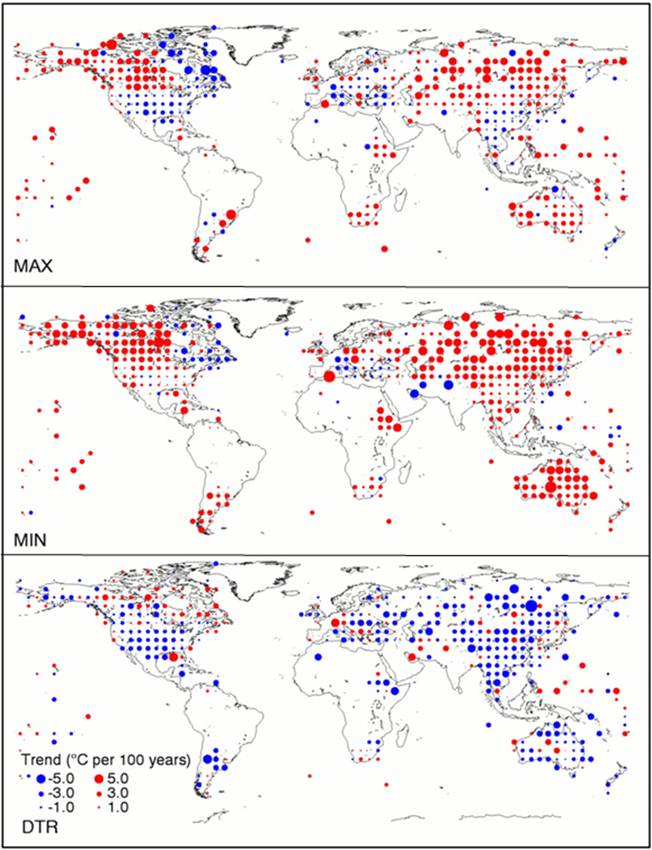 Note that while more than half of the world's temperature stations are in the US, there has generally been a reduction in the Max temperature there, as well as a reduction in DTR.
A 2004 study by Braganza et al attributes reduction in DTR to global warming ("Diurnal temperature range as an index of global climate change during the twentieth century", Geophysical Research Letters, Vol.31, 2004  [http://www.met.sjsu.edu/~wittaya/journals/diurnalTempRange.pdf] : "Observed DTR over land shows a large negative trend of 0.4C over the last 50 years that is very unlikely to have occurred due to internal variability. This trend is due to larger increases in minimum temperatures (0.9C) than maximum temperatures (0.6C) over the same period. Analysis of trends in DTR over the last century from five coupled climate models shows that simulated trends in DTR due to anthropogenic forcing are much smaller than observed. This difference is attributable to larger than observed changes in maximum temperatures in four of the five models analysed here, a result consistent with previous modelling studies." Braganza et al attribute the failure of the climate models to "poor representation
of cloud changes over land" in the models. The study did not include effects of land use change. The following figure is from the Braganza et al study comparing the observed trend (black dot) with models.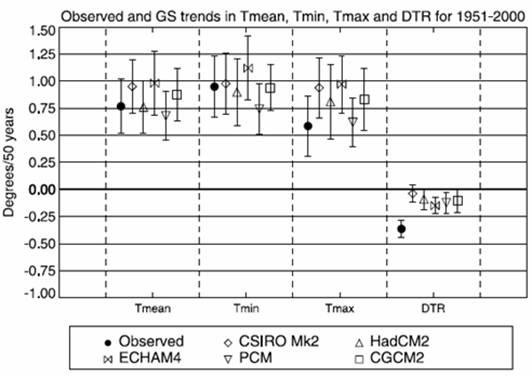 Braganza et al state that "Diurnal temperature range appears to be a suitable index of climate variability and change". This is contradicted by studies that actually consider land use change and urbanization as will be discussed later in this document.