Temperature Station Data
The NASA Goddard Institute for Space Studies (GISS) is a major provider of climatic data in the US (starting from the NOAA GHCN database and then performing adjustments to the data). The following figure shows the distribution of temperature stations used by the GISS. As can be seen in the figure, the 30 to 60 degree North latitude band contains 69 percent of the stations used and almost half of those are located in the United States. This implies that if these stations are valid, the calculations for the US should be more reliable than for any other area or for the globe as a whole.
Distribution of Temperature Stations around the World
In addition to the extensive problem of station sparseness, the network has also been historically constantly changing - the number of available temperature reporting stations changes with time. The so-called "global" measurements are not really global at all. The coverage by land surface thermometers slowly increased from less than 10% of the globe in the 1880s to about 40% in the 1960's, but has decreased rapidly in recent years. The GISS web site shows how the number of stations has changed, as shown in the following figure [http://data.giss.nasa.gov/gistemp/station_data/]. Note that in the figure c) the definition of percent coverage is based on "percent of hemispheric area located within 1200 km (720 miles) of a reporting station"! Yet 720 miles is about twice the width or height of the largest 5x5 degree grid box.

Number of Stations over Time (c shows the percent of hemispheric area located within 1200km of a reporting station)
There was a major disappearance of recording stations in the late 1980's – early 1990's. The following figure compares the number of global stations in 1900, 1970s and 1997 showing the increase and then decrease. [Peterson and Vose: http://www.ncdc.noaa.gov/oa/climate/ghcn-monthly/images/ghcn_temp_overview.pdf ].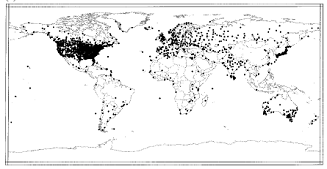 a) 1900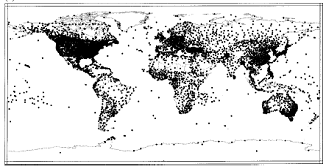 b) 1976
c) 1997
Comparison of Available GHCN Temperature Stations Over Time
The following figure shows the number of stations in the GHCN database with data for selected years, showing the number of stations in the United States (blue) and in the rest of the world (ROW – green). The percents indicate the percent of the total number of stations that are in the U.S.
Comparison of Number of GHCN Temperature Stations in the U.S. vs Rest of the World (ROW)