Liberia wants money. Liberia Secretary of the National Climate Change Steering Committee and Secretariat (NCCSC) said: "developed countries have been held liable for the widespread effects of climate change and have agreed to pay the cost of arresting the phenomena in poor and developing countries including Liberia." [http://allafrica.com/stories/201010200815.html] Liberia's Vice President Boakai said: "climate change remains a serious threat to national development … Last year, we declared a national disaster due to the caterpillar infestation, which affected several counties. Although with less severity this year, the pest has returned. What we have now is a climate-induced crisis with far reaching implications for food security."
He is blaming the 2009 caterpillar outbreak on global warming. According to the BBC "the country was ill-prepared for containment since it lacked the capacity for actual diagnosis of the situation and institutional structures and resources for efficient and effective containment." [http://news.bbc.co.uk/2/hi/7868086.stm]. According to National Geographic: "The caterpillars and moths are dry-season pests … no one is sure what turned Achaea catocaloides—one of the most common moths across central and West Africa—into a nightmarish plague in Liberia's forest. It could have been the weather, experts say." [http://news.nationalgeographic.com/news/2009/02/090205-liberia-killer-caterpillars_2.html]
MSNBC reported: "The outbreak, which began in central Liberia, has been blamed on last year's unusually long rainy season. … The last time Liberia experienced such pest invasion was 30 years ago, but officials then were able to prevent its spread. Liberia was ravaged by alternating civil war and coups between 1989 and 2003. The drawn-out conflict left about 200,000 people dead and displaced half the country's population of 3 million."
[http://www.msnbc.msn.com/id/28800386/] A country ill-equipped to handle a pest outbreak since the "civil" war has reduced government capacity to deal with issues.
Liberia has no long-term temperature stations in the Global Historical Climate Network (and only has one station total – with sporadic short term data). As in most of Africa, there is a severe data problem. The following figure shows the Hadley CRUTEM3 annual average temperature data for the two 5x5 degree grids covering Liberia (plotted at http://www.appinsys.com/GlobalWarming/climate.aspx). Recent temperatures are no higher than 80-90 years ago.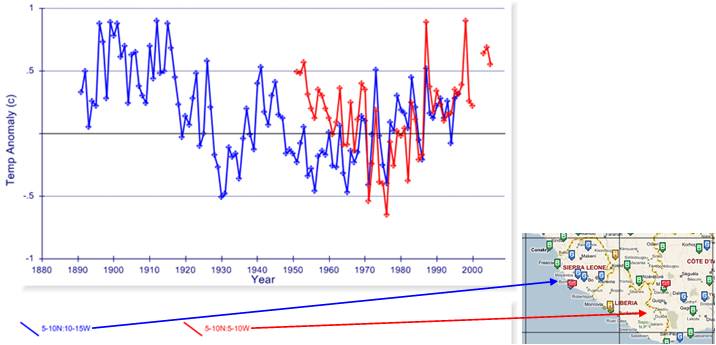 Liberia is a humid and rainy country (one of the 10 rainiest countries in the world). "The relative humidity is high throughout the county, and averages from 70 to 90 per cent, especially along the coat. The continental and maritime masses of air alternate their movements back and forth, and from north to south. This brings some seasonal differences in rainfall intensity. The coastal region has the heaviest rainfall, from between 155 to 175 inches annually in the west, and with nearly 100 inches of rain annually in the southeastern part of the country."
[http://www.scribd.com/doc/261427/Geography-of-Liberia]
(An interesting bit of history from the same source: "Liberia is unique among African countries. Next to Haiti, Liberia is the oldest black republic in the world and is the oldest republic in Africa. All the other countries in Africa have a history of colonization by white foreign nations. The colonial era of Liberia started when freed American slaves began to settle along the coast. … Ironically, forced labor and other compulsory labor practices on these plantations were very often like the slavery experiences of the Americo-Liberians had left behind. The select minority of Americo-Liberians effectively excluded the indigenous majority from Liberia's social, political and economic life for over 130 years.")
"An estimated 1.3 million of Liberia's 3.5 million people are living in poverty, of which 48 percent are living in extreme poverty. Poverty is higher in the rural areas, where about 73 percent of the population is poor. Food insecurity is high, as evident by the poor nutritional status of the population. About 39 percent of children under age 5 are stunted and one-fifth of children are severely stunted. Given the impact of the war, coupled with the weak supporting environment, it is unlikely that Liberia will attain the benchmark of the World Food Submit or the Millennium Development Goals. … Low productivity of land and labour, shifting cultivation and low livestock production remain the main characteristics of traditional farming in Liberia." (Watch for this being blamed on global warming) [http://www.sirtewaterandenergy.org/docs/reports/Liberia-Draft2.pdf]
Liberia's population is about the same as the Seattle metropolitan area (United States' 15th largest metro population [http://en.wikipedia.org/wiki/Seattle_metropolitan_area]), although Liberia is growing at a much faster rate.
The following figure is from the above source, showing continually increasing agricultural exports and population growth, except for the civil war period in the 1980s / 1990s. Note that since the end of the civil war the population has increased by 75% in 10 years (by comparison, metro Seattle's population grew by 10% in 10 years).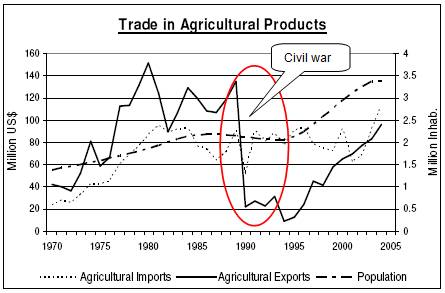 According to the FAO, "less than 10 percent of the 4.6 million hectares of arable land is cultivated. The primary environmental impact from domestic agricultural production is deforestation from the spread of shifting agriculture. Upland rain-fed cultivation of annual crops is very difficult to sustain. Perennial tree crop cultivation is much more easily sustained as is swamp cultivation in wetlands that have been converted to agriculture. Liberia has huge areas of wetland swamps. Only a very small portion has been converted to agriculture. About half of what had been converted was abandoned during the recent civil war. The protracted civil war has almost wiped out the livestock industry, and the people are now dependant mainly on bush meat [i.e. eating the wildlife] and highly priced imports." [http://asia-pacific.undp.org/practices/energy_env/documents/LDC-SIDS/Prodocs/Liberia%20approved%20MSP%2008jan2008.pdf]
Also from the above UNDP report: "The tree crops sector faces major constraints, which range from abandonment of farms and weak production practices to lack of farm extension support and depleted marketing infrastructure and means. … Although the vast majority of farmers in Liberia make their living from rain-fed, slash-and-burn agriculture on the uplands for the production of rice and other annual crops, there have never been any serious attempts to develop permanent, sedentary farming systems for the production of annual crops on the uplands."
Regarding "bush meat": "In Liberia, as is variably true in the region, there are heightened concerns about the impending loss or reduction of this resource because of the harvesting methods used, the over centralized strategies and policies governing wildlife use and management and the changing social and economic conditions that drive demand for bushmeat to a level where it now exceeds the rate at which hunted wildlife is replaced in the forest. Finding ways to conserve and protect endangered and threatened wildlife species without compromising the health and welfare of the poor rural and urban families who are almost entirely dependent on this resource is a challenge"
[ftp://ftp.fao.org/docrep/fao/011/ak242e/ak242e00.pdf]
One benefit of Liberia's "civil" war: reduced deforestation.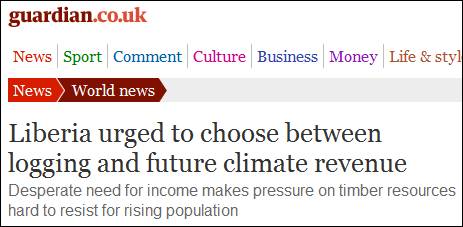 [http://www.guardian.co.uk/world/2010/jul/13/liberia-deforestation]
From the Guardian article: "Trucks loaded with undressed timber are on the move again around Buchanan in River Cess county, south-east Liberia. The dust recalls the not-so-distant time when the timber trade was synonymous with war. For 14 years, from 1989 to 2003, destruction of the forest paid for one of Africa's worst conflicts, subsequently filling the coffers of President Charles Taylor, now on trial at The Hague for crimes against humanity. … In a country still patrolled by 10,000 UN peacekeepers, timber is as closely watched as the diamond and iron ore mines. … How long can this respite last? "Look at what happened in Ghana and Ivory Coast. The forest vanished in 20 years. There is no reason why that shouldn't happen in Liberia," … Liberia has almost half of the last forest in west Africa, which once reached from Guinea to Togo and is home to most of the surviving wildlife too. But pressure on the forest is growing. Driven by rising population, villagers are extending their clearings to grow more crops and collect firewood."
Disappearing wildlife is due to disappearing forests and over-hunting, not global warming.
The above Guardian article also states Liberia's solution to the problem: "efforts to limit climate change and tropical forests' part in CO2 capture have changed the picture. "We can say: 'Protecting nature will not cost you any money. It may even earn some'" … This is based on the hope that industrialised countries will soon compensate countries for not cutting down their forests, either by allocating part of development aid to combating deforestation or by setting up a market for forestry carbon credits, open to western firms. No one can foresee the outcome of the climate negotiations but the prospect of this reward, titled Reducing Emissions from Deforestation and Degradation (Redd), has raised such hopes that none of the rainforest nations can afford to miss out."
So once again we have a country with rampant population growth, extreme poverty, aggressive deforestation and devouring of wildlife, agricultural problems resulting from (un)civil(ized) war, and perhaps the world should help out. But blaming it on global warming and claiming money from "industrialized countries" under this pretext is simply dishonest.