Sea Level Rise Will Cost Billions
"Sea levels have risen by as much as seven inches along the California coast over the last century … a study by the Pacific Institute, shows coastal property at risk from projected sea level rise by county with replacement values as high as $24 billion in San Mateo County."
The report shows the following figure based on 1.4 meters of sea level rise.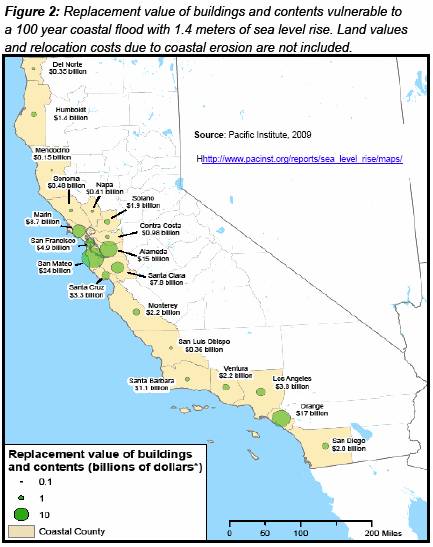 The following figure shows sea level trends at various locations in California (from NOAA: [http://tidesandcurrents.noaa.gov/sltrends/index.shtml]). The trends vary widely from a decreasing trend (-0.65 mm / year) in the north to 2 mm / year increase in the south. The rate of increase has slowed in recent years at locations that have an increasing trend.
The only place in California that approaches the purported seven inches over the last century is in the very southern part - most of the state has much less. But then the next century damage alarm is based on 1.4 meters of sea level rise – even though the rate of change in sea level rise has not changed in the last 100 years, they say it will increase by a factor of 10.
The following figure illustrates the "adaptation" imaginary scenario for the area of California with the highest sea level rise, showing the historical trend (left) for La Jolla, repeated for the next century (right + blue line) and the alarmist 1.4 meter rise indicated by the red line.