Central Siberia – CRU / IPCC Say It's Warming
This document examines the available data from the NOAA Global Historical Climate Network (GHCN) and the Hadley Climatic Research Unit (HadCRU or CRU) databases for the Siberian region – one of the regions that actually exhibits some warming.
The data plots are from the AIS climate data visualizer – for links to the source data included see http://www.appinsys.com/GlobalWarming/climate.aspx. NOAA is the world's primary temperature data collector. HadCRU uses the NOAA database as a starting point and adds other data and does their own adjustments to the data. Until December 2009, HadCRU (the primary data supplier to the IPCC) only published their adjsted 5x5 – degree gridded data but then released some station data. This document examines both.
Although some warm-mongers say there are multiple "independent" data sets, in fact all land-based data sets (including HadCRU) start with the NOAA GHCN database and make additions, subtractions and adjustments.
The following figure (below left) shows the number of GHCN stations in the 5x5 degree grids examined in this document. (The exact shapes of the grids are not accurate in this figure due to the curvature of the earth in the image.) The figure below right shows the "observed" warming according to the IPCC from 1979-2005 (from Figure 9.6 of the AR4 [http://ipcc-wg1.ucar.edu/wg1/Report/AR4WG1_Print_Ch09.pdf]). (The IPCC figure is inconsistent with the data in terms of which grids have data.)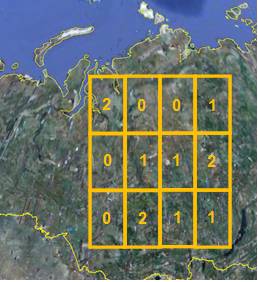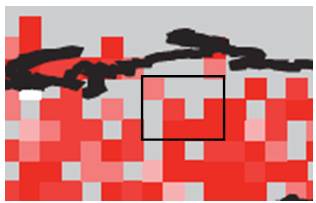 The sections below the "Context" examine only the grids with at least one temperature station.
Steve McIntyre at Climate Audit [http://climateaudit.org/2009/12/16/iearussia-hadley-center-probably-tampered-with-russian-climate-data/] recently reported on the CRU emails discussing blocking publication of conflicting data on Siberia and the Russian IEA claiming that the CRU tampered with Russion data.