Biomass Burning Causes Black Carbon Emissions
Biomass and wood burning result in another type of emission – black carbon. "While carbon dioxide may be the No. 1 contributor to rising global temperatures, scientists say, black carbon has emerged as an important No. 2, with recent studies estimating that it is responsible for 18 percent of the planet's warming, compared with 40 percent for carbon dioxide." [http://www.nytimes.com/2009/04/16/science/earth/16degrees.html?_r=1]  (An implication here is that climate models are overestimating the effects of CO2.)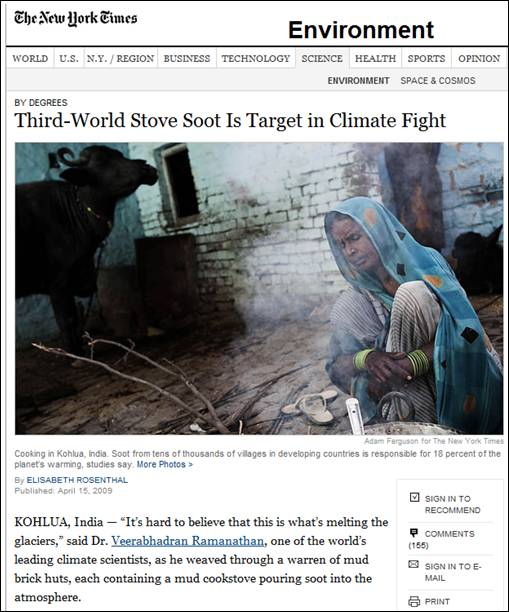 From the above article: "In Asia and Africa, cookstoves produce the bulk of black carbon, although it also emanates from diesel engines and coal plants there. In the United States and Europe, black carbon emissions have already been reduced significantly by filters and scrubbers. … In the United States, black carbon emissions are indirectly monitored and minimized through federal and state programs that limit small particulate emissions, a category of particles damaging to human health that includes black carbon. But in March, a bill was introduced in Congress that would require the Environmental Protection Agency to specifically regulate black carbon and direct aid to black carbon reduction projects abroad, including introducing cookstoves in 20 million homes. The new stoves cost about $20 and use solar power or are more efficient. Soot is reduced by more than 90 percent. The solar stoves do not use wood or dung. Other new stoves simply burn fuel more cleanly, generally by pulverizing the fuel first and adding a small fan that improves combustion." (A small fan will do no good when there is no electricity).
The following figure is from the above article showing the Asian emissions of black carbon comparing the inclusion of cooking with biomass (top) or without the cooking emissions (bottom).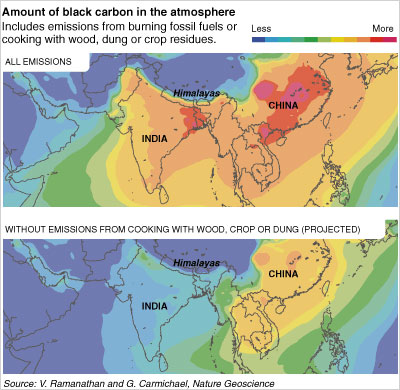 The following figure shows the atmospheric solar heating due to black carbon, indicating the regional areas of major black carbon emissions [http://www.nature.com/ngeo/journal/v1/n4/full/ngeo156.html].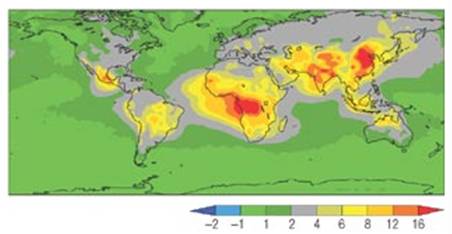 "In their frantic search for a solution to the global warming crisis, climatologists and policy makers have managed to overlook one of the leading causes of rising world temperatures - soot, the familiar black residue that coats fireplaces and darkens truck exhaust. ``Soot - or black carbon - may be responsible for 15 to 30 percent of global warming, yet it`s not even considered in any of the discussions about controlling climate change,`` says Stanford Professor Mark Z. Jacobson" [http://www.sciencedaily.com/releases/2001/02/010208075206.htm]
"Widespread use of wood as a household fuel in sub-Saharan Africa will cause ten million premature deaths by 2030 and make a significant contribution to climate change … unless African households adopt cleaner, more efficient fuels, the equivalent of 6.7 billion tonnes of the greenhouse gas carbon dioxide will be released into the atmosphere by 2050
Switching to fossil fuels such as kerosene and liquid petroleum gas would reduce the amount of greenhouse gases emitted by African households … However, high costs put such fuels beyond the reach of many people in sub-Saharan Africa. The other alternative is to use more charcoal instead of wood. This would also reduce the number of predicted deaths but it could nearly double greenhouse gas emissions." [http://www.scidev.net/en/climate-change-and-energy/news/burning-wood-for-fuel-could-kill-10-million-africa.html]
See also the article "Why Wood Burning is Not 'Carbon Neutral'" [http://burningissues.org/car-www/science/Climate/climate-ilan-koren.html] which states: "certain types of aerosols – those containing black carbon – can also decrease cloud cover, ultimately leading to a warming effect. This occurs as black carbon absorbs part of the sun's radiation, warming the surrounding atmosphere and reducing the difference in temperature between the Earth's surface and the upper atmosphere. This combination prevents atmospheric instability – the condition needed to form clouds and rain. A stable atmosphere means fewer clouds; fewer clouds mean less reflection of sunlight; less reflection of sunlight and absorption of radiation lead to warming."
Researchers involved in a 2005 NASA study stated: "black carbon, generated through the process of incomplete combustion, may have a significant warming impact on the Arctic," Koch said. "Further, it means there may be immediate consequences for Arctic ecosystems, and potentially long-term implications on climate patterns for much of the globe. … They found the timing and location of Arctic warming and sea ice loss in the late 20th century are consistent with a significant contribution from man-made tiny particles of pollution" [http://www.sciencedaily.com/releases/2005/04/050411135517.htm]