Australia Tropical Cyclone Trends
The total number of tropical cyclones in the Australia region has been decreasing during the "warming era", as shown in the following figure. [http://www.bom.gov.au/cyclone/climatology/trends.shtml]
This source also states: "Since that time [2001] there has been a growing number of studies that indicate a consistent signal of fewer tropical cyclones globally in a warmer climate". (Although, as usual, a problem with climate models: "there is large uncertainty in the future change in tropical cyclone frequency projected by climate models" and "the highest resolution models show evidence of an increase in tropical cyclone intensity in a warmer world", contrary to the data).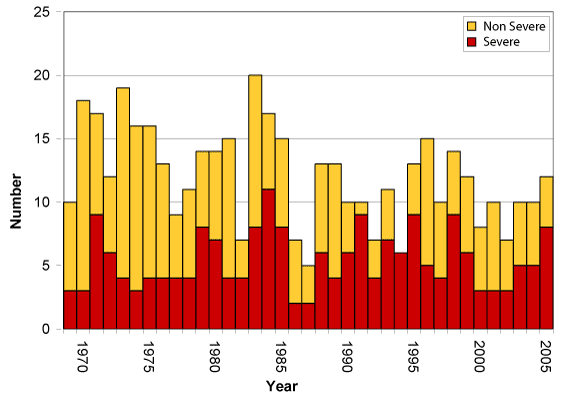 The following figures show tropical cyclone (TC) maximum intensity by region (top: Western Australia, bottom: Eastern Australia) and for all TC (left) and sever TC (right).
[http://www.earthbyte.org/people/patrice/Teaching/Geos-2111GIS/Ref/Hassim-G3-08-OZCyclone.pdf]
"both sectors show statistically significant, long-term downward trends in average MCP"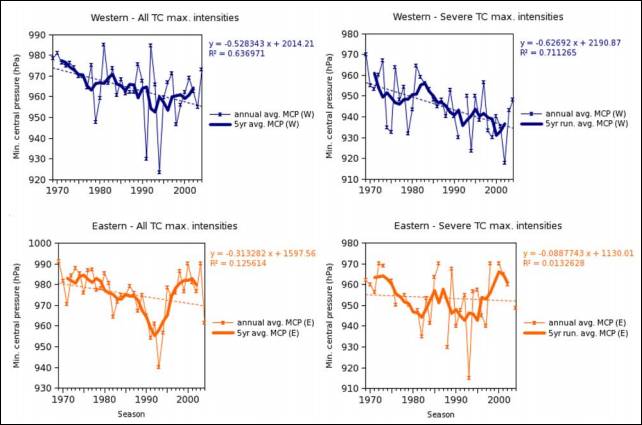 A 2010 paper (Callaghan and Power, "Variability and decline in the number of severe tropical cyclones making land-fall over eastern Australia since the late nineteenth century", Climate Dynamics), states: "The linear trend in the number of severe TCs making land-fall over eastern Australia declined from about 0.45 TCs/year in the early 1870s to about 0.17 TCs/year in recent times—a 62% decline. This decline can be partially explained by a weakening of the Walker Circulation, and a natural shift towards a more El Niño-dominated era. The extent to which global warming might be also be partially responsible for the decline in land-falls—if it is at all—is unknown." [http://www.springerlink.com/content/b073428q37741816/] The following figure is from their paper.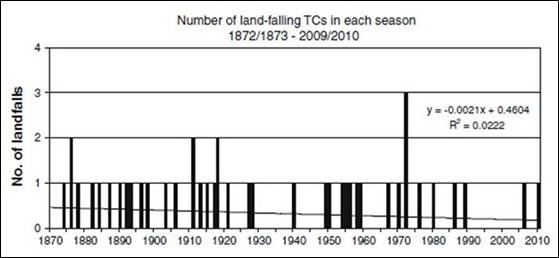 The Australian is apparently not alarmist like the EU and US media:
[http://www.theaustralian.com.au/news/features/queenslands-cycles-of-havoc/story-e6frg6z6-1225998344719]
"What the longer term records show, however, is that the frequency of extreme cyclones follow a predictable long-scale pattern. "What the record shows is we go through extended periods, hundreds of years, of high activity and extended periods of little activity," Nott says. "The past 100 to 150 years has been very quiet in Queensland in terms of what happened in the past. The couple of hundred years prior to that were very active." According to shorter term decadal scale-that uses a 10-year cycle- Queensland can also expect a big increase in the number of severe cyclones."