Atmospheric Angular Momentum / Length of Day
The atmospheric angular momentum (AAM) and the length of day (LOD) are interconnected. (see: [http://www.livescience.com/178-spin-earth-rotation.html])
"The angular momentum of the atmosphere is a signal that changes on many climate time scales due to the motion of winds and to atmospheric mass redistribution; angular momentum is exchanged, moreover, across the atmosphere's lower boundary. The atmospheric angular momentum signal responds to certain signals like the El Niño, which is observed in some geodetic properties such as Earth's rotation rate, reckoned by the small changes in the length of day, and also in the motions of the pole." [http://ams.confex.com/ams/pdfpapers/55763.pdf] 
The following figures are from the above source (figures 4 – top – and 7 – bottom)
"The maxima in Fig. 4 occur during occurrences of El Niño when anomalous westerly zonal flow throughout much of the tropics and subtropics occurs, sometimes extending as well into higher latitudes; the events in 1983 and 1997-98 are contain record high values of the angular momentum index. The global maxima derive from momentum anomalies that often start in the lowest latitudes and propagate toward poleward"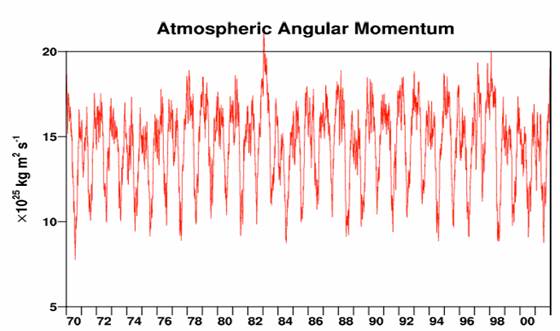 "The global axial angular momentum is very strongly connected to values in the length of day; such connections occur on time scales between days and several years (Fig. 7)."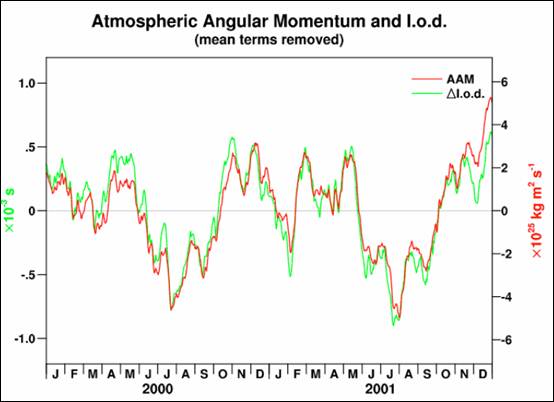 A UN Food and Agricultural Organization (FAO) report on "Climate Change and Long-Term Fluctuation of Commercial Catches", 2001 [ftp://ftp.fao.org/docrep/fao/005/y2787e/y2787e01.pdf] provides the following figures comparing detrended length of day (LOD) and Atmospheric Circulation Index (ACI) with detrended global temperature anomaly (from same FAO study).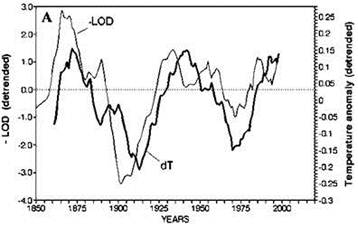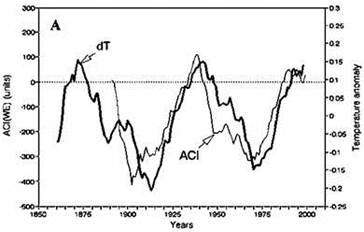 The FAO report states the LOD is "a geophysical index that characterizes variation in the earth rotational velocity … Spectral density analysis of the LOD time series for 1850-1998 revealed clear, regular fluctuations
with an approximate 60-year period length"
The following figure compares the change in atmospheric angular momentum (AAM) with the change in Nino 3.4 sea surface temperatures [http://www-pcmdi.llnl.gov/projects/cmip/cmip_subprojects/Huang/huang_proposal.pdf] The atmospheric angular momentum (AAM) results from the Earth's atmosphere and the planet itself rotating at different speeds and causes fluctuation in the length of a day, as well as affecting the polar wobble.

Lambeck and Cazanave "Long Term Variations in the Length of Day and Climatic Change" Geophysics Journal, 1976 [http://people.rses.anu.edu.au/lambeck_k/pdf/37.pdf] stated: "The long-period (greater than about 10 yr) variations in the length-of-day (LOD) observed since 1820 show a marked similarity with variations observed in various climatic indices; periods of acceleration of the Earth corresponding to years of increasing intensity of the zonal circulation and to global-surface warming: periods of deceleration corresponding to years of decreasing zonal-circulation intensity and to a global decrease in surface temperatures."
The following figure is from that paper (m = change in LOD / LOD).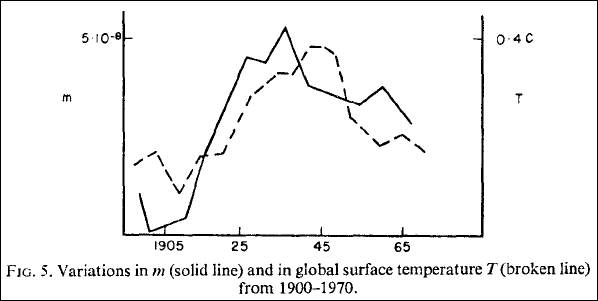 "the continuing deceleration of m for the last 10 yr suggests that the present period of decreasing average global temperature will continue for at least another 5-10 yr. Perhaps a slight comfort in this gloomy trend is that in 1972 the LOD showed a sharp positive acceleration that has persisted until the present, although it is impossible to say if this trend will continue as it did at the turn of the century or whether it is only a small perturbation in the more general decelerating trend." So in 1976, before the CO2 craze, they recognized the connection between AAM/LOD and temperature.
The following figures compare the length of day amplitude (blue) with sunspot number (top) and cosmic rays (bottom) [http://www.nipccreport.org/articles/2010/aug/19aug2010a7.html]
(See also http://www.agu.org/journals/ABS/2010/2010GL043185.shtml)