Amazon Drought 2005
A study of the causes and impacts of the drought (Zeng et al, 2007) states:
"precipitation over the Amazon is thought to be largely controlled by the El Ni˜no Southern Oscillation (ENSO) originating in the equatorial Pacific Ocean. However, the equatorial Pacific was largely neutral during 2005. If anything, there were cold SST anomalies in the eastern Pacific toward the end of the year normally associated with a wetter Amazon. … 2005 had relatively small rainfall change, compared to, e.g., the large 1997–98 drought, seemingly inconsistent with the extremely low river and lake levels seen by people living in the region. Part of the answer to the latter question comes from the observation that the major El Ni˜no events such as 1997–98 and 1982–83 that led to large negative rainfall anomalies in the Amazon were short lived (about 1 year), and often immediately followed by La Ni˜na events that led to anomalously wet conditions which allowed land to recover quickly from the dryness. In contrast, although the 2005 rainfall anomaly was not particularly large, it was preceded by another dry period of 2002–03 (an El Ni˜no year), with little recovery in 2004, which had lingering central Pacific warm conditions. Thus precipitation stayed below normal for 4 years from 2002 to the end of 2005."
[http://iopscience.iop.org/1748-9326/3/1/014002/pdf/1748-9326_3_1_014002.pdf]
The following figures are from the above study.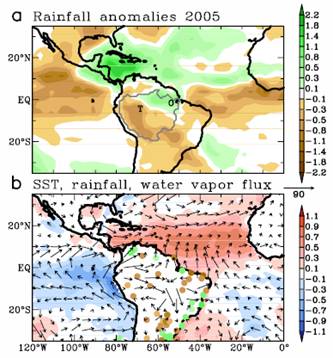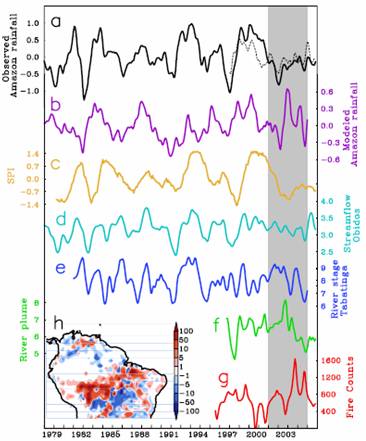 The above paper studied the correlation between the Amazon rainfall and the Southern Oscillation Index (SOI and North Atlantic sea surface temperatures (NATL SST). "The correlations with SOI and NATL are significant at 95% level over large area of the Amazon basin." The following figure is from the study. In the late 1980s-early 1990s there was an extended El Nino period (negative SOI), but this was counteracted by lower N. Atlantic SST (green box in figure below). In the early 2000s the El Nino and N. Atlantic SST were in sync causing extended reduced rainfall (orange box in figure below).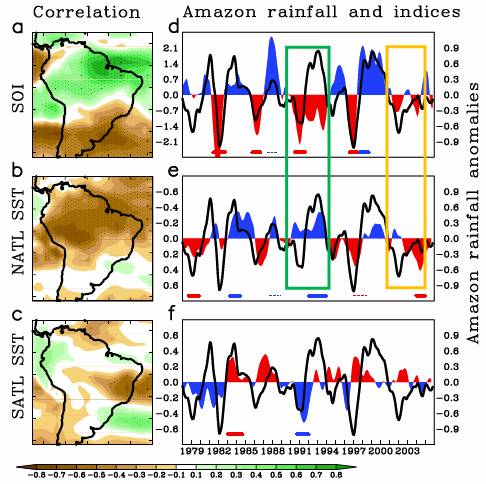 The following figure from the above Zeng et al study, shows the Amazon precipitation for the 10 datasets plus Obidos streamflow and Tabatinga river stage data.
The following figures are from the study by Aragao et al "The extent and impacts of the 2005 drought", which states: "Causes of the 2005 Amazonian drought: Reduction of Trade Winds from the north > Northwards displacement of the ITCZ > Rainfall decrease over Amazonia"
[http://www.eci.ox.ac.uk/news/events/amazon/aragao.pdf]