The AMO and Other Climatic Phenomena
Many studies have shown that the major climatic events in the US are linked to cycles in ocean temperatures. Here are some AMO examples:
A Signature of Persistent Natural Thermohaline Circulation Cycles in Observed Climate (Knight et al, Geophysical Research Letters 32, 2005, [http://holocene.meteo.psu.edu/shared/articles/KnightetalGRL05.pdf]) states: "Using a 1400 year climate model calculation, we are able to simulate the observed pattern and amplitude of the AMO. The results imply the AMO is a genuine quasi-periodic cycle of internal climate variability persisting for many centuries, and is related to variability in the oceanic thermohaline circulation."
Research Links Long Droughts In U.S. To Ocean Temperature Variations (United States Geological Survey (2004, March 10).) [http://www.sciencedaily.com/releases/2004/03/040310080316.htm]: "researchers believe that such large and sustained shifts in U.S. precipitation are linked with the natural variability of sea surface temperatures, the mechanisms are not well understood and cannot yet be used to help predict the likelihood of droughts. These sea surface temperature variations are characterized by climatic indices dubbed the Pacific Decadal Oscillation, or PDO, and the Atlantic Multidecadal Oscillation, or AMO. … Both negative and positive PDO "events" in the North Pacific Ocean tend to last 20-30 years, with recent research increasingly associating these events with regional temperature and precipitation variability across the country. … The researchers were able to correlate two of the three leading modes of drought frequency with PDO and AMO variations. … McCabe and his coauthors suggest that large-scale droughts in the United States are likely to be associated with positive AMO -- the kind of warming of sea surface temperatures that occurred over the North Atlantic in the 1930s, 50s, and since 1995."
The AMO also influences rainfall in India and the African Sahel. The following figure is from a study Impact of Atlantic Multidecadal Oscillations on India/Sahel Rainfall and Atlantic Hurricanes (Zhang and Delwoth, Geophysical Research Letters, Vol. 33, 2006) [http://www.gfdl.noaa.gov/reference/bibliography/2006/roz0603.pdf] showing the correspondence between the AMO (a) and the Sahel rainfall (b), India rainfall (c) and hurricanes (e).
The following figure is from the NOAA AMO web site [http://www.aoml.noaa.gov/phod/amo_flarain.php]. The upper figure shows the AMO index since 1860, while the lower figure shows the smoothed anomaly of central Florida rainfall (shaded curve) and the amount of water flowing into Florida Lake Okeechobee. This shows the correlation between the AMO and the rainfall in Florida.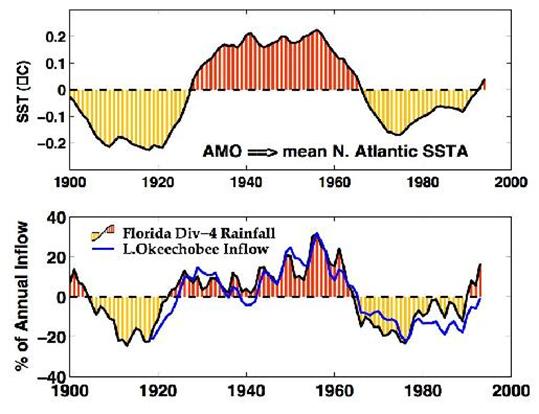 The following figure shows Mississippi River basin rainfall and outflow, which has been shown to be inversely correlated with the AMO
[http://www.sfwmd.gov/pls/portal/docs/PAGE/PG_GRP_SFWMD_HESM/PORTLET_OPSPLAN_2/ PORTLET_SUBTAB_OPSPLAN_CLMVAR/TAB19738261/ENFIELDMESTAS_2001.PDF]

The next figure superimposes the inverted AMO shown previously, illustrating the strong negative correlation.