The Psychological and Political Challenge of Facing Climate Change
Conference:  University of the West of England, Centre for Psycho-Social Studies 7 March 2009
"Man-made climate change poses an unprecedented threat to the global ecosystem and yet the response, from national policy makers right through to individual consumers, remains tragically inadequate. The Centre for Psycho-Social Studies at the University of the West of England is organising a major interdisciplinary event Facing Climate Change on this topic at UWE on 7 March 2009. Facing Climate Change is the first national conference to specifically explore 'climate change denial'." [http://info.uwe.ac.uk/news/UWENews/article.asp?item=1438]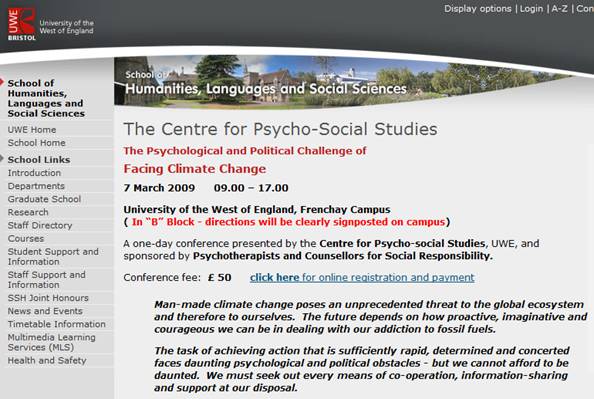 [http://www.uwe.ac.uk/hlss/research/cpss/events/2009/20090307_facing_climate_changes.shtml]
"The evidence is now irrefutable that man-made climate change poses a huge and unprecedented threat to the global ecosystem and therefore to ourselves. … The extremes of complacency (denial) and despair (retreat), with their common feature of narcissism, are equally lethal in face of this pressing challenge. The conference aims to address the obstacles both to recognition and to effective action." And "psychological perspectives are of the utmost Importance … Ever since Freud's discovery that mental health often means thinking the unthinkable, the need to face painful truths and to understand the power of denial has been at the heart of therapeutic work." [http://www.uwe.ac.uk/hlss/research/cpss/events/2008/climate_change.pdf]
Some of the people behind this conference:
George Marshall,

Founder, Climate Outreach and Information Network, author of "Carbon Detox"–

Sleepwalking into Disaster – Strategies of Evasion and Denial in Social Attitudes to Climate Change –

"The knowledge of the problem is remarkably well established yet we clearly refuse to recognise the implications of that knowledge"

Paul Hoggett,

Psychotherapist, Professor of Politics, UWE, and Director of CPSS

–

The Politics and Emotions of Climate Change Denial --

"We will examine denial from a variety of different perspectives - as the product of addiction to consumption, as the outcome of diffusion of responsibility"
· Mary-Jayne Rust, Jungian analyst, Ecopsychologist – The Myths by Which We Live, or Die? – The Psychological Dimensions of Our Environmental Crisis
You can even join a "social dreaming matrix" associated with the conference to help with the psychobabble.
"The conference is for anyone who wants to share and discuss their concerns about denial and avoidance of climate change at an individual or social level, for psychologists and the psychologically-minded who want to develop their insights and skills in the face of powerful defence mechanisms, and for psychological therapists who are increasingly encountering guilt, fear, distress and confusion about the subject, in the course of their work." [http://coinet.org.uk/news/facing_climate_change_conference]
More funny stuff: One of the workshops: "Between denial and despair: the psychodynamics of practical work on climate change" with Rosemary Randall says: "Since 2005 we have worked with over 2500 individuals in both personal and practical ways, achieving measurable CO2 reductions, through a variety of methods from our technique of 'carbon conversations' at public events … I am a founder member and director of Cambridge Carbon Footprint" – and the link to cambridgecarbonfootprint.org has only advertising – for cosmetic dentistry etc.
These eco-psychological babblers have discovered a new focus for increasing their lucre.